GOOD READ: A Springtime Vegetable You Shouldn't Miss
Once a year, I bring out the "good read" in order to get you to check out my post.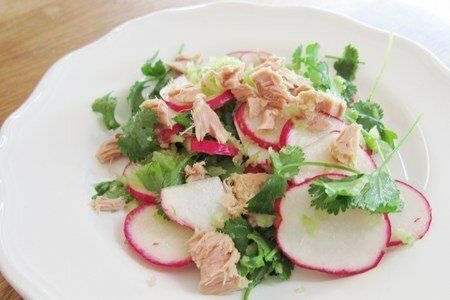 I want to talk about radishes, and no one wants to read about them. Why? Well, they are kinda strange looking and have a sharp bite. They are in season right now and have almost zero calories (actually one calorie per radish).
Here is a photo in case you haven't met a radish: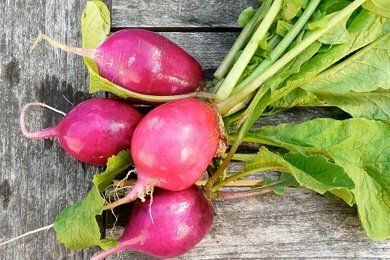 These were purchased at my local farmer's market for $2, but I have seen them as low as $1.69 per pound. My favorite way to eat them is to dip them in softened butter as an appetizer - yum!
This salad is pretty great too. I used my food processor to make quick work of it. The mandolin sliced the radishes in a snap and then I chopped the celery with the blade (which pulverized them a bit too much - but I was in a hurry).
The combination of flavors and textures is very satisfying for a salad. I ate this for lunch, but it would make a nice appetizer or snack.
How do you serve radishes?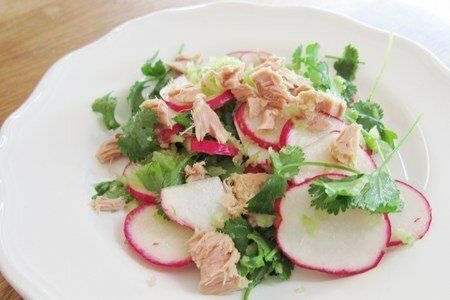 Radish Tuna Salad Recipe

Makes 2 appetizer servings or one lunch serving

Ingredients
8 ounces radishes, trimmed and sliced thinly
4 stalks celery, chopped
½ cup cilantro or parsley leaves
½ lemon, juiced
4 ounces canned tuna, in water
salt and pepper to taste

Instructions
Using a food processor or knife, slice radishes and chop celery. Toss together radishes, celery, cilantro, and lemon juice in a large bowl. Put salad on a plate and top with tuna, few spritzes of lemon juice and salt and pepper. Enjoy immediately.
Nutrition Facts
129 calories, 4.8 g fat, 1.0 g saturated fat, 4.9 g carbohydrates, 2.7 g sugar, 16.0 g protein, 2.4 g fiber, 100 mg sodium, 3 Points+
Points values are calculated by Snack Girl and are provided for information only. See all Snack Girl Recipes
Other posts you might like:
---

Fresh produce is rolling into supermarkets and farmer's markets all around the country. June is a fantastic month for healthy eating and these little jewels jumped into my car....
---

Snack Girl doesn't cover drinks very often because 20% of her audience is under 21....
---
---
Get Free Email Updates! Yes please!
---