Reduced Fat Chips Can Be Delicious
Snack Girl never stops searching for healthy snacks. Even on vacation, she tirelessly hunts down tasty treats!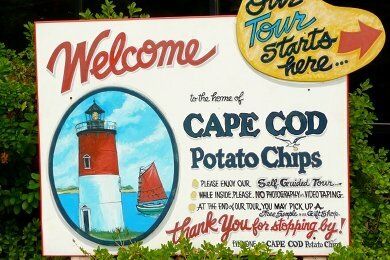 A recent trip to Cape Cod, led me to to this destination. A potato chip tour! How could I resist?
I introduced myself to the receptionist, "Hi, I'm Snack Girl", but she was NOT impressed. I went on the tour with the rest of the tourists.
The tour comprised of looking at a factory where literally tons of chips were being made. Cape Cod Potato Chips uses 39 MILLION pounds of potatoes in a year to produce chips.
My favorite are their "40% Reduced Fat Chips". I don't know how they do it, but these chips taste almost exactly the same as the full fat version. They are similar to Kettle Baked Chips Review except they taste, in my opinion, even better.
The reduced fat chip is less greasy than the regular chip and I think that is a good thing.
Erin (see: How Erin Lost 65 Pounds ) talks about how making substitutions helped her lose weight. Reduced fat chips are a great substitution for a potato chip lover that needs to reduce her waist line.
Usually, I think that reduced fat foods taste terrible. Some of my least favorite include reduced fat cheeses, but there is an alchemy at Cape Cod chips that is working.
And, the ingredients are just potatoes, oil, and salt.
Of course, you still need to measure them out into a bowl (no point in eating the lower calorie chip if you eat more of them) and they aren't healthy. Potato chips are a treat, not an every day food. Potatoes, on the other hand, are good for you!
FACT: It takes approximately 4 pounds of potatoes to make 1 pound of potato chips, because a potato is mostly water.
So, what you have is a concentrated potato, deep fried, and salted. A regular potato, just baked, is a much healthier alternative.