20 Yummy Potato Chips for 120 Calories
It is not a secret that Snack Girl LOVES chips. I have tried a number of them for the site, and my favorite has been Baked Lays. Move on over Baked Lays - a NEW chip is in town.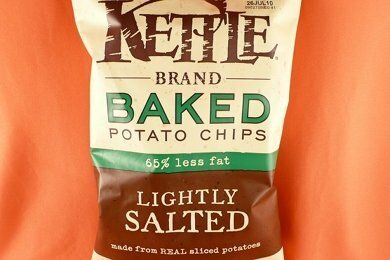 Kettle Baked Potato Chips pretty much rock. This is their marketing pitch for these chips:
We take real potatoes. Slice them. Season them with fresh, all-natural ingredients. And then bake them to crunchy perfection. End of story.
These chips have a wonderful strong potato flavor and crunch. There is nothing artificial (like MSG) to enhance the flavor - they just have potatoes, oil and salt.
I also love Kettle Brand's regular chips - but I can only have 10 chips for about 120 calories.
This is the great thing about the Baked chips. You get TWICE as many and you really feel satisfied (instead of cheated). And, since they are made with potatoes the serving includes 4% of your daily value of iron.
In fact, after eating the Baked Chips, I no longer want the regular chips. Why? Because, the regular ones taste too greasy now.
I don't consider these chips an everyday snack. For example, Sweet Potato Fries are a MUCH better choice in terms of over all nutrition.
Baked Kettle Chips are a "processed" food, but they are an excellent choice for a party or when you really want some chips.
Give them a try and kick your fatty potato chip habit.
I found them here Snack Aisle for $3 per bag.
and here!
---
currently unavailable Buy on Amazon.com
As an Amazon Associate, I earn from qualifying purchases.
---
Have you tried these? What is your potato chip solution?
Want to read about snacks?
When It Heats Up Try This Simple Zero Calorie Drink
Jamie Oliver's Delicious Cheesy Corn
Try Rhubarb - In Season Now and Super Yummy
KINDa Fabulous: A Nutritionally Dense Snack Bar