3 Reasons to Avoid Ritz Crackers
I'm locking my doors tonight in case the people from Nabsico try to take their revenge. Why, Snack-Girl, do you need to mess with an American icon?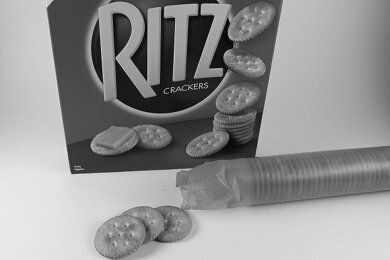 Ritz crackers are as American as apple pie, the Simpsons, and Chevrolet (are they still in business?). I remember my parents buying boxes of them. Their lovely red box with the blue and yellow - and the crackers - yum!
At a certain point, my parents stopped buying them and started serving "Stoned Wheat" crackers. The name made me laugh and Ritz seemed to just disappear from the house.
What is wrong with Ritz?

High Fructose Corn Syrup is one of the ingredients. Why do you need sugar in a cracker? It seems totally unnecessary and just adds hidden calories to the food.

There is 5% of your daily allowance of saturated fat in each serving. Again, added fat in a cracker makes no sense. A cracker should be just flour, water, and salt. And saturated fat! Didn't they get the memo?

Zero fiber per serving - One of the benefits of eating bread or crackers is fiber. Don't look for any in a Ritz cracker.

This cracker will melt into pure sugar once it hits your digestive juices. Have you ever noticed that as you chew a Ritz that it starts to taste really sweet? Your saliva is already getting to work on breaking down the carbohydrates into sugar).
This is junk food. Nabisco uses white flour, corn syrup, and fat to destroy a perfectly healthy snack - a cracker.
There are SO many better choices out there than Ritz. I will be featuring more healthy crackers as I find them (yes, I am looking at you, Kashi).
Do you have a favorite cracker? What do you eat it with? Please share below.
Want to read about more snacks?
A Whole Food Snack of Salty Deliciousness and A Winner!
A Habit That May Be Costing You 500 Calories per Day
A Dip that Won't Kill You