A Dip that Won't Kill You
Have you noticed how many calories a sour cream and onion dip has? We can fool ourselves into believing we are eating healthily by dipping veggies in these dips. Alas, they taste good but they are killing our waistlines.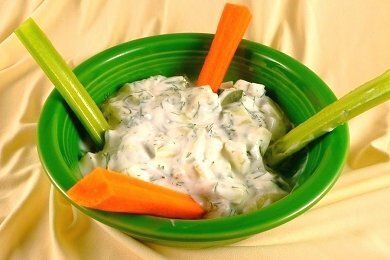 Everyone loves vegetables when you start adding fat, salt, and sugar. And this is a good thing – but how much fat, salt, and sugar do you need to have a yummy snack?
This question has been answered by our first snack bag winner, Sarah! Sarah sent in a yogurt and dill dip that is truly tasty and has very little calories. The secret is a substitute of the fat filled sour cream that goes into regular dip – Greek Yogurt.
This is a great makeover because you are not only using a low calorie substitute for sour cream but you are adding vegetables to the dip! So you get twice the veggies out of your snack.
Greek yogurt has a thicker consistency than regular yogurt which makes it feel and taste more luxurious than regular yogurts. There is a zero fat version which Sarah uses for her recipe.
---
Dill-Yogurt Dip
Fat-Free Greek Yogurt (6 ounces or so)
One half cucumber
2 tsp. fresh dill
Red wine vinegar to taste (splash or two)
Salt and Pepper to taste
Mince cucumber and dill. Mix together with yogurt, vinegar, and salt and pepper. Serve with sliced carrots, broccoli, celery, sugar snap peas, etc.
---
The vinegar makes the yogurt sour (like sour cream) and the salt and pepper give it the saltiness that tastes great with raw vegetables.
Thanks for sharing, Sarah. Hope you enjoy the snack bag!
Please share YOUR favorite death-free dip!
Want more like this?
Quick and Healthy Pizza
Imagine Being On Vacation
Homemade Banana Bread