Let's Talk Turkey
Snack Girl realizes she will be the only food blogger who covers turkey this month – but she likes to be a rebel.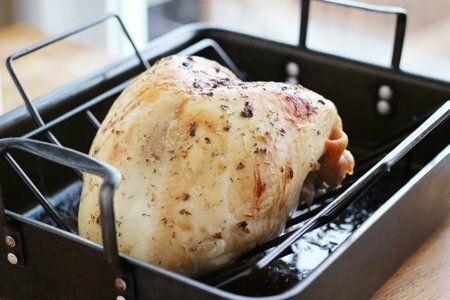 First of all, my turkey breast photo (above) is real. Many of the photos that you see in the magazines are not. Recently, I talked with a food stylist who told me that they paint turkeys to make them LOOK roasted – the shame!
But, my turkey doesn't look as good as their turkey. Oh well.
When I showed this to my daughter and told her we were eating turkey for dinner she said, "I'll take a wing." Ummm. "Honey, it is just the breast." "Okay, then I'll take the drumstick." Oh dear.
Why did I cook only the breast? The inspiration for this post came from a reader who wrote me back in June. She kept buying roasted turkey from the deli counter ($8 per pound) and wanted to know how she could make her own.
I went to my local Stop & Shop and asked for turkey breast to roast and they didn't have any because it was June. Now it is November, and the place is stacked with turkeys.
I bought bone in turkey breast which cost $3 per pound ($22 for the whole thing). This is quite a bit less than $8 per pound BUT there are bones involved so I believe I actually netted about 5 pounds – so about $4.50 per pound. It was not on sale so maybe you can find it for less.
Roasting a turkey breast is super easy, but I would suggest getting two kitchen essentials – a roasting pan and an instant read thermometer. Do not trust the plastic pop-out thingy on the turkey because you will have an inedible, dry bird that everyone will smile and eat – but secretly hate you for.
I use a cup of water in the bottom of the pan to make the oven moist and keep the pan drippings from burning too badly on the pan.
The goal here is sandwich filling, so I am not flavoring the skin of the turkey for maximum tastiness (for example rubbing butter, herbs, and garlic on it). I am assuming you will toss the skin after you roast the turkey because of the ridiculous amount of saturated fat in poultry skin. For example, a chicken thigh with skin has as much saturated fat as filet mignon.
Why roast your own turkey breastt?
You will save money.
You avoid added sodium and anything else you don't want.
It doesn't turn slimy in your fridge like the sliced deli meat.
You can store the roasted breast in your freezer for later.
Have you roasted turkey breast?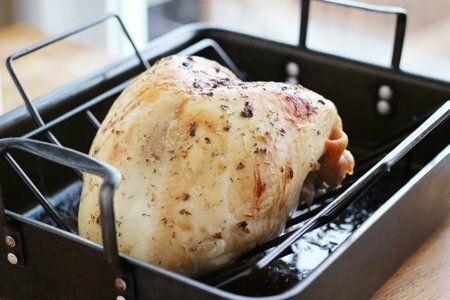 Roasted Turkey Breast Recipe
Makes approximately 5 pounds, four ounces per serving
Ingredients
1 whole bone-in turkey breast, 7-7 ½ pounds
1 cup water
salt and pepper, optional
Instructions
Preheat oven to 325 F. Place turkey breast, skin side up, on a rack in a roasting pan. Rub the skin with skin with salt and pepper (optional). Pour the water into the bottom of the roasting pan.
Roast the turkey for 1 ¾ to 2 hours, until the skin is golden brown and an instant read thermometer into the thickest part of the bird registers 165 F. Transfer to a cutting board, cover it with foil, and allow it to rest for a minimum of 15 minutes.
Nutrition Facts
Four ounces without skin is 110 calories, 0.5 g fat, 0.0 g saturated fat, 0.0 g carbohydrates, 0.0 g sugar, 28.0 g protein, 0 g fiber, 55 mg sodium, 3 Points+
Points values are calculated by Snack Girl and are provided for information only. See all Snack Girl Recipes
---
$49.99 Buy on Amazon.com
As an Amazon Associate I earn from qualifying purchases.
---
Other posts you might like:
---

Nothing says "I want you to live a long time" like a Brocquet....
---

As we get ready to launch into holiday mode, Snack Girl is on the look out for lighter fare….
---
---
Get Free Email Updates! Yes please!
---