Cream of Roasted Cauliflower and Broccoli Soup
This is official my favorite recipe of 2016 (and we just started the year!).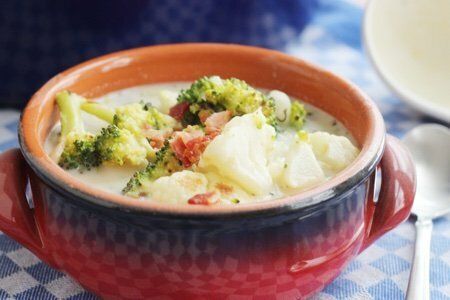 I took my favorite roasted vegetables and made a soup. My son, who avoids vegetables whenever he can, ate 3 bowls of this soup and asked me to make it again! Win for mom!
What happens here is that the cauliflower and broccoli have a deep flavor after roasting that they simple miss when you steam them. Also, I puree ½ the cauliflower in a blender to make "cream" and add a little cream to make the soup really creamy. This way you cut calories without noticing (my favorite way).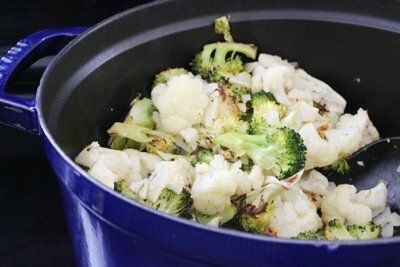 You also get a lot of volume with this soup because you have chunks of roasted broccoli and cauliflower swimming around.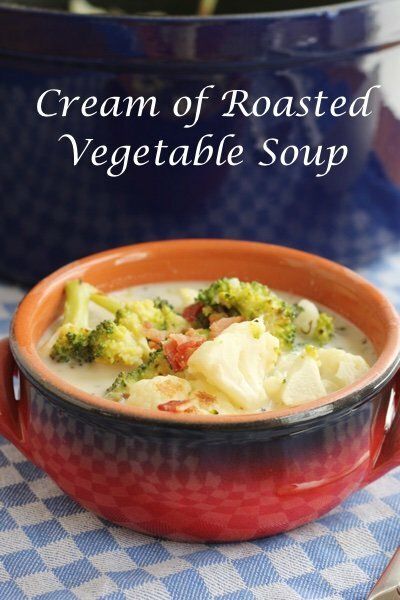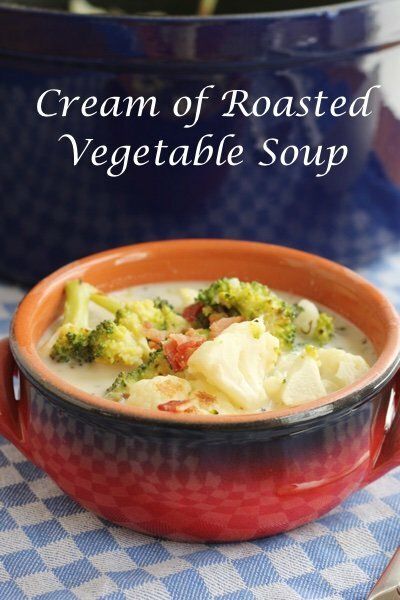 Cream of Roasted Cauliflower and Broccoli Soup Recipe
Makes 10 cups
Ingredients
1 large head cauliflower (about 1.5 pds), cored and cut into 1-inch florets
2 crowns of broccoli (about 1.5 pds), cut into 1-inch florets
2 tablespoons olive oil
1 onion, chopped
6 cups chicken or vegetable stock (low sodium)
1 cup half and half
1 teaspoon dried thyme
cooked bacon (optional)
Instructions
Heat oven to 450 F. Line two rimmed baking sheets with aluminum foil and put broccoli and cauliflower on separate sheets. Drizzle 1/2 tablespoon olive oil on each and roast for 20 minutes until tender.
Meanwhile, sauté onion in 4-6 quart stockpot in 1 tablespoon olive oil until translucent.
When cauliflower and broccoli are finished roasting, take ½ of cauliflower and place in a blender with 1 cup of stock. Blend until smooth. Add broccoli, the rest of the cauliflower, blended cauliflower, remaining 5 cups of stock, half and half, and thyme to the stock pot. Warm until heated through and serve with chopped bacon.
Nutrition Facts
One cup without bacon is 106 calories, 6.2 g fat, 2.2 g saturated fat, 10.7 g carbohydrates, 3.7 g sugar, 4.5 g protein, 3.8 g fiber, 250 mg sodium, 2 SmartPts
Points values are calculated by Snack Girl and are provided for information only. See all Snack Girl Recipes
Other posts you might like:
---

Winter is still here and you can't go wrong with butternut squash....
---

Using quinoa instead of pasta in soup is a great way to introduce more protein....
---
---
Get Free Email Updates! Yes please!
---