Roasted Pumpkin Seeds: Keep the Good Stuff
These roasted pumpkin seeds are brought to you by fall. We need to enjoy the simple things like pumpkins.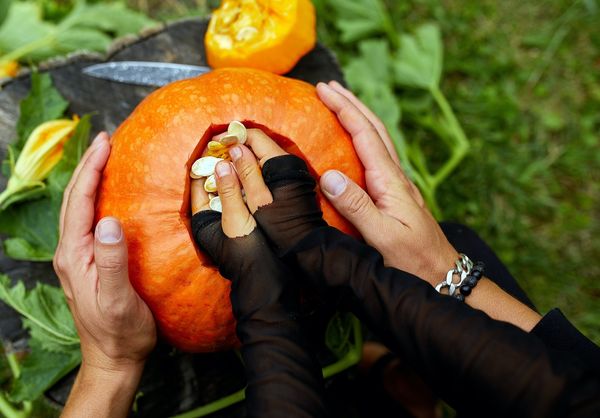 I go a little nuts when I see the pumpkins show up at farm stands, Trader Joe's, and my local supermarket. I just want to hug them!! (and buy them before I hug them)
This roasted pumpkin seeds recipe is a good pairing with my roasted sugar pumpkin recipe BUT don't feel like you need to buy an "eating pumpkin" to make pumpkin seeds.
Any pumpkin makes great pumpkin seeds for roasting!
The inside of a pumpkin is pretty scary because if feels like your hand is covered in worm guts.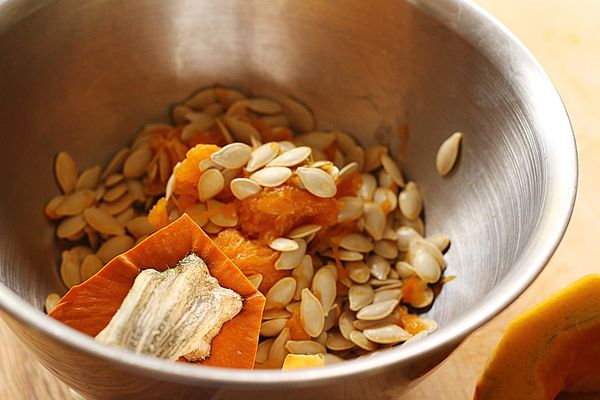 When you are carving your pumpkin, use a bowl to collect seeds and stringy parts. Do not throw this out! Get your children to pick out the seeds.
You don't need to get all of the goop off (pumpkin guts) of the seeds before you roast them. Just take off the big chunks. The strands of pumpkin add to the flavor and texture of your seeds.
This is what mine look like before I put them in the oven: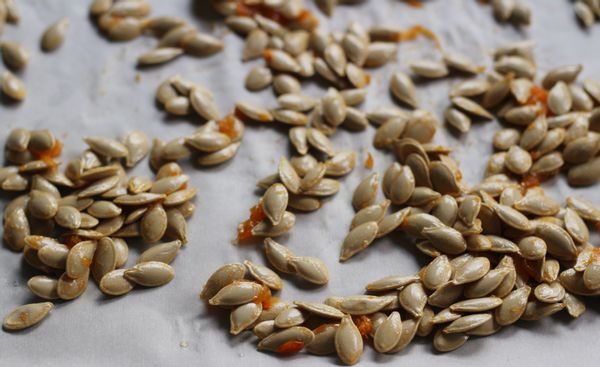 Pumpkin seeds are nutritious (ex: 28% of your DV of Iron in 1/4 cup) and they are easy to cook. The fun part of roasting pumpkin seeds is that you can customize the flavor.
Below, I have included a recipe that goes to the sweet side of the taste spectrum. Add some cayenne and you will have a spicy and salty snack.
You could try pumpkin spice, pepper, curry powder..… Whatever your favorite spice flavors - just toss them on the seeds. I suggest trying 1/2 teaspoon for one cup of pumpkin seeds to start because you might overwhelm them with spices.
Have you roasted pumpkin seeds? How do you flavor them?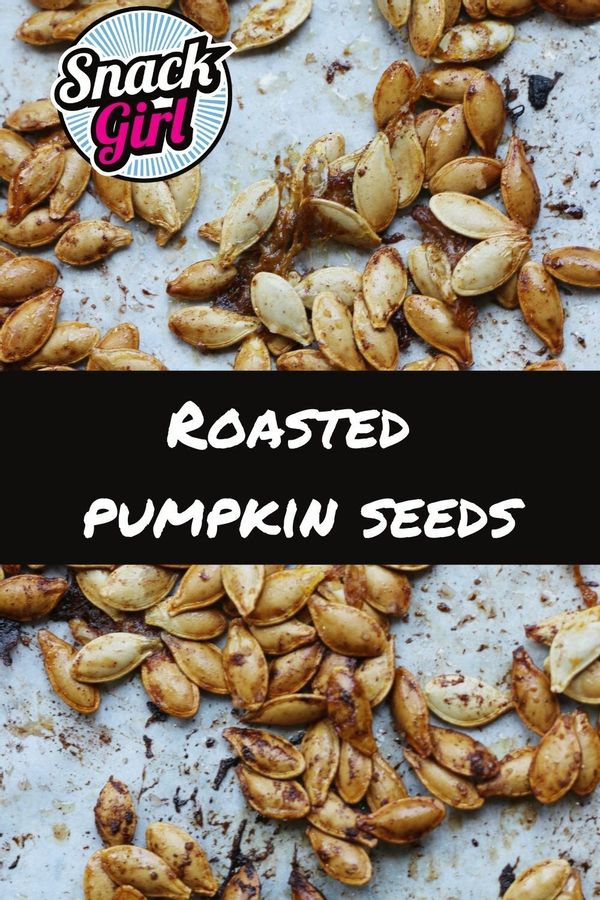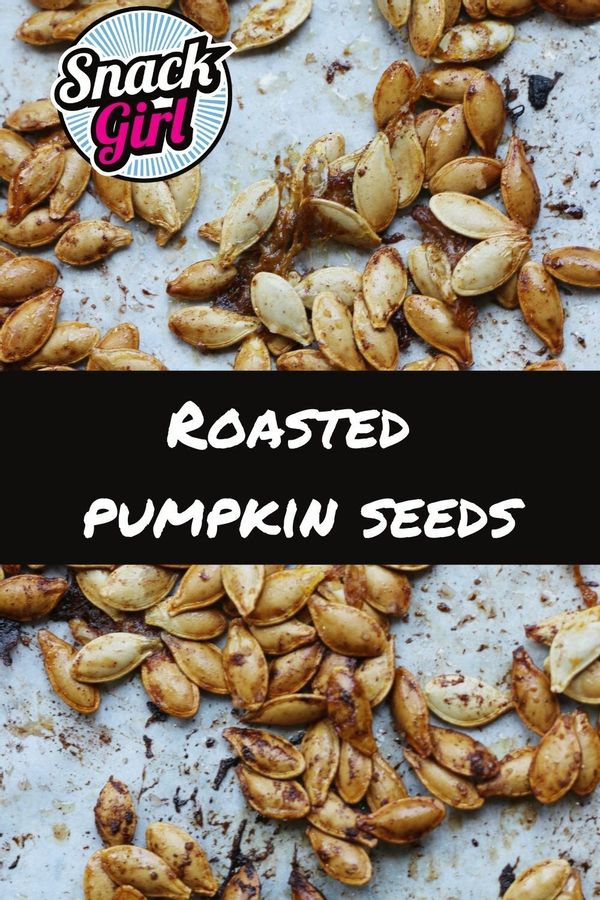 Roasted Pumpkin Seeds Recipe

Makes 1 cup
Prep time: 10 min
Cook time: 20 min

Ingredients
1 cup pumpkin seeds
1 teaspoon canola oil
1/2 teaspoon sugar
1/2 teaspoon cinnamon
salt to taste
Instructions
Preheat oven to 350 F. Line a rimmed baking sheet with parchment. Remove large strings from pumpkin seeds and spread on baking sheet. Toss the seeds with oil, sugar and cinnamon. Roast for 20 minutes (or until golden brown). Toss seeds after about 10 minutes to cook evenly (or you can skip it). After the seeds cooled, store them in a tightly sealed container. The seeds should remain fresh for a week.
Nutrition Facts
One 1/4 cup: 163 calories, 13.2 g fat, 2.3 g saturated fat, 4.5 g carbohydrates, 0.5 g sugar, 9.5 g protein, 3.8 g fiber, 114 mg sodium, 5 Green, 5 Blue, 5 Purple WW SmartPts
Points values are calculated by Snack Girl and are provided for information only. See all Snack Girl Recipes
Other posts you might like:
---

These Kodiak pumpkin pancakes will hit that pumpkin pie spice spot that starts to itch this time of year......
---

This roasted sugar pumpkin recipe is not sweet. Instead it is salty, sour, sweet, and fun to make.....
---
---
Get Free Email Updates! Yes please!
---