Roasted Veggie Chili on a Sheet Pan
This roasted veggie chili on a sheet pan is so easy! You only need to clean one pan after making it.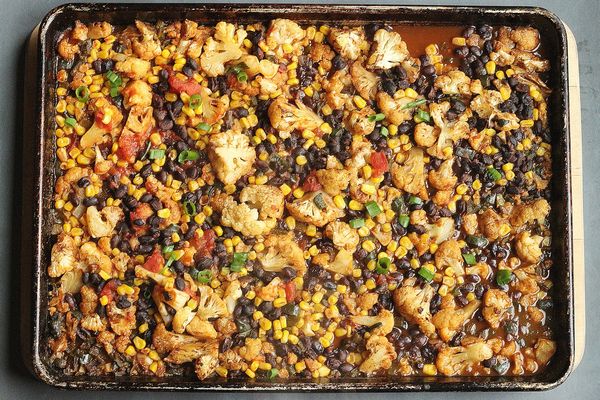 Why would you make chili on sheet pan? I know it sounds crazy but it allows you to roast cauliflower and a poblano chili. Have you ever had roasted veggies in chili?
If you love meat in your chili you might convert to a vegetarian after tasting this version.
Roasting vegetables deepens their flavor and emphasizes their sweetness. All that bitterness that people hate in vegetables disappears when you roast them. The caramelization that happens at high heat makes vegetables taste sweeter.
I have been advocating for roasting your vegetables for years. Check out my roasted winter vegetables recipe or my asparagus in the oven post.
I am not making this up - I actually roasted asparagus on a local TV show. My devotion to roasted veggies is deep.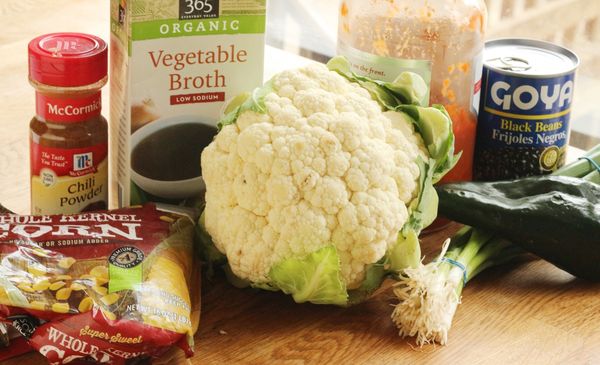 This recipe includes roasting cauliflower, a poblano chili pepper, and scallions. If you can't find a poblano pepper - no worries! Just use a red or green bell pepper.
All you need for successful roasting is a big rimmed baking sheet and a little bit of olive oil or vegetable oil.
In this recipe, I used a tablespoon of vegetable oil and I broiled the veggies for about 7 minutes before I added the rest of the chili ingredients.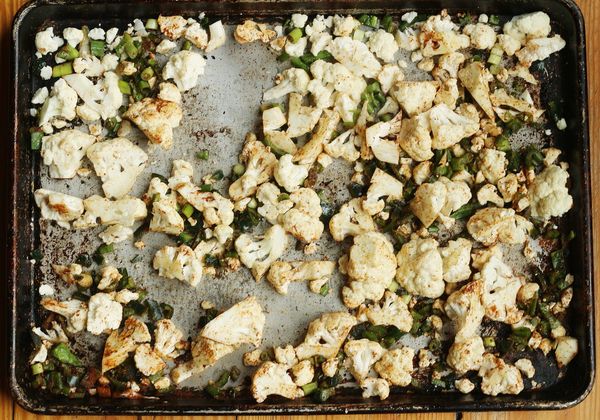 The other nice touch with this method is that you end up toasting the cumin and chili powder so that you enhance their flavor. I feel the best chili is a flavorful chili and you don't need meat! You do need some cooking tricks to get that umami flavor that meat provides (and that we all love).
Have you ever made roasted veggie chili? What did you think?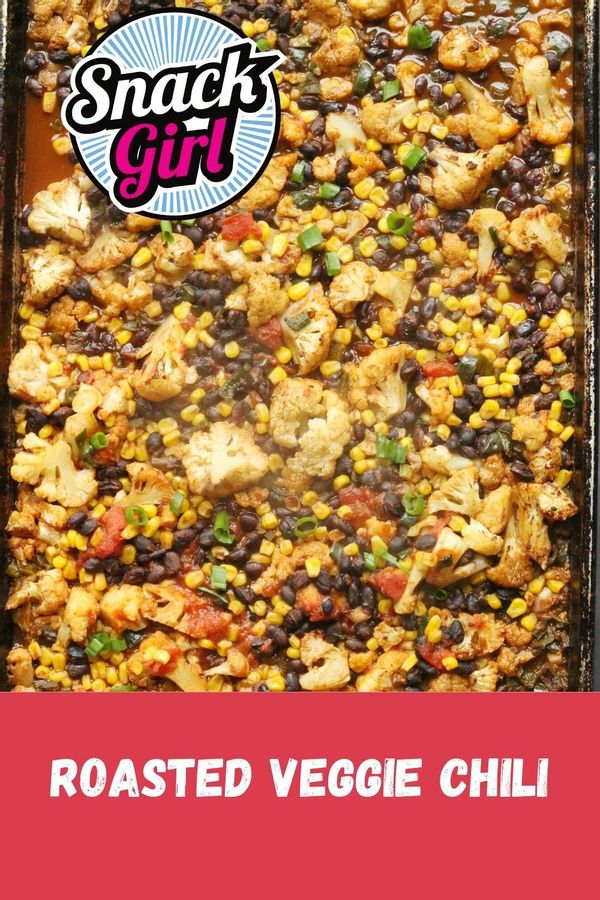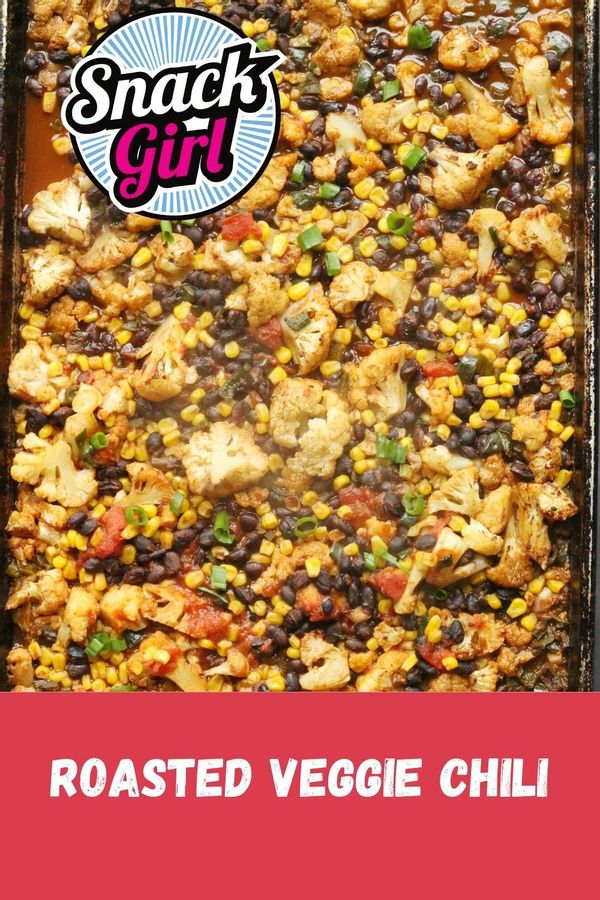 Roasted Veggie Chili Recipe
Makes 4 servings
Prep time: 10 min
Cook time: 35 min
Total time: 45 min

Ingredients
1 head cauliflower, cut into small florets
1 poblano chili pepper, seeded and diced
4 scallions, chopped
1 tablespoon vegetable oil
1 tablespoon chili powder
1 teaspoon ground cumin
1 15-ounce can black beans, undrained
1 8-ounce can tomato sauce (or 8 ounces of jarred sauce)
1 1/4 cups frozen corn
1 1/2 cups low-sodium vegetable broth

Instructions
Preheat the broiler to high. Add cauliflower, chili pepper, scallions, vegetable oil, chili powder, and cumin to a rimmed baking sheet and toss. Broil for 7-10 minutes until the vegetables are a touch browned.
Remove the rimmed baking sheet from the oven. Set the oven to 475. Add beans (with their juice), tomato sauce, frozen corn, and vegetable broth to the cooked roasted vegetables and bake until heated through - about 25 minutes.
Nutrition Facts
One serving is: 182 calories, 4.7 g fat, 0.9 g saturated fat, 32.1 g carbohydrates, 8.1 g sugar, 8.8 g protein, 8.3 g fiber, 300 mg sodium, 5 Green, 2 Blue, 2 Purple SmartPts
Points values are calculated by Snack Girl and are provided for information only. See all Snack Girl Recipes
---
currently unavailable Buy on Amazon.com
As an Amazon Associate I earn from qualifying purchases.
---
Other posts you might like:
---

This roasted winter vegetables recipe is a gift for you for the entire winter season. Here in New England, we have a ton of local winter vegetables.....
---

Do you know how to cook asparagus in the oven? This is the easiest time of year to be a blogger if you are into healthy eating because spring is coming!....
---
---
Get Free Email Updates! Yes please!
---