Salsa Verde Beef from Simple Nourished Living
Snack Girl loves finding new websites that encourage eating healthy as a mode to lose weight.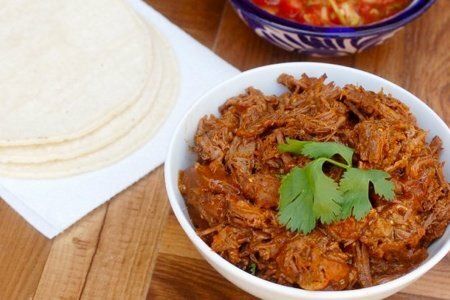 Martha writes Simple Nourished Living and is a great source for healthy, easy, and delicious slow cooker recipes (with Weight Watchers points calculated). I am excited to finally get a chance to feature her.
From Martha:
I'd like to thank Lisa for the opportunity to share one of my favorite easy recipes with you today.
I'm a big fan of Lisa and her Snack Girl website. Previewing Snack Girl to the Rescue! helped me realize just how in alignment our philosophies around healthy eating and weight loss are.
My weight struggles began in childhood. It's taken me a long time to find my perfect recipe for living happy healthy and slim.
After decades of struggle, it finally began to fall into place for me, as it did for Lisa, when I took the emphasis off losing weight and put it on paying attention to what I was eating and getting healthier.
Managing your weight and your health is a lot like managing your finances. To avoid being overweight you need to learn to live within your means. I can only eat so much food a day and maintain my weight. I try to make at least 80% of what I eat nourishing and tasty. The remaining 20% can be used however I want. And what I usually want is wine, dark chocolate and really good bread!
Like Snack Girl, I believe in a life of healthy moderation free of extremes. When it comes to changing behavior slow and steady wins the race. It takes time, patience, practice, persistence and compassion to build healthy habits.
I'm a lifetime member of Weight Watchers who has been comfortably maintaining my weight for the past several years.
Simple Nourished Living is where I explore how I work to balance my love of food and desire to be happy healthy and slim.
I love to eat and I like to cook but I'm extremely lazy at my core. So my goal is to make healthy cooking as easy and effortless as possible while not compromising flavor.
I'm a huge fan of the slow cooker. I've discovered that by investing a little time in the morning, I can avoid stressing about what to cook for dinner later in the day.
This 3-Ingredient slow cooker salsa verde beef is great example of that. It provides maximum reward for minimal effort. You can use it to make tasty tacos, burritos, enchiladas, quesadillas or your own taco salads or burrito bowls.
Healthy food ready and waiting in the slow cooker is like money in the bank!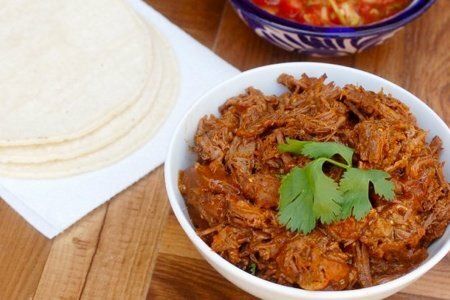 3-Ingredient Crock Pot Salsa Verde Beef Recipe
reprinted with permission from Simple Nourished Living
Prep: 10 mins
Cook: 6 to 8 hours
Ingredients
2 pound rump roast (or other lean beef roast)
1¼ ounce taco seasoning packet
1 cup salsa verde
Instructions
Ideal Slow Cooker Size: 3 to 4-Quart
Place roast in the slow cooker. Sprinkle taco seasoning packet all over the roast. Pour the salsa over the beef. Cover and cook on low 6 to 8 hours or until beef is very tender and pulls apart easily with a fork.
Remove beef from slow cooker. Drain the liquid from the slow cooker and set it aside. Shred the beef by cutting it into chunks and then pulling it apart with two forks. Discard any fat and place the shredded beef back into slow cooker. Pour ½-1 cup of the liquid back into shredded beef. Reduce setting to warm until ready to serve.
Nutrition Facts
Nutritional Estimates Per Serving (3 ounces beef): 152 calories, 5.1 g fat, 0 g carbs, 0 g fiber, 26.4 g protein and 4 Weight Watchers Points Plus
PointsPlus® calculated by Simple Nourished Living; Not endorsed by Weight Watchers International, Inc.
Points values are calculated by Snack Girl and are provided for information only. See all Snack Girl Recipes
Other posts you might like:
---

This is the kind of recipe that makes me happy....
---

Do you have time to make real oatmeal? I didn't think so.
---
---
Get Free Email Updates! Yes please!
---