Add Pumpkin to Your Chili: Healthy, Seasonal, and Delicious
Time to buy a big beautiful pumpkin and a few cans of pureed pumpkin to make pie.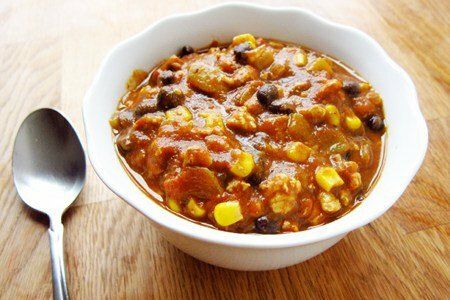 Wait? Did I say pie? I must have slipped up because I meant chili.
Pumpkin is a great addition to chili. It's cheap, easy, and has 763% of your daily value of vitamin A in one cup (and only 83 calories). You can sneak a bunch of nutrition into food by adding pumpkin.
This chili recipe below is the healthiest chili (with meat) that I have ever made. It boasts 28% of your daily value of iron, 45% of your daily value of vitamin C, and 293% of your daily value of vitamin A per serving.
This is like a nutritional "rock star" chili. I used ground turkey breast because it is low in saturated fat and beans, corn, and tomatoes to up the vegetable content.
I did think the flavor was nice, but missing the depth of a beef chili. I might sneak a wee bit of cheese on top of mine to make it taste a bit more luxurious. The pumpkin made it a great color and added a creaminess to the chili.
Here are a few other suggestions to boost flavor:
Add a tablespoon of peanut butter
1/4 cup finely chopped sun-dried tomatoes
1 tablespoon of dark cocoa powder
1 sliced jalapeno pepper
What do you think? Did you try pumpkin chili?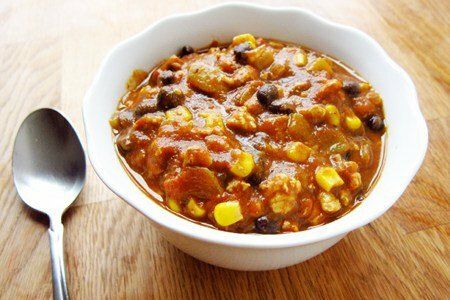 Pumpkin Chili Recipe
Makes 6 servings, 1 cup per serving
Ingredients
1 tablespoon vegetable oil (such as canola, sunflower, etc.)
1 medium onion, chopped
1 lb ground turkey breast meat
2 tablespoons chili powder
1 tablespoon cumin
1 teaspoon cinnamon
1 teaspoon oregano
1 small can diced green chili peppers
1 can black beans, rinsed and drained
1 cup corn kernels, frozen or fresh
1 28 ounce can tomatoes
1 15.5 can pumpkin puree
salt and pepper to taste

Instructions
In a large saucepan, heat oil and add onion. When onion has softened add turkey and cook until cooked through (should look white). Add the rest of the ingredients and taste to adjust seasonings. Simmer for 10 minutes and seve.
Nutrition Facts
For one cup serving = 268 calories, 4.7 g fat, 32 g carbohydrates, 8.7 g sugar, 26.3 g protein, 10.2 g fiber, 399 mg sodium, 6 Points+
Points values are calculated by Snack Girl and are provided for information only. See all Snack Girl Recipes
Other posts you might like:
---

Last week, I introduced Fall with a no bake pumpkin oatmeal cookie. But, I had a problem....
---

I've spent some time trying not to bake, but I still love cookies. The best cookies, of course, are made with love....
---
---
Get Free Email Updates! Yes please!
---