Siggi's Yogurt Goes Without Added Sugar
Siggi's yogurt has done what I only dreamed could happen.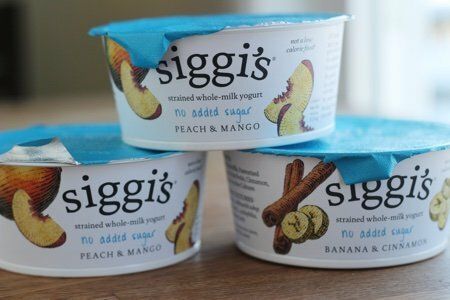 They made a flavored yogurt with only the fruit as the sweetener. Siggi didn't add aspartame, stevia, or any artificial sweetener as a way to make the yogurt sweet.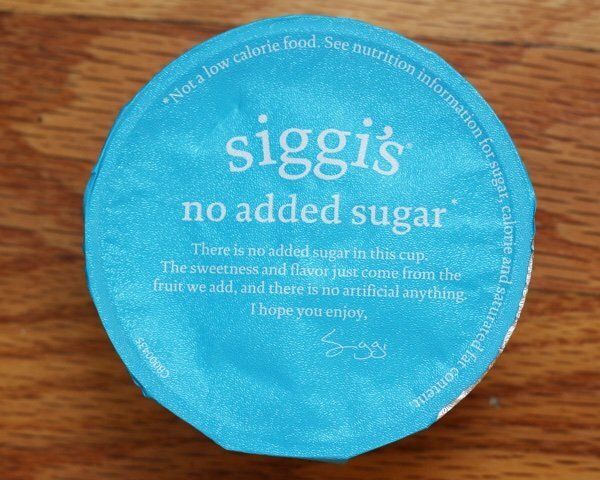 I have been begging companies to stop adding sugar for a long time. They make the mistake of bringing me in to show me their products and then I lecture them on sugar. Ask General Mills and Chobani how much fun I am. I am pretty sure Chobani has stopped speaking to me.
Siggi's yogurt has invited me to breakfast for three years in a row and I have never had the time to go lecture Siggi Hilmarsson on sugar. He is a real person whose name is really Siggi and he created a product that I have been waiting for (without my lecture!).
He didn't even add fruit juice concentrate (another form of sugar)!!
I happen to like the sugar added flavors of Siggi's – read about them here: Siggi's yogurt review.
So far, Siggi has debuted two flavors with no added sugar – banana cinnamon and peach mango. How do they taste? Well, if you are used to yogurt that is packed with sugar, these will taste very sour to you. Now I know why Chobani and General Mills think I am crazy for asking for no sugar to be added to their products. Who is going to like it?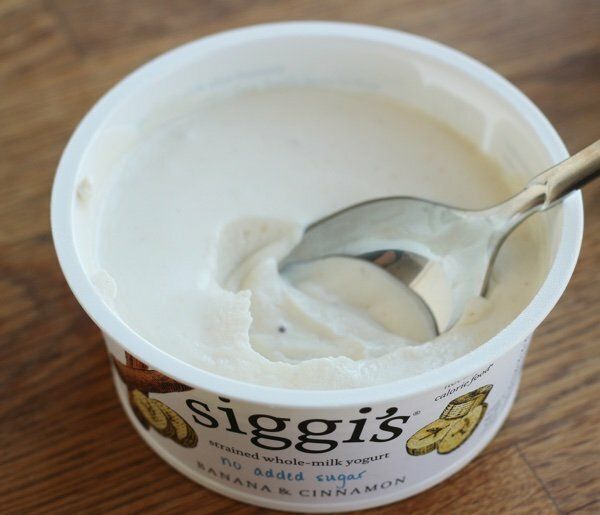 At first, for me, the flavor was very disconcerting and then I started to love it. The consistency is thick and creamy – quite luxurious. The fruit flavor is subtle and melds with the yogurt flavor instead of overpowering it. You have to really like YOGURT to like this product (not the dessert item that many companies call yogurt).
Here are the nutrition facts: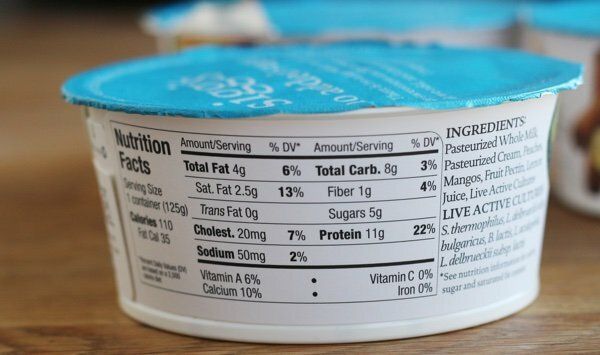 As you can see it has 110 calories and 5 grams of sugar per serving which is due to the natural sugar found in fruit and yogurt. The container has 4 Smart Points for those Weight Watchers members in my audience.
You can find Siggi's 4% No Sugar Added using this Siggi's Location Finder. I found it at my local Whole Foods but not at my regular supermarket. Hopefully, it will show up there.
I have some potentially bad news about Siggi's yogurt. The company was recently bought by a large European company called Lactilis. Why is this bad news? It seems that every time a small manufacturer with a great product gets bought by an enormous conglomerate – Stonyfield I am looking at you- the product goes downhill.
They change it, ruin it, or stop making my favorite products. It is such a bummer to find something you like only to discover that it has been discontinued due to some product manager who only cares about big profits.
Please, Siggi, invite me to breakfast again so I can lecture you on how big companies like to squeeze profits from their subsidiaries by taking shortcuts. We can eat your new yogurt together as we kiss it goodbye because it is so different and strange to American tastebuds that it won't be popular enough to remain in your product line.
Perhaps I am being too dark – but get it while you can!!
Other posts you might like:
---

This siggi's yogurt review was inspired by my walk through the supermarket. I am constantly blown away by how much changes on a monthly basis in the dairy cooler.....
---