Who Needs Jars? Make Your Own Tomato Sauce
Last week, Snack Girl took on the subject of tomato sauce in jars and got flamed.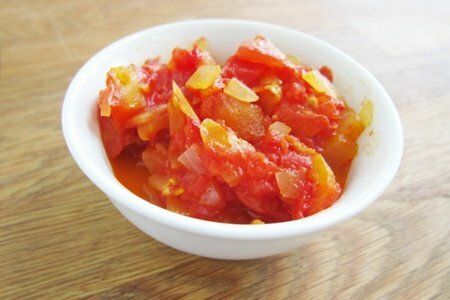 I did like a Ragu sauce (no sugar added). The taste was much better than I thought it would be. BUT, I want to be clear that none of the jarred options can touch making your own sauce. I use jarred tomato sauce when I am in a hurry (which is often).
If my life were different, there would be this beautiful person in my kitchen making everything from scratch - churning butter, kneading bread dough, and curing ham. Alas, that person is in my imagination.
My reality allows me to make tomato sauce when I have the time. My husband frequently makes the sauce in the family and I stay out of it. Today, I made it myself.
Above is a photo of chunky tomato sauce with three ingredients. It isn't fancy, but it tastes divine. If you are a fan of smooth sauce, all you have to do is puree it in a blender. I like about half puree and half chunky. The nice thing about making your own sauce is that it is up to you.
Add spices like garlic (which I would saute with the onion), oregano, basil, chili, etc. Your house will smell sooooo good. Trust me. And, you can freeze it for the times that you don't have time to make it.
I serve this on everything - pasta, eggs, beans, rice, roasted veggies, toast, ice cream....(not really)
Please share your recipe ideas for making your own tomato sauce.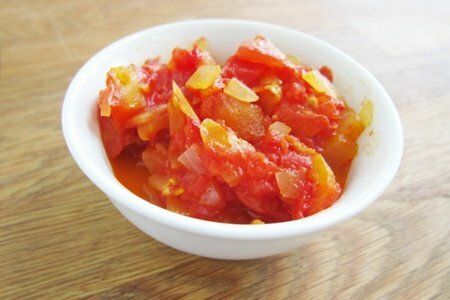 Tomato Sauce Recipe

Makes 4 cups

Ingredients
2 tablespoons olive oil or butter
1 medium onion, chopped
4 cups chopped fresh tomatoes (or chopped canned tomatoes, drained)
salt and pepper to taste

Instructions
Heat olive oil in a 12 inch skillet over medium high heat. When olive oil is hot, add onion and saute for a couple of minutes until soft. Add tomatoes and some salt and pepper. Cook over medium high heat, stirring frequently for 15 minutes. The idea is to concentrate the tomatoes by boiling off the liquid. Add salt and pepper when finished cooking.
Puree sauce in a blender if you desire a smoother consistency.
Serve or store in a container for one week or freeze for future use. This sauce freezes well.
Nutrition Facts
For one cup = 98 calories, 7.2 g fat, 8.3 g carbohydrates, 5.0 g sugar, 1.6 g protein, 2.4 g fiber, 100 mg sodium, 3 Points+
Points values are calculated by Snack Girl and are provided for information only. See all Snack Girl Recipes
Other posts you might like:
---

Have you ever tried to go down the aisle in your supermarket and there is some strange woman with her cart in the center blocking everything?...
---

---
---
Get Free Email Updates! Yes please!
---