Make Cooking During The Week Easier With The Six O'Clock Scramble
Are you feeling stressed out and guilty about providing haphazard, unhealthy dinners to your family?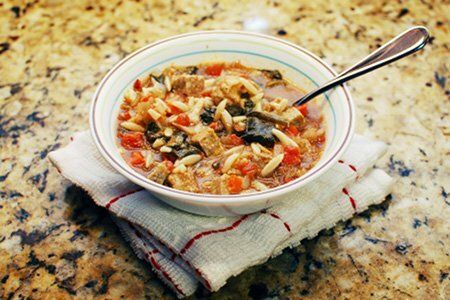 Join the club. I picked up a cooked chicken last week from the grocery store and my daughter informed me that it tasted like salted rubber. No, I am not making this up.
I should have made the meatball and orzo soup recipe below because it would have tasted a lot better and would only have taken 30 minutes.
I have a friend, Aviva Goldfarb, who takes the work out of planning and cooking meals. She created the The Six O'Clock Scramble, an online family dinner planner.
She sends you a grocery list and five recipes to cook from it to your inbox. The beauty of it is that you buy everything on the list, print out the recipes and when you walk in the door, you are ready to go. I used her service for a year until I had a group of "hits" that my family enjoyed. It was incredibly helpful.
The Six O'Clock Scramble gives thousands of families a ready-made, seasonal dinner plan for the week, including side dishes and a grocery list, sent right to your inbox.
All of the Scramble's recipes include complete nutritional information and Weight Watchers points so you can align them with your health and nutrition goals.
The meatball and orzo soup recipe is an example of the kind of recipes Aviva creates. There are carrots and spinach included to increase the vegetables your children will eat without noticing.
It costs $3-$6 per month for the subscription and you get two weeks for free to give it a try. Sign up here: The Six O'Clock Scramble
Snack Girl receives a small percentage of sales from the above link to The Six O'Clock Scramble.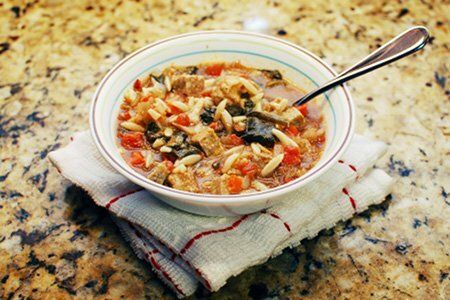 Meatball and Orzo Soup Recipe
From Aviva Goldfarb, The Six O'Clock Scramble
6 servings, about 1 ½ cups each
Ingredients
1 Tbsp. extra virgin olive oil
1/2 yellow onion, finely diced (about 1 cup)
2 carrots, finely diced (about 2 cups)
1 1/2 tsp. minced garlic (3 cloves)
32 oz. reduced-sodium chicken or vegetable broth
1 cup water
15 oz. no-salt added petite-diced tomatoes, with their liquid
1 lb. pre-cooked mini meatballs (often sold frozen), beef, turkey or meatless
½ cup ditalini noodles or orzo
3 cups fresh spinach, coarsely chopped
Instructions
In a large stockpot, heat the oil over medium heat. When it is hot add the onions, carrots and garlic, and sauté them until they onions and carrots are tender, about 5 minutes.
Add the broth, water, and tomatoes, cover it and bring it to a boil. Add the meatballs (if they are large, cut them in quarters) and orzo, and stir frequently for a minute or two so the noodles don't stick to the bottom of the pot. Simmer the soup for 15 minutes, partially covered, stirring occasionally. (Meanwhile, warm the dinner rolls, if you are serving them.) Stir in the spinach and let it wilt for one minute. Season the soup with salt and pepper to taste, and serve it immediately.
Do Ahead or Delegate: Dice the onion and the carrots, peel the garlic, chop the spinach.
Scramble Flavor Booster: Use fire-roasted diced tomatoes rather than plain, and/or add a pinch of crushed red pepper flakes to the soup along with the orzo.
Tip: Keeping all cooked foods and liquids covered while in your refrigerator not only prevents spills and odors, but also helps to prevent the build-up of humidity.
Side Dish suggestion: Serve it with whole wheat or white dinner rolls, warmed in a 300 degree oven for 5 - 10 minutes.
Nutritional Information per serving (% based upon daily values):
Nutrition Facts
Calories 290, Total Fat 14.5g, 22.5%, Saturated Fat 4.5g, 22.5%, Cholesterol 38mg, 12.5%, Sodium 866mg, 36.5%, Total Carbohydrate 24.5g, 8% Dietary Fiber 3g, 14% Sugar 5g, Protein 16g, 8 Points+
Points values are calculated by Snack Girl and are provided for information only. See all Snack Girl Recipes
---
Get Free Email Updates! Yes please!
---