Make It Easy to Plan Healthy Meals: Slender Kitchen
Are you looking for a plan so you don't fall back into your old habits? Join the club!
We all start out with the best intentions - more vegetables, less sugar, and no take-out and end up doing well for a couple of weeks. Then, life enters the picture and we go back to our old ways - take-out, munching on random food from convenience stores, drive-thrus.
Don't do it this year!!
My friend, Kristen, came up with a plan that works - Slender Kitchen Meal Plans.
The meal plan concept is simple and powerful. Every week, Kristen sends you a meal plan - you shop and cook the meals. The meals are healthy, easy, and have all the nutrition information including milligrams of sodium AND all the points values for the plans for the new WW.
For WW members, this is a gift because you can choose your plan in the settings (see the screenshot below from Slender Kitchen) and the recipes will have the SmartPoint values for your plan - Green, Blue or Purple.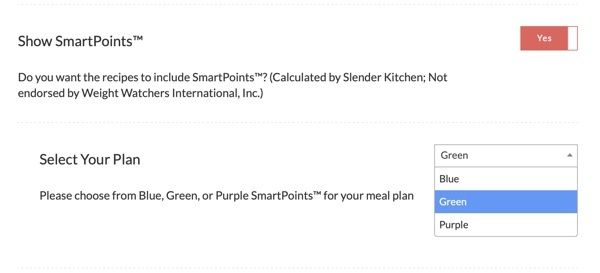 You can sign up here: Slender Kitchen Meal Plans for either $8 per month or $48 for the year ($4 per month). Both subscriptions include a 14 day money back guarantee.
Until January 15th, 2020 - All Meal Plans are 25% off!! The code for the sale is: YEAR2020
The recipe below - Sesame Chicken with Broccoli is a great example of what is included in Kristen's meal plans. It is tasty, easy to make, and will help you stop ordering take-out because it is delicious.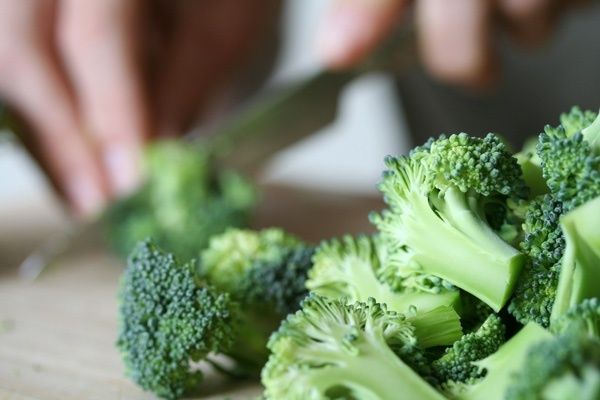 The meal plans include options:
For healthy, low carb, or vegetarian eaters
To customize number of servings you plan to cook
To choose the meals you need to make for the week
You can go with breakfast, lunch, dinner, and snacks or you can do what I did and make 4 dinners with 6 servings each. My family of four typically takes a serving of dinner to lunch so I frequently cook more dinner than we eat for leftovers.
If you don't like a meal that Kristen has included – you can choose another recipe or add your own. You can also create your own meal plan from the large library of recipes she has created.
Don't like making a shopping list? Slender Kitchen does it for you and you can have it up on your phone.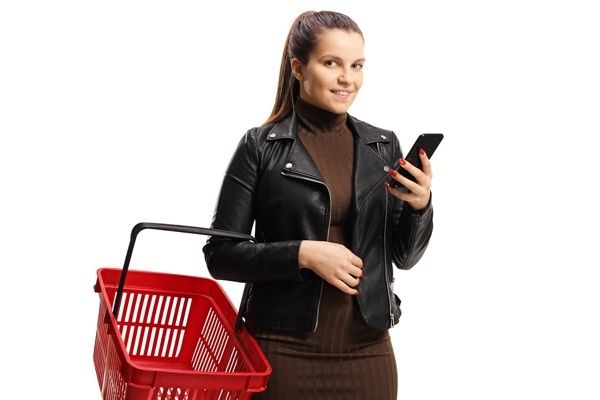 What I love about Slender Kitchen Meal Plans is that I don't have to think. I print out the shopping list (and it is organized so my trip to the store is shorter) because I like paper and cook the recipes after work throughout the week. Done. The recipes are diverse and delicious so it gets me out of my cooking rut!
Using her plan has saved me money because I only buy what I need - and I use it all! No more rotting vegetables in the bottom of the bin.
You can sign up here - -Slender Kitchen Meal Plans for either $8 per month or $48 for the year ($4 per month). Both subscriptions include a 14 day money back guarantee.
All Meal Plans are 25% off until January 15, 2020!! The code for the sale is: YEAR2020
Snack Girl has an affiliate relationship with SlenderKitchen.com and receives a percentage of sales.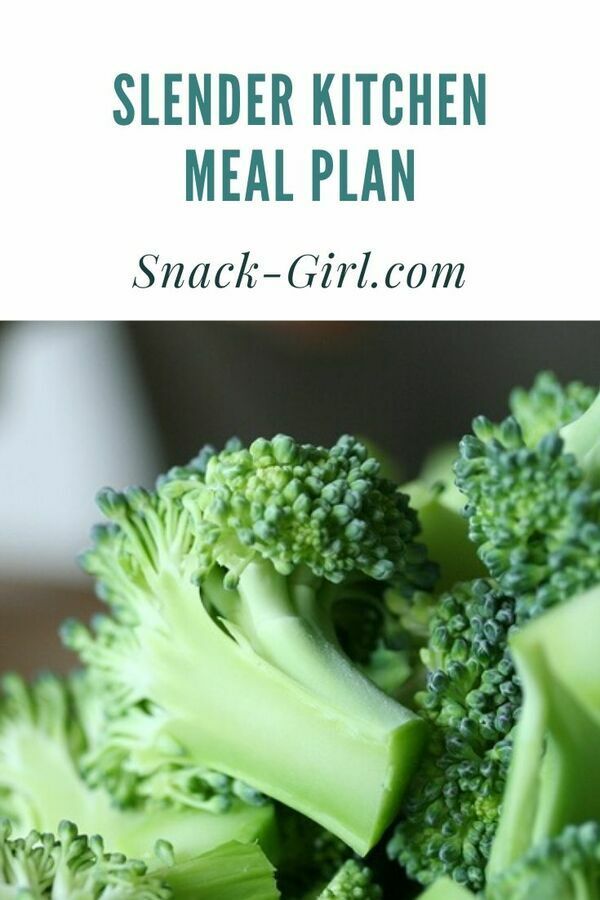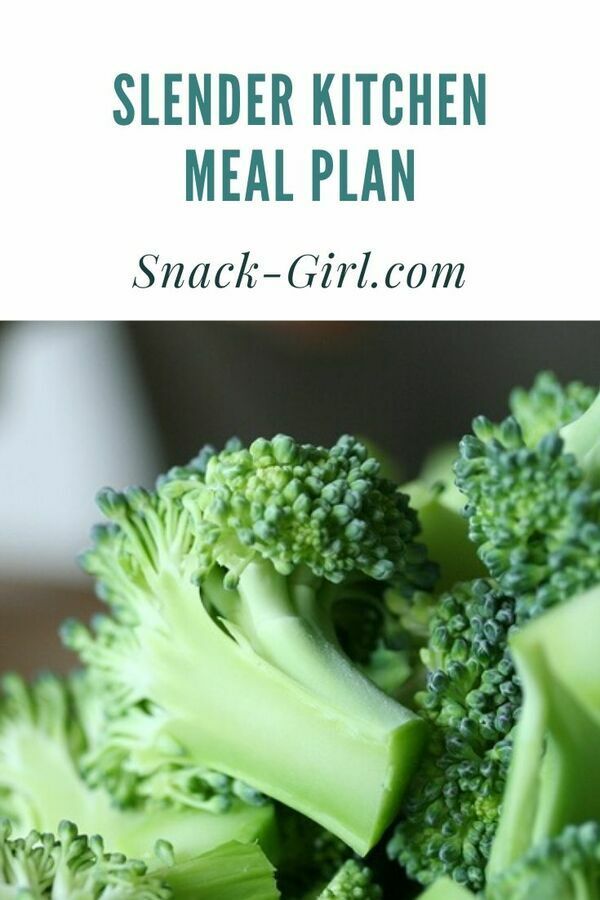 Sesame Chicken with Broccoli Recipe
reprinted with permission from Slender Kitchen
Makes 4 servings
Ingredients
1.33 lbs boneless skinless chicken breast, chopped
1/4 tsp. salt
1/4 tsp. pepper
1 tbsp. whole wheat flour
1 tbsp. sesame oil
1/2 tbsp. olive oil
2 garlic cloves, minced
1 tbsp. low-sodium soy sauce
1 tbsp. brown sugar
1 tbsp. white vinegar
1/2 cup low sodium chicken broth
3 cups broccoli florets
Instructions
Preheat the oven to 400 degrees.
In a small bowl, whisk the chicken broth, brown sugar, sesame oil, garlic, soy sauce, and white vinegar together. Set aside.
In another bowl, toss the chicken with salt, pepper, and flour.
In a large pan (make sure it's oven safe) heat the olive oil over medium heat. Once hot, add the chicken in one layer. Cook for three minutes on one side until nicely browned and then flip and cook for another three minutes on the other side.
Turn off the heat and pour the sauce mixture over the chicken, stirring to combine. Place the entire pan in the oven and cook for 20 minutes.
Meanwhile, prepare the veggies until just tender crisp. The easiest way to do this is by quickly placing in boiling water for 2-4 minutes until bright in color and just tender. You can also microwave for 4-5 minutes until just tender. Make sure to not overcook your vegetables.
During the last two minutes of cooking, stir in the vegetables.
Top with sesame seeds.
If you have any trouble with the sauce thickening, you can add a touch more flour or add cornstarch to thicken it up. You can also broil it during the last minutes of cooking to brown the chicken more if needed.
Nutrition Facts
For one & 1/4 cup = 244 calories, 8 g fat, 1 g saturated fat, 11 g carbohydrates, 4 g sugar, 35 g protein, 2 g fiber, 367 mg sodium, Green 5, Blue 3, Purple 3 Smartpoints
Points values are calculated by Snack Girl and are provided for information only. See all Snack Girl Recipes
---
Get Free Email Updates! Yes please!
---