Who Else Lost Their Virginity This Month?
See those lovely jars of apple butter? Snack Girl made them in a fit of unbridled domesticity.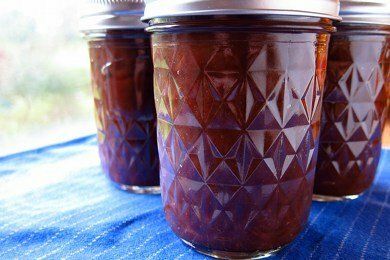 For the first time in my long 42 years, I canned jam. Yes, I am no longer a canning virgin. Take THAT Martha Stewart!
Now, before you click off this post because it sounds so overwhelming (making apple butter and canning), I will tell you that I spent very little time on this project.
All I did was cook some UNPEELED, cored, chunks of apple in my slow cooker for hours, blend, and then can the product. You could also skip the canning and just freeze your apple butter if you don't want to attempt the canning process.
Why had I never tried canning? Well, I guess I thought it sounded time consuming and if I messed up - there was botulism to fear.
I decided to give it a try and went to my hardware store and bought 12 mason jars with lids, and something called a "jar lifter" 'cause it seemed like something I needed. You can reuse the jars for your future canning adventures - you just need to buy new lids.
The key to my success was that I started small. I canned just 6 - 8 ounce jars of apple butter - and they all fit in my stock pot. Here are the steps involved:
wash the jars and lids
boil jars for 15 minutes in large stock pot
remove a jar, dump out hot water
fill with hot apple butter leaving about 1/2 inch at the top of the jar
put lid on
boil filled jar for 5 minutes
wait 12 hours and test seal (repeat sealing if it didn't work)
It wasn't that tricky and now I have 6 jars (5 now because we ate one already) of homemade apple butter! I can see how once you do this twice, you got it DOWN.
The apple butter recipe is adapted from one my favorite cookbooks, "Not Your Mother's Slow Cooker Cookbook" (see below). The only attribute you need to make this is patience because it takes many hours to cook.
The apples are in season where I live and I can go pick them for all sorts of apple based dishes. My son had this apple butter in his Rice Krispies and my daughter took it to school in a peanut butter and apple butter sandwich.
(I just spoon it into my mouth when I think no one is looking.)
Anyone else try canning? Please share.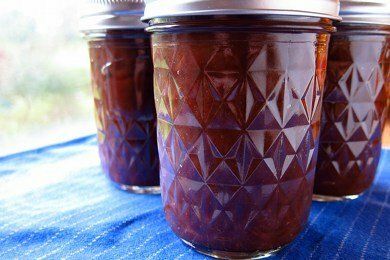 Apple Butter Recipe
makes 6 cups = 48 one ounce servings
Ingredients
5 pounds apples, unpeeled, cored, and cut up
1 cup sugar
1 cup apple juice or apple cider
1 teaspoon ground cinnamon
1 teaspoon ground allspice
pinch of salt
Instructions
Coat a 6 quart slow cooker with non stick cooking spray. Add all the ingredients and toss the mixture. Cover and cook on low for 12 hours (or overnight). Remove the lid and cook for additional 2-4 hours on low to reach your desired thickness.
Blend apple butter with an immersion blender, food processor, or regular blender.
Store in covered containers in the refrigerator for up to 2 months, freeze for up to 3 months, or can the apple butter via the above procedure. Use 6 - 8 ounce jars for canning 5 pounds cooked apples.
Nutrition Facts
One serving is 33 calories, 0.1 g fat, 8.5 g carbohydrates, 0.1 g protein, 0.9 g fiber, 4 mg sodium, 1 Points+
Points values are calculated by Snack Girl and are provided for information only. See all Snack Girl Recipes
---
$19.95 $14.96 Buy on Amazon.com
As an Amazon Associate I earn from qualifying purchases.
---
currently unavailable Buy on Amazon.com
---
Other posts you might like:
---

Snack Girl makes frequent visits to her local supermarket to check up on the latest. Guess what I found in the shampoo aisle?....
---

Above is a photo of Frani now, she has lost over 74 pounds in 16 months and graciously submitted to an interview with Snack Girl....
---

Anyone else like sloppy joes? This sandwich consists of ground meat, onions, and mystery sauce from a can served on a bun....
---

Healthy baked oatmeal is always a hit in my house. It is like a muffin (and like a pudding).....
---
---
Get Free Email Updates! Yes please!
---