Easiest Recipe for Butternut Squash: Slow Cooker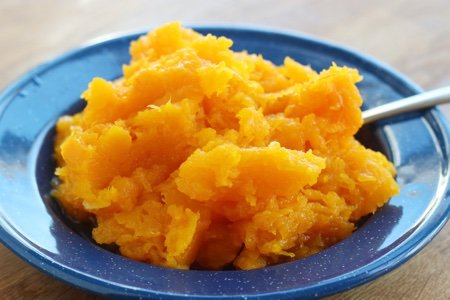 I have been on a butternut squash kick because it is so goooood.
I posted a butternut squash mac and cheese recipe on Sunday and kimm wrote this:
The easiest way to cook a squash is in the crock pot. You just toss it in and cook on low 5-8 hrs depending on its size. Cool a few min, slice open lengthwise and scoop out the seeds. Scoop flesh from skin and mash.
How could I not know about this? I am all about the "toss it in and forget it" when it comes to something as difficult to peel and chop as butternut squash.
So I tried it. Here is the photo of the butternut squash that was already in my fridge.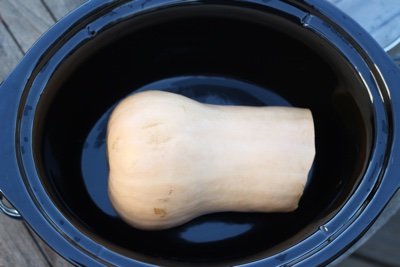 I had already chopped the top off because I used it for another recipe but this is a LARGE squash so I would have had to cut it to fit it in the slow cooker.
Then, I put it on low for 8 hours and voila! Perfectly cooked butternut squash that I can now serve with:
Brown sugar or maple syrup and butter
Tortillas and cheese to make a squashy quesadilla
Coconut milk and make a soup
Whatever you want to do with it – do it! If I was bringing something to Thanksgiving dinner, this would be my choice because no one would know that I hardly had to do anything to make a side dish that is so tasty.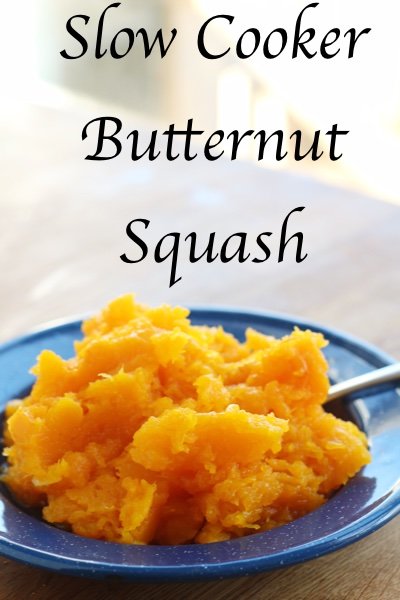 print
Pin It
Slow Cooker Butternut Squash Recipe
1 large butternut squash
Scrub butternut squash and place in a 6 quart oval slow cooker. Cook on low for 8 hours. After squash is tender, scoop out seeds with spoon and squash from peel.
One cup is 63 calories, 0.1g fat, 0.0g saturated fat, 16.0g carbohydrates, 3.1g sugar, 1.4g protein, 2.8g fiber, 6mg sodium, 2 Points+
Points values are calculated by Snack Girl and are provided for information only. See all Snack Girl Recipes
Other posts you might like:
---

Can you hide a pound of butternut squash in a casserole of mac & cheese? Should you even try?
---

This soup is HUGE on flavor, low in calories, and incredibly healthy. Win, win, win....
---
---
Make Eating Well Fun and Easy! Subscribe
---