Slow Cooker Chicken and Vegetable Stew
September 28, 2021
Slow cooker chicken and vegetable stew is perfect for those days where you home to smell the aroma of delicious food. Which is pretty much every day!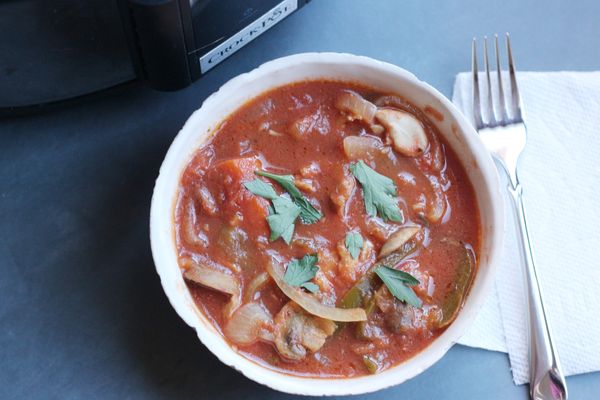 This is one of those recipes that your cat could make because it is so easy. It is close (but not exactly) to one of those unfortunately named "dump" recipes.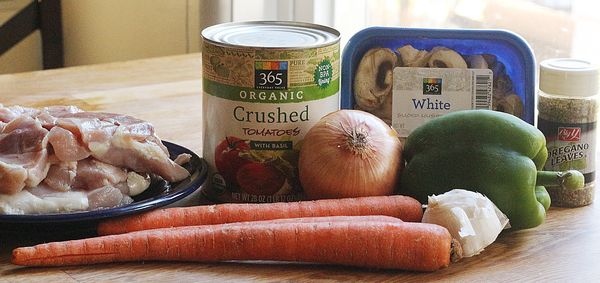 You know the ones that I am referring to - dump one can cream of mushroom soup, one chicken breast, one package noodles….. No slicing or dicing needed!
There are a ton of "dump" cookbooks but I can't find many recipes that I like. They tend to rely on processed foods instead of fresh foods and aren't the healthiest.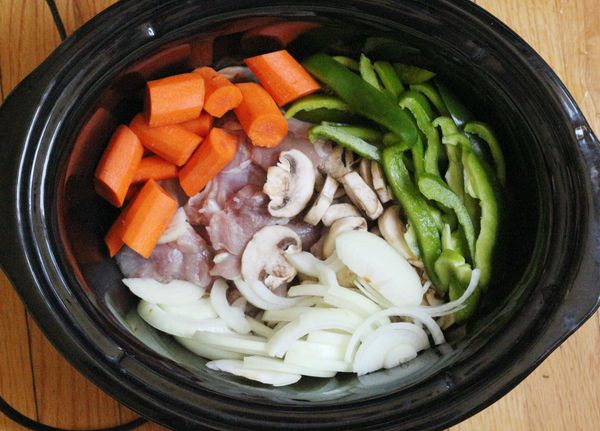 There is some slicing and chopping with this chicken and vegetable stew recipe but it is minimal. I buy my mushrooms pre-sliced (but you still have to wash them) and then do some work with the pepper, carrot, onion, and garlic. This goes fast!
Chicken does well in the slow cooker see my easy slow cooker chicken tacos and low carb chicken soup. It stays moist and becomes quite tender after hours of cooking.
This slow cooker chicken and vegetable stew could also be called vegetable and chicken stew because it is predominantly vegetables (and a fruit -tomato). I think this type of cooking - with meat taking a second place to vegetables - is the way of the future. It is better for you and the environment at the same time. Win-win!
I did not use chicken breasts here because I think it wouldn't be flavorful enough - the stew might become to bland. I do add some chili pepper and salt at the end because I like my food spicy.
Serve this with a salad and some crunchy bread or over pasta.
Do you make a slow cooker chicken and vegetable stew? What do you put in it?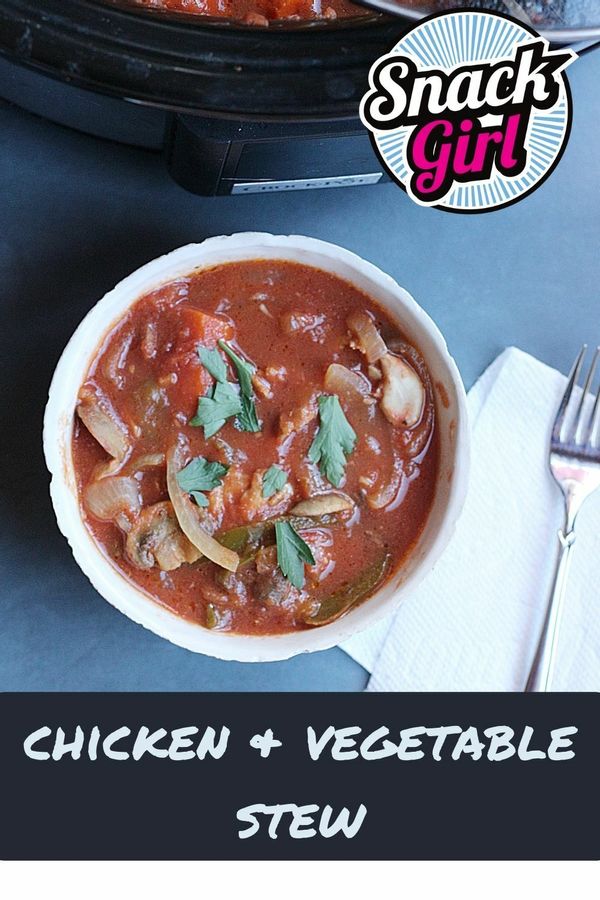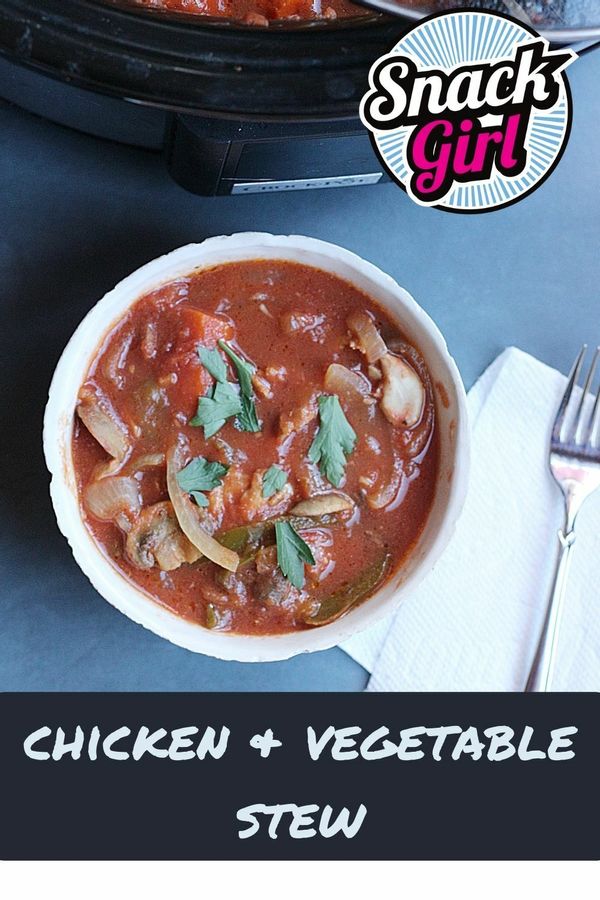 Slow Cooker Chicken and Vegetable Stew Recipe
Makes 10 cups
Prep time: 10 min
Cook time: 7 hours, unattended
Ingredients
1.5 pounds boneless, skinless chicken thighs
1 (8-ounce) packed sliced mushrooms
1 green pepper, sliced
1 medium onion, sliced
3 large carrots, peeled and cut into 1/2 inch chunks
2 garlic cloves, peeled and minced
1 (28-ounce) can crushed tomatoes
1 teaspoon dried oregano
salt and pepper to taste
Instructions
Place the chicken, mushrooms, green pepper, onion, carrots, garlic, tomatoes, and oregano in a 6-quart slow cooker. Cover and cook on the low setting for 7 hours. Taste just before serving and season with salt and pepper.
Nutrition Facts
One 1 cup: 187 calories, 5.7 g fat, 1.4 g saturated fat, 11.1 g carbohydrates, 6.7 g sugar, 22.4 g protein, 4.2 g fiber, 335 mg sodium, 2 Green, 2 Blue, 2 Purple WW SmartPts
Points values are calculated by Snack Girl and are provided for information only. See all Snack Girl Recipes
Other posts you might like:
---

This easy slow cooker chicken tacos recipe is a famous one on Snack Girl. You just toss ingredients into a slow cooker and you have healthy food that people like – and it is zero points on Blue and Purple for the WW members out there...
---

This low carb chicken soup is made in the slow cooker which makes it not only simple to make but completely delicious.....
---
---
Get Free Email Updates! Yes please!
---