Slow Cooker Chicken Quinoa Soup
Slow cooker chicken quinoa soup is wonderful after a long day trudging around in the cold.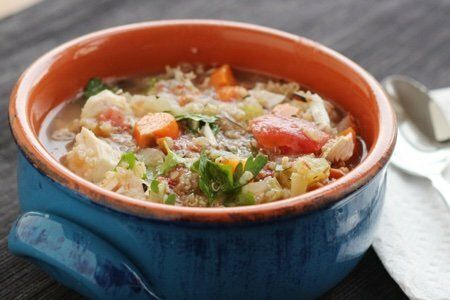 Using quinoa instead of pasta in soup is a great way to introduce more protein and make it seem homey. In my last slow cooker chicken soup – creamy chicken and wild rice in a slow cooker – I used wild rice to make it thick.
Quinoa is a great choice for a substitute for rice. My Mexican quinoa recipe is basically beans and rice without the rice.
For those of you who are trying to avoid pasta or white rice – this is a great combination that will remind you of a minestrone or other pasta filled soup – and you won't mind that the pasta is missing because you replaced it with a whole grain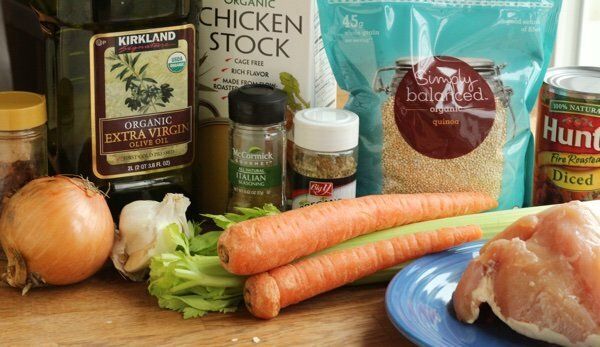 I had used all my quinoa and I found myself in Target looking for something. I decided to also look for quinoa and – surprise! – there was organic quinoa on the shelf (see above). Seriously. This is not the Target that I grew up with. Nobody has an excuse now for not having a source for quinoa.
The first step in this soup is to microwave the vegetables and olive oil.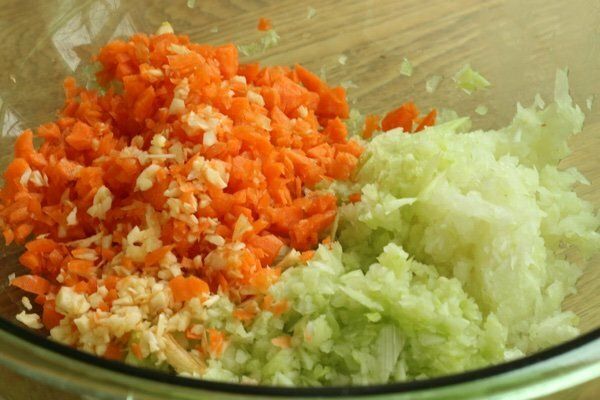 The taste will be much better if you take the time to do this as it mellows out the garlic and onion. If you have an Instant Pot, you can saute in the pot and then add the other ingredients.
I like using the microwave instead of the stove because I find it easier to clean a bowl versus a pan. It doesn't matter – all you want to is saute until softened to enhance the flavor.
This time of year, I like to make huge batches of soup and store them in the fridge for the week. This soup improves with age – just like me!
Have you tried substituting quinoa for pasta? What do you think?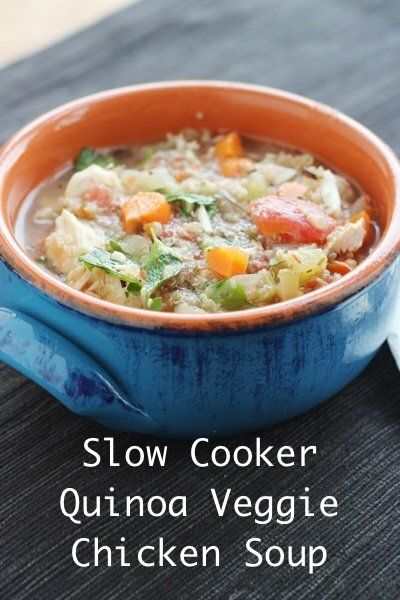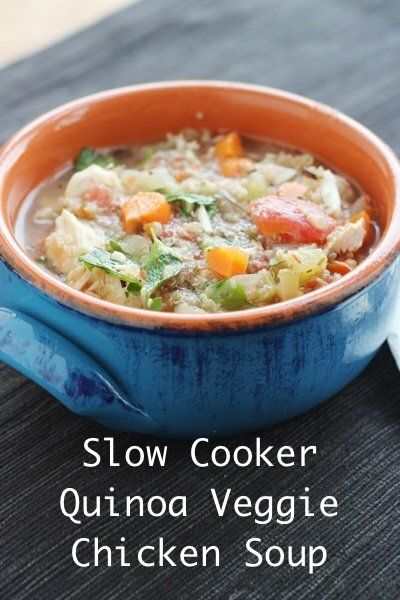 Slow Cooker Chicken Quinoa Soup
Makes 12 cups
Ingredients
1 cup onion, chopped
1 cup celery, chopped
1 cup carrots, peeled and chopped
4 garlic cloves, minced
1 tablespoon extra-virgin olive oil
1 pound chicken breast, boneless and skinless
¾ cup uncooked quinoa, rinsed
1 14.5 ounce can fire roasted tomatoes, with juice
¼ teaspoon red pepper flakes
2 teaspoons Italian seasoning
2 teaspoons oregano
6 cups chicken broth, low sodium
grated Parmesan cheese, optional
chopped parsley, optional
Instructions
Place onion, celery, carrots, garlic, and olive oil in a microwave safe bowl. Microwave on high for 2 minutes stir and repeat until the onions have softened. Place mixture into slow cooker with chicken, quinoa, tomatoes with juice, red pepper, Italian seasoning, oregano, and chicken broth. Cook on high for 3-4 hours until quinoa is cooked. Take out chicken, chop, and put back in soup. Garnish with parsley and Parmesan cheese.
Nutrition Facts
One cup is 148 calories, 4.1 g fat, 0.0 g saturated fat, 10.7 g carbohydrates, 2.0 g sugar, 16.7 g protein, 1.7 g fiber, 400 mg sodium, 2 Freestyle SmartPts
Points values are calculated by Snack Girl and are provided for information only. See all Snack Girl Recipes
Other posts you might like:
---

You can make this creamy chicken wild rice soup recipe in your slow cooker and your family will love you for it....
---

This Mexican quinoa recipe will change your mind about quinoa.....
---
---
Get Free Email Updates! Yes please!
---