Slow Cooker Roast Chicken
There seem to be a never-ending source of recipes that use "cooked chicken".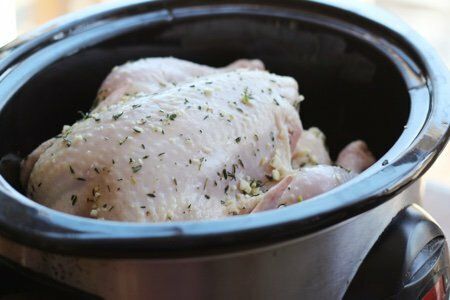 I am not a fan of buying rotisserie chicken (post to come about my reservations) so I cook my own. I have tried numerous recipes in the oven to get a perfect roast chicken. Many home chefs spend a lot of time on the quest for the best roast chicken (me included).
Slow cooker roast chicken is not perfect (you can forget it) – BUT – it is incredibly convenient and tastes pretty good. My biggest issue with the results of the slow cooker is that the chicken skin doesn't get crisp like it does in the oven. I don't eat the skin much anyway so it isn't that big of a deal.
I served this with roast asparagus (spring!) and my family enjoyed it. I had some fresh thyme in the house so I used it (and it was amazing). Don't worry if you don't have it.
The carrots and onion in this dish are for flavor not and will be quite soggy. I love the simplicity of this dish and the tastiness of the chicken. I make a chicken for the week and then we have chicken salad, chicken on salad, and easy leftovers for the lunchbox.
How do you cook chicken for easy recipes?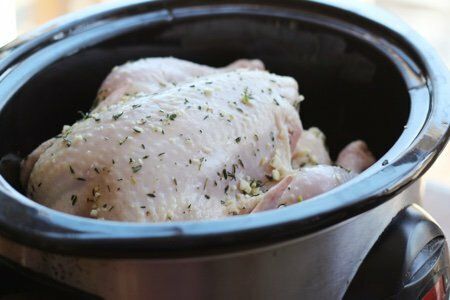 Slow Cooker Roast Chicken
Ingredients
2 medium carrots, peeled and cut into 1-inch pieces
1 medium onion, thickly sliced
3 garlic cloves, minced
1 tablespoon fresh thyme, minced (optional)
½ teaspoon salt
1 whole chicken, 4-5 pounds
Instructions
Place carrots and onion in the bottom of a 6-quart slow cooker. Mix garlic, thyme and salt in a small bowl. Rinse chicken, pat dry, and rub garlic mixture over bird.
Place chicken, breast side up, in slow cooker and cook on low for 4 hours or until the thigh meat reads 160 F.
Nutrition Facts
For three ounces chicken breast (no skin) = 140 calories, 3.0 g fat, 0.0 g saturated fat, 0 g carbohydrates, 0 g sugar, 27.3 g protein, 0 g fiber, 200 mg sodium, 3 Points+
Points values are calculated by Snack Girl and are provided for information only. See all Snack Girl Recipes
Other posts you might like:
---

Snack Girl rarely reveals her "foodie" side here on the site. Yes, folks, I read cookbooks, cooking magazines, and can converse about morels if pushed....
---

This is what my dish looked like before I put it in the oven....
---
---
Get Free Email Updates! Yes please!
---