Light Slow Cooker Chicken Curry From Everyday Maven
Today, Snack Girl is happy to host a guest post from Everyday Maven with a recipe for slow cooker chicken curry. Yum!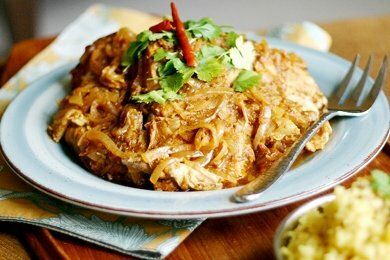 Hi Snack Girl Readers!
My name is Alyssa and I am the Everyday Maven. My blog is about cooking delicious, interesting, clean food while losing weight and staying slim - essentially, Whole Foods meets Weight Watchers.
I started Everyday Maven after joining Weight Watchers as a way to share my recipes, food tips and tricks with other like-minded food lovers who are not willing to sacrifice taste and food quality for weight loss.
When Snack Girl asked me to share a healthy and quick weeknight dinner recipe, I immediately knew I wanted to do a healthy Indian dish. See, as a longtime Snack Girl reader I know that Snack Girl (and you) love Indian Food but hate the added fat that is often present.
Remember this post from last May? (see: Who Else Wants Restaurant Quality Indian Food Without The Calories? I do!
I was so inspired I immediately ordered the Indian Slow Cooker and have made and loved a bunch of recipes from it (my favorite is the Simple Lentils).
Since getting a healthy, delicious dinner on the table is really tough some nights (read: most!), I wanted to provide you with a foolproof, easy and delicious dish that the whole family will love.
Weeknights are tough; everyone is hungry, tired from work and nobody (especially my toddler) seems to have the patience for prep work and cook time.
If this sounds familiar, then you will love this Slow Cooker Curry Chicken. I highlighted some additional ways to save even more time below. I hope you love it as much as we do and stop by Everyday Maven for more healthy, Weight Watchers friendly recipes!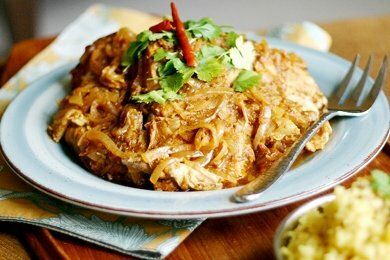 Slow Cooker Curry Chicken Recipe
Ingredients
6 Points+ Per Serving
Instructions
Recipe Makes Approximately 6 Servings (depending on size of chicken)
Individual Serving is Based on 4-ounce serving of Chicken Breast + 1/2 cup of sauce OR 3-ounce serving of Chicken Thigh or Leg + 1/2 cup of sauce.
1/2 cup mild curry paste (such as Patak's)
1/4 cup distilled white vinegar
2 to 4 cloves garlic (depending on size)
3″ piece ginger root, peeled
1 14.5-ounce can diced tomatoes (or 1 medium tomato cubed)
2 teaspoons ground cumin
1.5 teaspoons ground cardamom
2 teaspoons kosher salt
3/4 teaspoon freshly ground black pepper
1 3-to-4-pound whole organic chicken, skin removed, cut into 8 pieces
2 medium yellow onions, cut into half-moons and thinly sliced
1 to 2 dried red chiles
fresh cilantro (or parsley) for serving
1. Combine curry paste, vinegar, garlic, ginger, tomatoes, cumin, cardamom, salt and pepper in bowl of food processor (or blender). Process until mixture is a paste.
2.Place cut up chicken in slow cooker.
3. Halve onions and thinly slice.
4. Layer onions on top of chicken and pour sauce over. If using dried chile(s), place into slow cooker.
5. Cover and set timer to 8 Hours on Low OR 4 Hours on High.
6. Serve with coarsely chopped cilantro. Excellent with Spiced Coconut Rice or Toasted Garlic + Parsley Quinoa. Enjoy!
NOTES: Patak's Mild Curry Sauce is pretty readily available. If you have a hard time finding it, you can always turn to the internet. I have also seen a couple other brands at Whole Foods. If you buy a different brand, just recalculate the Points+.
If you want to use skinless, boneless chicken – I suggest a 2-pound combination of breasts and thighs (fat trimmed) cut into large chunks.
If you really want to save time, process the sauce the night before and store it in a container. Cut up onions and toss into a Ziploc bag. In the morning, just combine ingredients according to instructions below, set the slow cooker and head out the door to work!
I made this in a 6.5-Quart Slow Cooker. A 5-Quart Slow Cooker or above should be fine!
Nutrition Facts
Recipe Inspired by Chicken Curry in a Hurry posted in Bon Appetit Magazine September 2009 (Yes, I am that person that rips out recipes and keeps them in a folder for what seems like forever for inspiration).
Points values are calculated by Snack Girl and are provided for information only. See all Snack Girl Recipes
$19.95 $11.69 Buy on Amazon.com
As an Amazon Associate, I earn from qualifying purchases.
---
Other posts you might like:
---

Snack Girl LOVES Indian food and would eat it more except for a few things. Let me list them for you: cream, butter, and oil....
---

Snack Girl hasn't sucked on a hockey puck lately, but she has grilled skinless chicken breast past the point of edible....
---
---
Get Free Email Updates! Yes please!
---