Who Else Wants Restaurant Quality Indian Food Without The Calories?
Snack Girl LOVES Indian food and would eat it more except for a few things. Let me list them for you: cream, butter, and oil.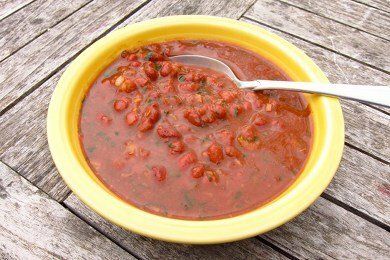 My latest solution has been to stop going out to eat Indian food - and I save both money and calories this way. But, I MISS it. Waaaah :(
Many readers have also requested ideas for low-fat Indian food, so I began looking. I found "The Indian Slow Cooker - 50 Healthy, Easy, Authentic Recipes" by Anupy Singla.
This book has changed my life - I am not exaggerating. Do you see that bowl of beans above? I devoured them! Guess how many tablespoons of oil or butter was used in the recipe - ZERO!
Yes, you can add some yogurt to these beans, but they don't need any to taste very rich. Anupy has used SPICES, not fat, for flavor and it works.
Anupy has included all the Indian restaurant favorites: Paneer, Chicken Tikka Masala, several types of Dal (lentils), and Curried Chickpeas. There are 50 recipes and they cover many of the traditional dishes.
(There is even a recipe for making yogurt in the slow cooker - I want to give it a try but all of my DIY yogurt projects have failed.)
My husband has proclaimed that this cook book is his FAVORITE because it combines two things he loves: Indian food and the slow cooker.
Now, I am lucky in that I live near a Whole Foods that carries a bunch of different Indian spices. You will have to get some things that you can't find at your local supermarket. Check out I Shop Indian for an exhaustive list of spices with reasonable prices (I am not sure about shipping).
For the recipe below, I did not add the chiles or the red chile powder because I thought it would be too spicy for my kids. I did use a tablespoon of paprika to replace the red chile powder and it worked!
The other thing is that there are TWO tablespoons of salt here -which makes the beans very tasty - but you should go with less if you are concerned with your sodium intake.
My husband heated up the beans on the stove until they were boiling and then added them to the slow cooker. This reduced the cooking time by 5 hours (it took 6 hours to cook instead of 11 hours).
These beans pack 24% of your daily value of Iron for just one cup. Isn't that incredible?
---
Punjabi Curried Kidney Beans Recipe
Reprinted with permission from "The Indian Slow Cooker" by Anupy Singla, Agate Surrey, 2010.
(Yield 10 Cups)
3 cups dried kidney beans, cleaned and washed thoroughly
1 medium yellow or red onion, peeled and roughly chopped
2 medium tomatoes, diced
1 (2 inch) piece ginger, peeled and chopped or grated
3 cloves garlic, peeled and chopped or grated
4-6 green Thai, serrano, or cayenne chiles, stems removed, chopped
3 whole cloves
1 (2-4 inch) cinnamon stick
1 tablespoon cumin seeds
1 tablespoon red chile powder
2 tablespoons salt
1 teaspoon turmeric powder
1 teaspoon garam masala
9 cups water
1/2 cup fresh cilantro

1. Put the kidney beans, onion, tomatoes, ginger, garlic, green chiles, cloves, cinnamon stick, cumin, red chile powder, salt, turmeric, garam masala, and water in a 5 quart slow cooker (large slow cooker).
2. Cook on high for 11 hours, until the beans break down and become somewhat creamy.
3. Remove and discard the cloves (if you can find them!) and cinnamon stick. If the beans aren't creamy enough, take an immersion blender and press it two or three times to break up some of the beans. If using a blender, take out about 1 cup and process in the blender, then return it to the slow cooker. Be careful not to process all of the beans; most of them should remain whole.
4. Stir in the cilantro. Serve over a bed of basmati or brown rice with a side of raita and an Indian salad.
To make this dish in a 3 1/2 quart slow cooker, halve all the ingredients and proceed with the recipe. A half recipe makes 5 cups.
For one cup = 198 calories, 0.8 g fat, 36.3 g carbohydrates, 12.9 g protein, 9.0 g fiber, 1412 mg sodium, 5 Points+
---
$19.95 $11.70 Buy on Amazon.com
As an Amazon Associate I earn from qualifying purchases.
---
Want to read about snacks?
What The World Eats (Cheap and Healthy)
Does A Breakfast of Frosted Mini-Wheats Help You Focus?
Hate Bananas? Try These Pumpkin Bites
Why Don't Americans Serve Eggs Like This?