Turkey Breast: The Slow Cooker Method
A few weeks ago, I roasted turkey breast and found out that I had done it all wrong.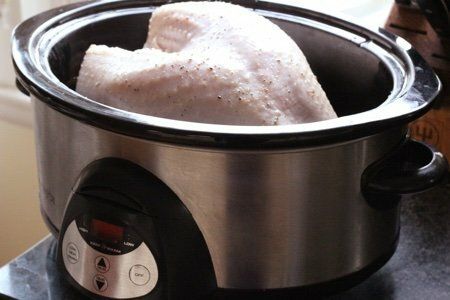 Many readers commented that I should have used a slow cooker for my turkey breast – and I hadn't even thought of that! Why? When I think of roasting, I think of the oven and not the $40 Crockpot that I got at Target 5 years ago.
I am nothing if not adventurous so I went back to the supermarket and purchased a 7.5 pound bone-in turkey breast for $15 to risk in my el cheapo slow cooker.
Above is the photo of the turkey breast in my slow cooker and you can probably notice that the turkey breast doesn't really fit. I bought the SMALLEST turkey breast that I can find and so I am not sure what to tell you. I could not find boneless turkey breast. I was told it shows up closer to Thanksgiving.
I am not sure I want to cook a boneless turkey breast because I think that cooking with bones is better. The bones insulate the meat, slowing the cooking, and providing less surface area to lose moisture. It is important to keep all the moisture you can when you are dealing with turkey breast – that tends to get super dry and therefore yucky.
What I had to do was cut out the back of the breast so it would rest in the cooker. I also balanced a glass measuring cup on the lid (as a weight) to push it down so the turkey breast would fit. It worked!
After all this finagling, I left the house and said a small prayer over the bird. When I returned, it was done and tasted goooood.
It was cooked through and juicy. My only complaint was that I felt it was a little overdone – but I like my turkey a wee bit pink which most people DO NOT.
Remove the skin and slice for sandwiches, tacos, soup, salad, or whatever you like to put your turkey on. This made quite a few meals and I wrapped portions in aluminum foil and put them in freezer bags for later consumption.
I think that this may be the best and easiest way to make turkey breast. Thank you, dear readers!!
How do you make turkey breast? Have you tried the slow cooker method?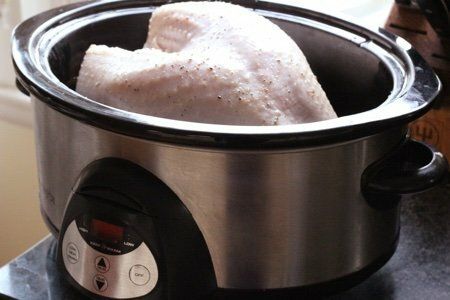 Slow Cooker Turkey Breast Recipe
Ingredients
1 7.5 pound bone-in turkey breast or smaller
salt and pepper

Instructions
Rinse the turkey breast and pat dry. Salt and pepper the breast liberally. Place in 6 quart oval slow cooker and cook on high for 1 hour, then set to low and cook for 6-7 hours.
Check with a meat thermometer for when the breast meat reaches 170 F or just let it go for the entire time.
There will be about 2 cups of liquid left in the slow cooker after the turkey finishes cooking. Defat and use for gravy or stock for soup.
Slice the turkey using serrated knife, moving back and forth fairly quickly to ensure a nice slice. At this point you can slice the entire turkey and package the meat in freezer bags for future lunches.
Nutrition Facts
Four ounces (without skin) is 118 calories, 1.8 g fat, 0.5 g saturated fat, 4.7 g carbohydrates, 4.0 g sugar, 20.0 g protein, 0.6 g fiber, 55 mg sodium, 3 Points+
Points values are calculated by Snack Girl and are provided for information only. See all Snack Girl Recipes
Other posts you might like:
---

My last visit to the supermarket revealed that the big bird is back in town....
---

Snack Girl needs to apologize to all her Canadian and other international readers. She is OBSESSED with American Thanksgiving....
---
---
Get Free Email Updates! Yes please!
---