Smart Ones Meals offer Smart Made: A Real Food Option
Smart Ones meals are the supposed smarter option in the frozen meals section. The smartness is because they are a lower calorie (and perhaps healthier) option.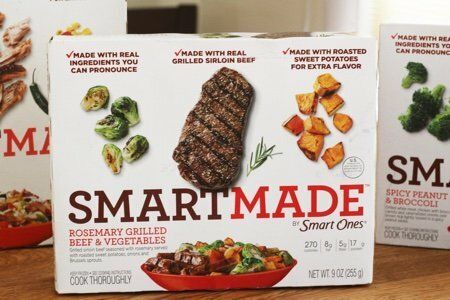 I wrote about Smart Ones in 2011 and didn't really like them. I was wandering around the frozen section last week when I saw "Smart Made" and was intrigued. They cost me $3 each so I decided to try three of them and determine if they were worth it.

Made like I made it? Hello? That seemed like a challenge to me and I was ready to take it.
At one point in my career, I was sitting across the table from the head chef of Nestle frozen meals and I said, "Why can't you make real food and freeze it instead of using all those crappy additives?"
He thought my idea of adding kale to the meals was quaint.
I didn't see any kale in these meals but the ingredients here are pretty close to what I would use for the "Rosemary Grilled Beef & Vegetables". It includes Brussels sprouts and sweet potatoes (without marshmallows).
Where is the Salisbury sauce, peas, and buttery mash potatoes? This really is a SMART choice when compared to most frozen steak dinners.
Here are the ingredients:

The only ingredient which I reviewed here was "yeast extract". It is a flavor enhancer and I wouldn't use that it my homemade food. I would just use salt. The list is pretty much okay.
Before I made the meal, I read the directions carefully. You must pay attention to how these are to be cooked because you don't want to get sick. It had directions for a 1100 watt microwave.
I had no idea what mine was and was happy to find that information on the front of the oven.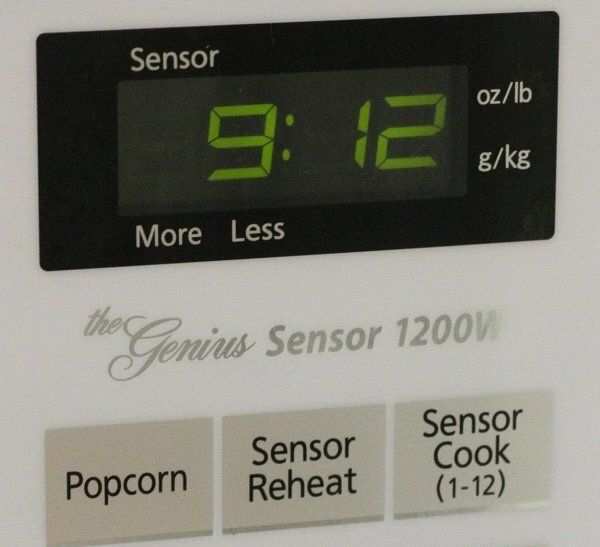 I have a 1200 watt microwave! How about that? Be sure to follow the directions!!
Here are the nutrition facts for the meal:
For one meal = 270 calories, 8 g fat, 3 g saturated fat, 30 g carbohydrates, 13 g sugar, 17 g protein, 5 g fiber, 600 mg sodium, 9 SmartPts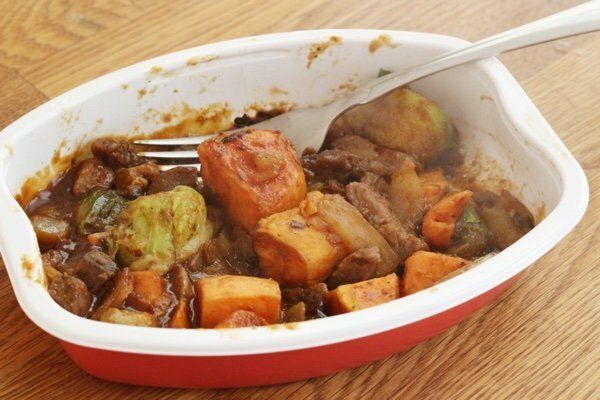 The good news is that this tasted like food. The bad news is that I found the sauce to be a bit strange. The meat was tender and the sweet potatoes were good. But, it was too salty and the Brussels sprouts were mushy.
I give this a C+. I wouldn't buy it again but I have had much worse.
From a health perspective, this is almost perfect. The sodium should be half what it is.
The second meal I tried was the "Spicy Peanut Chicken and Broccoli". I happen to love chicken, broccoli, peanuts, and brown rice so I was excited.

Again, there was nothing in this that made me think it wasn't going to be real food.
For one meal = 250 calories, 7 g fat, 1 g saturated fat, 29 g carbohydrates, 7 g sugar, 19 g protein, 5 g fiber, 610 mg sodium, 7 SmartPts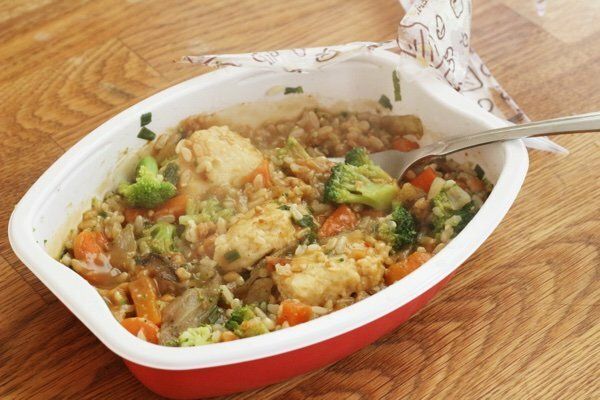 This was the best frozen meal I have ever eaten in my life. It was spicy, the chicken was tender, and the broccoli had a nice crunch. My only complaint was that the brown rice was a little crunchy but I prefer crunchy to soggy.
I give this an A. I would buy this instead of eating fast food or buying lunch out at work. My only true criticism is that it should have 300 mg of sodium not 600 (oh well).
This is far better than Amy's frozen meals as it is lower in calories and tastes better.
Finally, I tried the "Mexican-Style Pulled Pork Bowl". I give them points for calling it "Mexican-Style". All my "Mexican" dishes are not really Mexican, either. I just say that to describe the flavor profile.
Go to Mexico, try the food, and then ask yourself if your Taco Tuesday is authentic. I would bet that it is not.
Here are the ingredients:

Here we have brown rice, black beans, pork, and garlic powder (which I HATE).
This meal is one ounce bigger than the other two and I found it to be quite substantial.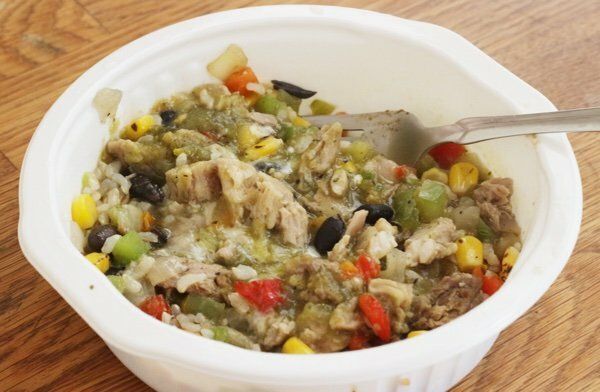 For one meal = 320 calories, 9 g fat, 4.5 g saturated fat, 33 g carbohydrates, 5 g sugar, 26 g protein, 7 g fiber, 670 mg sodium, 9 SmartPts
I give this one an A. I thought it was as good as something I would make. I can't believe I am saying that. My dish would be spicier but I like my food pretty spicy.
If I had a chance to meet the head chef of Kraft frozen foods, I would say two things:
1. Less sodium (please!).
2. Where's the kale?

Have any of you tried Smart Made? What do you think?
---
Other posts you might like:
---

Snack Girl has been trying frozen meals for a couple of months to see if she can find a meal that is healthy, delicious, and relatively low in calories....
---

It has been a long time since I last took a look at Amy's frozen meals.....
---