Support Healthy Snacking With A Snack Station
Have trouble when you get a bit hungry? Want to have a convenient way to grab a snack that isn't a vending machine?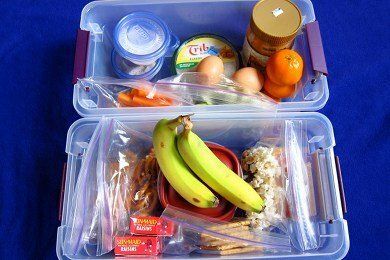 How about creating your own vending machine! Without the quarters and the stuff getting stuck that you paid for and can't get.
I came up with these Snack Station boxes when I decided I was TIRED of always making my kids a snack (and I saw it in Real Simple). They have fingers don't they?
One snack station is for the fridge and the other is filled with non-perishables for your counter top or cupboard. Either of them can go grab both bins and fix themselves something healthy and yummy.
What I found is I am eating out of the Snack Station boxes, too! This little organizational adventure has stopped me from eating random junk when I'm a bit peckish.
Here is how you do it:
Buy 2 plastic shoe storage boxes (or just buy one and use a cardboard one for the non-perishables). You can find these at Target, Walmart, etc.
Look around your house for great snacks,
Pack the boxes and place them right where someone would look for them.
Here is my fridge box: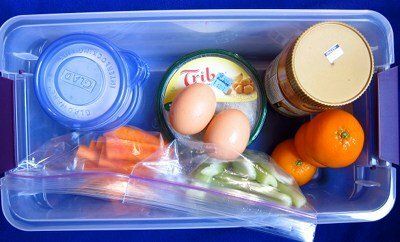 I have put hummus, mandarin oranges, cut up cheese, ranch dressing, peanut butter, hard boiled eggs, celery and carrot sticks in this box. I like to use the little Glad containers (BPA free) because they are reusable and my kids love their shape. They are super handy.
Here is my non-perishable box: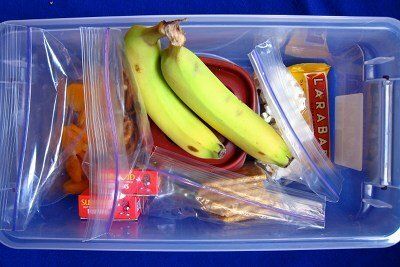 Here we have bananas, raisins, graham crackers, dried apricots, Triscuits, lighter trail mix, pretzels, and a LARABAR. I'm sure you guys can come up some other great additions to this box.
Finally, this is a photo of my fridge. It is kinda terrifying to shoot a photo of your fridge because then you can all see what I eat! Stonyfield yogurt definitely gets a plug - and you can see almond milk, orange juice, and hurray! butternut squash. (I did not reorganize my fridge for the shoot.)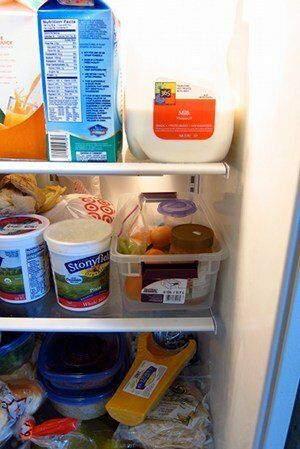 Do you see how the Snack Station box is one of the first things that you see? This is PRODUCT PLACEMENT so you don't go searching through your fridge for last night's leftover cheesecake.
Talk with your kids about what they want to add - and don't forget to include YOUR favorites, too. Remember, eat when you feel hungry. Denial of hungry just makes you grumpy.
Want to read about snacks?
A Delicious Almost Zero Calorie Snack (Really!)
A Surprise Ingredient In Stonyfield Yogurt
Guess Where I Found This Healthy Food?
Dress Up Your Apple Slices With Cookie Dough Dip