What Does Snack Girl Have In Her Pantry?
Like this guy, I spend a lot of time looking at packages in the supermarket.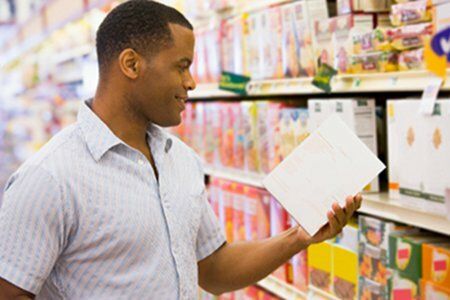 I have been asked many times what I keep in my house, and I am finally going to tell you. Why would this be helpful? Having your house stocked with some basics will help you stay on the healthy road.
Once I went over to a friend's house who was a strict vegetarian and, for a reason I cannot remember, I opened his fridge. There was a whole bunch of stuff I had never seen before, miso paste, almond milk, soy cheese, etc. and I realized that he stocked his house entirely differently than me.
Perhaps this list will get you thinking about what you purchase and give you some new ideas for food to keep around in case of a snow storm.
These items are what you will find in my house every day. I buy a whole bunch of different produced based on the season, but I almost always have the food below.
It is a little terrifying to share this list, because everyone has a different opinion about what is healthy. I will tell you that the choices that I make are based on my entire family's needs (not just mine).
I buy almost everything from my local Stop & Shop. With this food in the house, I can cook up a bunch of different meals for example, quesadillas, split pea soup, chili, roast chicken, and chicken soup.
Kitchen Cabinets
whole wheat pasta (all shapes)
brown rice, Minute Brown Rice (for emergencies)
canned tomatoes (all types)
canned beans (pinto, chick-peas, black beans)
jarred tomato sauce (no sugar or cheese added)
low sodium chicken broth
bread crumbs
Cape Cod Reduced Fat potato chips
Pretzels, Popcorn
Water crackers
Cheerios
Kashi Heart to Heart
KIND bars
onions, garlic, potatoes, winter squash
raisins, almonds, peanuts
vegetable oil, extra virgin olive oil, red wine vinegar, cider vinegar
King Arthur White Whole Wheat Flour
sugar, baking powder, baking soda, all purpose flour, cocoa powder
Kosher salt
dark chocolate chips
honey, agave syrup
whole oats
dried beans (black, kidney, lentils, split peas)
Genova Tuna packed in olive oil (tasty)

Freezer
chicken breasts, whole organic or kosher chicken (tastes better)
organic ground beef
ham hocks
Van's waffles
assorted frozen berries and vegetables (carrots, broccoli, cauliflower, peas)
Aidell's Apple Chicken Sausages
Whole Foods' White Whole Wheat Bread
cinnamon raisin bread

Refrigerator
Local Eggs
Local Whole Milk
Almond milk, unsweetened
Plain Organic Whole Milk Yogurt
Natural Peanut Butter (nothing added)
Butter, Sour Cream, Cheddar Cheese, Neufchatel cheese, Parmesan Cheese
Oranges, Apples, Carrots, Celery, Lettuce
100% Apple Cider
Ketchup, Mayo, Mustard, Jam
Fresh Salsa (purchased from produce section)
Hummus
Whole Wheat Tortillas

What did I leave out? What is essential for your pantry?
---
Other posts you might like:
---

I spend a lot of time looking at cookbooks to find good ones. This one made me smack my head and wonder why I hadn't thought of it.....
---

Snack Girl used to travel much more when she was cool. Now that she is boring, she flies maybe once a year....
---