The New Special K Breakfast Sandwich: Friend or Foe?
Snack Girl purchased this box of sandwiches for $6 because she had seen so many commercials for this product.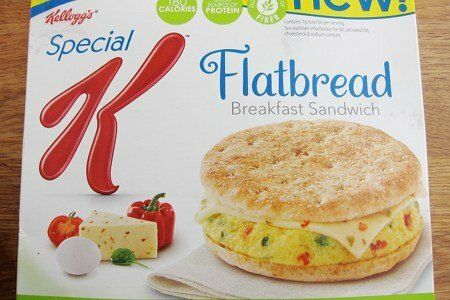 Also, a reader e-mailed asking me what I thought of them, so I thought I would give them a try. Wouldn't it be great? An easy, microwavable, healthy sandwich to start my day.
My first problem with these was the price. At $1.50 each, these better be good!
Here are the nutritional facts for one Egg with Vegetables & Pepper Jack Cheese:
180 calories, 7 g fat, 3 g saturated fat, 19 g carbohydrates, 3 g sugar, 9 g protein, 3 g fiber, 510 mg sodium, 4 Points+
Except for the sodium, which is very high, these seem to be a reasonable choice. Here is a gander at the ingredients: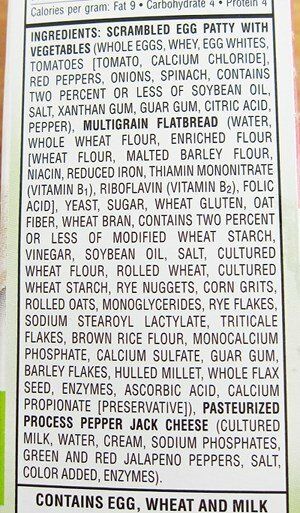 Okayyyyy. What are rye nuggets and will I like them? This seems more like a chemistry experiment than food. The multigrain flatbread part of the list is really out of control.
This is feeling like one of those processed foods we should avoid, even if it is low in calories and trying to be healthy.
How did it taste? In all of my years doing this job (4 years), I have never tasted something so terrible. Usually, I buy something like this and it is "okay". This was inedible. The eggs were watery and too salty.
It was like eating a watery, salty, spongy, ball of clay. It did not resemble breakfast and under no circumstances do I recommend it.
How Kellogg's could mess up bread, eggs, vegetables, and cheese is beyond me, but they did.
I promoted my own breakfast sandwich last year. Check it out here: The Egg McMuffin Makeover and give it a try. Almost anything you make in your kitchen will be better than the Special K breakfast sandwich.
---
Other posts you might like:
---

Here we are again, talking about McDonald's and their marketing prowess. Why do I keep bringing this up?....
---

Snack Girl has become a Greek yogurt expert. She has sampled them all and got excited when a new one appeared in the dairy case....
---