The Egg McMuffin Makeover
Seems like everyone and their house, dog, and spouses get makeovers. Perhaps my favorite makeover moment was Oprah's attempt at improving stay-at-home mothers who live in their sweats.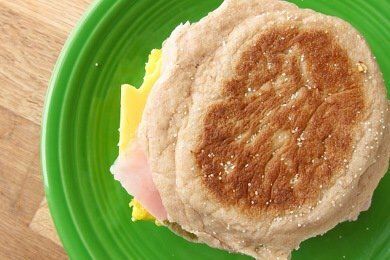 Yes, give a woman a great haircut and some designer clothes and you will have a better looking gal. But, she will hate how itchy and tight her clothes have become and she will revert back to that ponytail when you aren't looking.
What about the Egg McMuffin? If you follow Snack Girl, you know she has been searching for a delicious breakfast sandwich. See: Starbucks Breakfast Sandwich and McDonald's Egg McMuffin.
And, the commenters on these posts kept telling me to make my own sandwich and stop trying to waste my money at fast food venues.
Here is my attempt at an "instant" breakfast sandwich. How is it instant? I made 9 of them and stored them in the refrigerator. I heated them up in the microwave and handed them to my family as we got ready for work and school.
How did it go? I will say that the pre-made breakfast sandwiches were successful - but still not as good as just making the sandwich the morning you want to eat it.
I tried freezing the sandwiches and that was a FAILURE as when I thawed them in the microwave the eggs turned into RUBBER. argh.
How does Starbucks do it? Their sandwich was pre-frozen, heated in a microwave, and delicious.
Oh well. What I learned is DO NOT heat them in the microwave for longer than 30 seconds and they will be fine.
I used Thomas's whole grain English muffins because they are available nationwide and are 100% whole grain, one egg per sandwich, and THIN slices of real cheddar cheese and ham from the deli department of my supermarket.
The result was good - and much improved by a dash of ketchup. (maybe a little Tabasco?) But, interestingly, I wasn't able to cut down on the calories or sodium when I made my own sandwich.
It seems that my choices of english muffin introduced 312 mg of sodium and with the ham and cheese - there was 643 mg of sodium in my sandwich. The Egg McMuffin has 820 mg of sodium and there is 840 mg in the Starbucks sandwich, so I am doing better - but not as good as I would like.
Mine also didn't have fewer calories than the fast food brands, nor was mine cheaper to make than the Egg McMuffin. It was cheaper than the Starbucks version.
Please share your secrets on making delicious breakfast sandwiches. I can use them!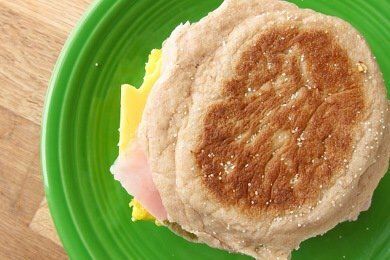 Breakfast Sandwich Recipe
(makes 9)
Ingredients
9 eggs
1/3 pound thinly sliced ham
1/3 pound thinly sliced cheddar cheese
2 packages 100% whole grain English muffins
Instructions
Heat oven to 400F. Crack eggs into bowl and whisk until blended. Spray 8 inch square pan with non-stick spray and pour eggs into pan. Bake for 8 minutes. Cut 9 square pieces and assemble sandwiches. Open muffin, put on egg, 1/2 slice cheese, and 1/2 slice ham. Store in fridge until ready to eat. Heat for 30 seconds in microwave before serving.
Nutrition Facts
276 calories, 11.6 g fat, 27.7 g carbohydrates, 17.2 g protein, 4.6 g fiber, 643 mg sodium, 7 Points+ per sandwich
Points values are calculated by Snack Girl and are provided for information only. See all Snack Girl Recipes
Want to read about snacks?
Try This Healthy Pie.....Naked
Do You Recognize This Bag? Bet You Can't Guess The Source
Can Domino's Deliver A Healthy and Tasty Meal?
Green Thing...You Make My Heart Sing
---
Get Free Email Updates! Yes please!
---