Cream Soup Like You've Never Had Before
I cannot believe I am writing about soup already! The overnight lows here have been in the 40's.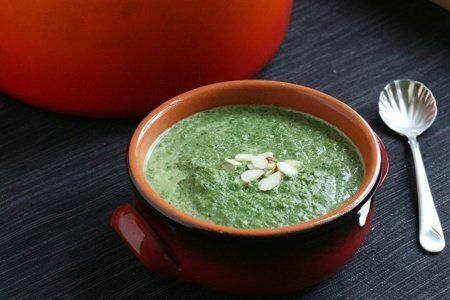 Today it is raining and I decided to make soup. I began by hunting around my freezer where I found ½ pound of broccoli and 1 pound of spinach that I needed to use up.
I grabbed a can of coconut milk and got to work. Coconut milk is amazing in soups. If you have ever had a Thai soup (and wondered what that awesome creaminess was) – it was coconut milk.
Since fat is back, I decided to use full fat coconut milk instead of the light. I did add 3 ½ cups water to this soup to dilute it – so don't think it is super heavy. The saturated fat here is due to the coconut milk and is not the same saturated fat that is found in beef.
This soup takes about 10 minutes to make and is so tasty that you won't even notice that it is green.
For a spicy component, add ½ teaspoon of red pepper flakes when you sauté the onion. My kids complain when I add pepper so I never get that PUNCH that I love so much.
In a one cup serving, you get 110% of your daily value of vitamin A, 10% of your daily value of iron, and 73% of your daily value of vitamin C.
Have you added coconut milk to your soup?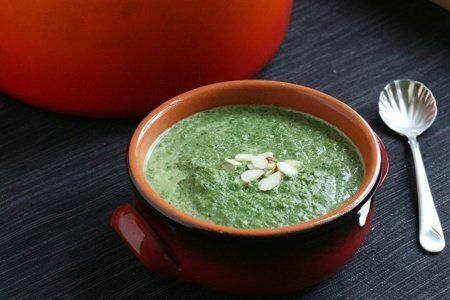 Coconut Cream of Spinach and Broccoli Soup Recipe
Makes 8, 1 cup servings
Ingredients
1 14-ounce can full fat coconut milk
3 cloves garlic, mashed with the flat of a knife
1 medium onion, chopped
1 teaspoon salt
3 ½ cups water
½ pound frozen broccoli (whole or chopped)
1 pound frozen spinach (whole or chopped)
Instructions
Open the can of coconut milk and scoop about 3 tablespoons of the thick cream. Place in large saucepan and heat over medium high with the garlic, onion, and salt. After the onion has softened, add the rest of the can of coconut milk, water, broccoli, and spinach and heat until boiling.
After broccoli and spinach have thawed, puree the soup using an immersion blender or a regular blender. Blend until smooth.
Heat to hot and serve.
Nutrition Facts
In a one cup serving = 122 calories, 9.5 g fat, 8.4 g saturated fat, 7.1 g carbohydrates, 2.1 g sugar, 3.3 g protein, 2.3 g fiber, 360 mg sodium, 3 Points+
Points values are calculated by Snack Girl and are provided for information only. See all Snack Girl Recipes
Other posts you might like:
---

March is one of those months that I wish would hurry up....
---

Do you have any relatives who say that they cook and then they just open cans? Yep, this recipe was inspired by a "Can Chef"....
---
---
Get Free Email Updates! Yes please!
---