Is This Starbucks Sandwich An Example of False Advertising?
Every day I get approached by food companies to review their products. Starbucks recently e-mailed me with their latest breakfast offering.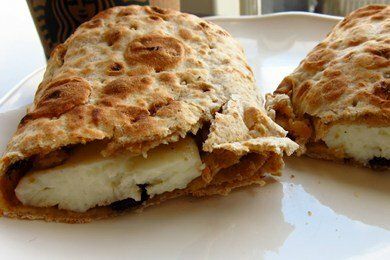 They produced a NEW "chicken sausage, egg white and fire-roasted veggies in a wheat wrap" to grab along with your non-fat, double shot, venti latte. I decided to go and give it a try because I am looking for breakfast ideas that include vegetables.
I get excited about a fast food company putting vegetables in its breakfast food because our diet is sorely lacking in veggies. If you get them at breakfast, it is a GREAT start on your 5-7 servings per day.
Here is the corporate image of the sausage, egg, and veggie wrap on the Starbucks website: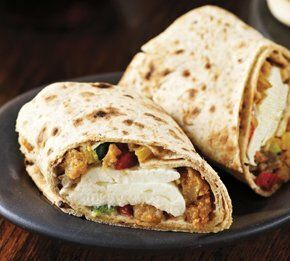 Do you notice something? My sandwich in the top photo is lacking in veggies, while the Starbucks photo has quite a few surrounding that egg patty.
I absolutely hate that I have to write a negative review of Starbucks, because I like Starbucks. I like that they give their employees healthcare and I really like their coffee.
(Don't tell anyone but out of the local cafes in my town, Starbucks is my favorite.) This is going to sound crazy, but if I didn't have a job working on this website - I would work at Starbucks. I love coffee and those cute green aprons.
BUT, the lack of vegetables in this sandwich was shocking. Here is a shot of the inside of the wrap:
There is like one cube of zucchini! Man, that is disappointing. Sad....WAAAAHHH!
Let's take a look at the nutritional facts:
300 calories, 10 g fat, 33 g carbohydrates, 14 g protein, 5 g fiber, 700 mg sodium, 7 Points+
That is 31% of your daily value of sodium. When you look at the ingredient list below - which takes a PhD to read - you will notice that the vegetables are the last ingredients listed. The ingredients are listed in order of amount, meaning the more there is of an ingredient, the closer to the top of the list it will be.
Does this mean there is more SALT than Zucchini? I kinda wonder. Actually, salt is listed four times, but not as a separate ingredient so the answer to that is no (most likely).
Maybe, I got the one in the store that had the least amount of veggies and it was just bad luck. Or maybe veggies are more expensive than egg whites and wheat wraps so they skimp on them.
My advice is to make your own egg white and veggie wrap and forget buying this one.
Have you tried the new Starbucks breakfast wrap?
Ingredients:
wheat wrap (water, whole wheat flour, enriched wheat flour [wheat flour, malted barley flour, niacin, reduced iron, thiamin mononitrate, riboflavin, folic acid], canola oil, vital wheat gluten, corn starch, oat fiber, soy protein, honey, salt, yeast, monoglycerides, guar gum, dextrose, soybean oil, sesame flour, yeast [inactive], calcium sulfate, calcium propionate, fumaric acid, l-cysteine, fungal amylase). egg white omelet (cage free egg whites*, whey powder, unmodified corn starch, nonfat dried milk, salt, butter flavor [sunflower oil, natural flavors, medium chain triglycerides, palm kernal oil], xanthan gum, guar gum, liquid pepper extract. italian style chicken crumbles (chicken meat, water, brown suger, less than 2% potato starch, spices [including fennel], salt, sodium phosphate, onion, paprika, garlic, bha & bht). red pepper spread (pasteurized milk and cream, water, sugar, dried roasted red bell pepper, whey protein concentrate, modified food starch, dried onion, dried garlic, cheese culture, salt, spice, stabilizers [carob bean and/or xanthan and/or guar gum], lactic acid, dried chive, natural falvors, enzymes). green zucchini. red bell pepper. mushrooms. yellow bell pepper.
---
Other posts you might like:
---

Last week, I posted What You Need To Know About McDonald's Oatmeal. Immediately, I was asked about Starbucks' oatmeal....
---

The relentless search for a decent egg breakfast sandwich continues with an entrant from Starbucks....
---