Steel-Cut Oats Faster Than Instant
It is winter and I have the desire for a hot breakfast. Actually, I have a desire for trip to the Bahamas but that isn't going to happen.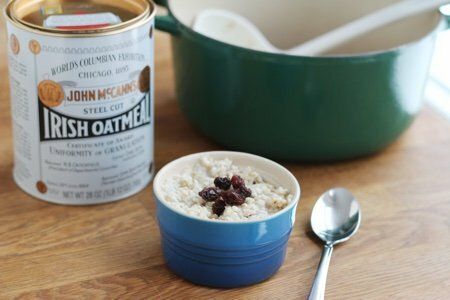 We have mountains of snow in our yard and there are super mountains in parking lots. This year, I convinced my husband to purchase a snow blower so I have been clearing the driveway by making my own personal storm of blowing snow.
School, this time of year, seems optional. A mom friend of mine was telling me how much she likes it when she and her kids are home so she has time to make a hot breakfast.
I am here to tell you that you don't need a snow day for a hot breakfast of seriously delicious oatmeal. First, start with the best oatmeal that you can buy – steel-cut oats. These can be found next to the other oatmeals and much more nutty and crunchy than regular whole oats.
The main difference between steel cut oats and regular oatmeal is that steel cut oats are less processed. Rolled oats are steamed, rolled, steamed again and toasted. Steel cut oats are just coarsely chopped.
Because steel cut oats aren't processed, when you cook them it can take 30-40 minutes on the stove before they are done. Does anyone have that kind of time in the morning?
But, if you boil them on the stove the night before you want to serve them – they are creamy and waiting for you as you wipe the sleep from your eyes. You can make them one day and then put the servings you don't eat in the fridge and heat them as needed.
All you have to do is heat it up (on the stove or in the microwave) and serve it the way you want.
Steel-cut oats taste so much better than instant oats and will stay with you longer because they have a LOWER glycemic index than regular oats. They have 10% of your daily value of iron, five grams of protein, and four grams of fiber per serving.
My favorite toppings for oatmeal:
peanut butter, almond butter, sunbutter, etc.
raisins, dried cranberries, chopped dried figs
blueberries, mango pieces, chopped apples
walnuts, almonds, pecans, etc.
brown sugar, maple syrup
Have you tried overnight oats?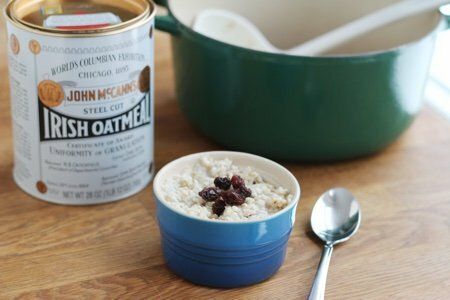 Overnight Steel-Cut Oatmeal

Makes 4 – 1 cup servings

Ingredients
1 cup steel-cut oats
3 cups water
pinch of salt

Instructions
The night before you want to eat oatmeal put oats, water, and salt in a large saucepan (allow room for oatmeal expansion). Boil for one minute.
Cover the pot, remove from heat and leave on stove until morning.
When you wake up, heat the pan and add more water to get a thinner consistency.
Nutrition Facts
One cup cooked oatmeal without toppings = 140 calories, 2.5 g fat, 0.5 g saturated fat, 27.0 g carbohydrates, 0 g sugar, 5.0 g protein, 4.0 g fiber, 4 mg sodium, 3 Points+
Points values are calculated by Snack Girl and are provided for information only. See all Snack Girl Recipes
---
currently unavailable Buy on Amazon.com
As an Amazon Associate I earn from qualifying purchases.
---
---
Get Free Email Updates! Yes please!
---