Make Your Own Strawberry Jam (No Sugar Necessary)
See those jars of jam up there? I made them.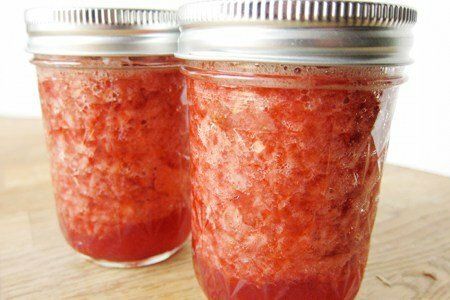 Some of you may think that I am trying to be Martha Stewart with a feature on canning. Nothing could be farther from the truth - she is way too perfect for me (except for that stint in the pokie).
No, I found time to make jam because I was able to produce strawberry jam with almost no sugar added. My entire half pint jar of jam is a whopping 78 calories and it includes 150% of your daily value of vitamin C.
How did I do it?
Ball sent me something called a "Canning Discovery Kit" and they included something called "Low or No-Sugar Needed Pectin". Pectin is a compound found in the cell walls of plants and is a jelling ingredient.
Most recipes for jam include a lot of sugar, so this no-sugar needed pectin is amazing stuff.
To make my jam, I simply crushed fresh strawberries, added pectin, a wee bit of sugar, and water, boiled and stirred for a minute and (here comes the hard part) jarred my product.
If you don't want to jar your jam, just put in a container and store it in the fridge. It should stay good for a week.
For those of you who want to give it a try, there is a clear explanation here: It's Easy To Can. You have to use a stockpot to heat your jars to boiling hot, then you fill your up to ¼ inch from the top of the jars with hot jam, then heat up the jars in boiling water again for 10 minutes until the lids seal.
It isn't that difficult, but it does take attention and time to complete it. I used a tool called a "Jar Lifter" to help me handle the hot jars.
My jam came out tasting of fresh strawberries, and I am finding that my sugary Bonne Maman jam no longer tastes good to me. Also, my jam costs about ½ as much as a jar of premium supermarket jam.
The jars will stay good for a whole year and I found that it makes your neighbor's smile when you hand them your preserves.
This product was received for review consideration. No other compensation was provided.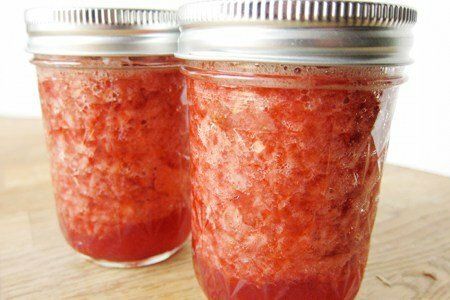 Low or No Added Sugar Strawberry Jam Recipe

(makes 5 half-pints)

Ingredients
2 pounds strawberries
2 tablespoons Ball Low or No-Sugar Needed Pectin
½ cup water
2 tablespoons sugar (if needed)

Instructions
Wash, stem, and crush strawberries. Taste the strawberries for sweetness and add sugar if needed. Combine strawberries, water, and pectin in a large saucepan, stirring to dissolve pectin. Bring to a boil, stirring constantly. If gel starts to from before 1 minute boil is complete, remove from heat.
Ladle hot jam into hot jars, leaving ¼ inch space below lid. Remove air bubbles by stirring with a metal spatula. Put on lids and process 10 minutes in boiling water.
Nutrition Facts
For one jar with sugar added = 78 calories, 0.5 g fat, 19.0 g carbohydrates, 13.9 g sugar, 1.2 g protein, 3.6 g fiber, 0 mg sodium, 2 Points+
Points values are calculated by Snack Girl and are provided for information only. See all Snack Girl Recipes
---
$9.99 ($1.85 / Ounce) $9.07 ($1.68 / Ounce) Buy on Amazon.com
As an Amazon Associate, I earn from qualifying purchases.
---
Other posts you might like:
---

Freezer jam was absolute mystery to Snack Girl until a few weeks ago. I had never even heard of it until readers commented on How To Pick A Healthy Jam or Jelly....
---

It isn't that hard to find a healthy jam or jelly if you know what to look for....
---
---
Get Free Email Updates! Yes please!
---