Strawberry Santa Hats
You can't get any more easy and fun than strawberry Santa hats.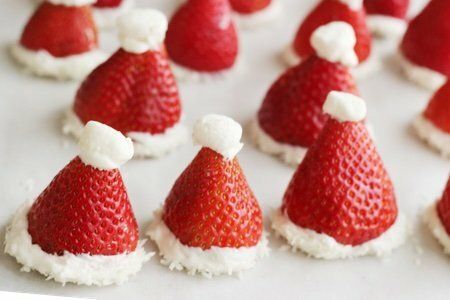 First of all – no baking. If you are like me, you are sick of baking after the first 2 dozen cookies so these come as a relief.
Secondly, these are far healthier than your regular cookie – makng them both fun and subversive – that is my kind of holiday treat!
I have done santa hats with ricotta and hats with santa hat with whipped cream but both of those versions had issues.
This, my faithful followers, is my favorite version thus far. This year, I added a video to inspire you to make these because they are so easy.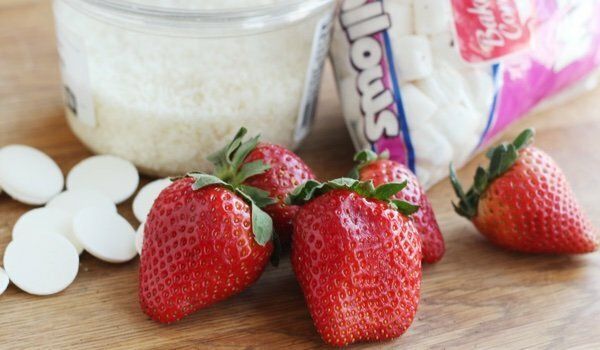 I used white candy melts (but you can use white chocolate), unsweetened coconut, and mini-marshmallows. The fringe on the bottom is what sold me on this version as well as the flavor combination of coconut and strawberries (yum!)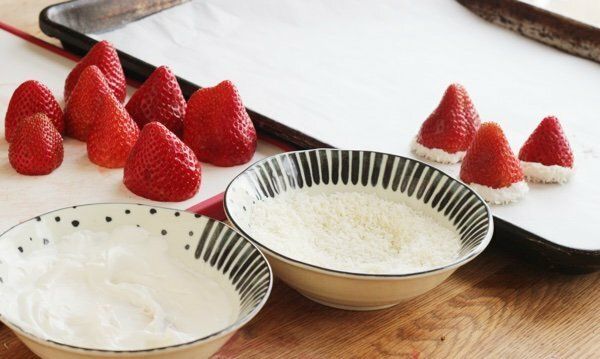 Melt your chocolate at 20 second intervals at half power in your microwave. Slice off the green leaves of the strawberry and dip the flat section into the chocolate and then the coconut.
Place on a sheet of parchment paper or a non-stick surface.
Slice your marshmallows in half with a paring knife (or else they look too big) and dip them in the chocolate and put them on the tip of the strawberry. Voila!
Serve these at a brunch or for dessert. I love to make these with the Christmas cookies so that I encourage my children to eat some fruit. This works!
They also look really pretty a cake as a decoration or around the base of the cake. You cut cut them in half and stick them on the side of a cake – no?
I found unsweetened coconut in my baking aisle but you may have to go to the Natural Foods section or a specialty store such as Whole Foods. I don't know why it is so hard to find because it tastes AMAZING without sugar.
The sugar in the chocolate is enough to sweeten the whole confection.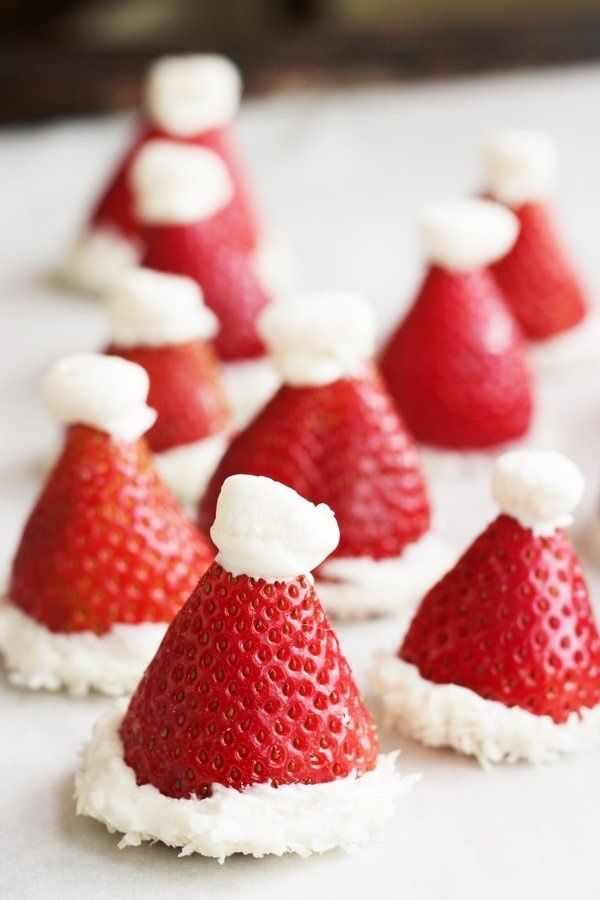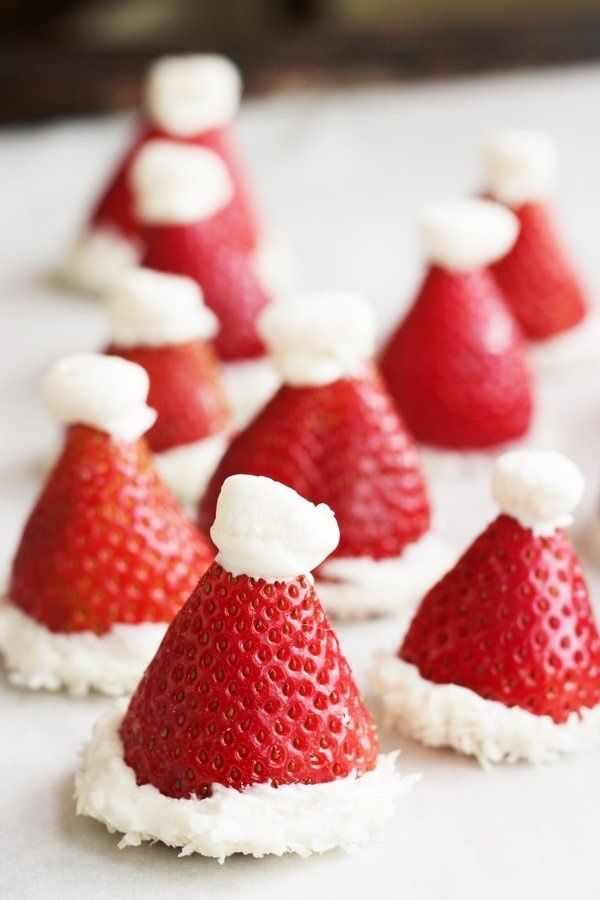 Strawberry Santa Hat Recipe
Makes 1 pound of strawberries (about 15)
Ingredients
1 pound strawberries, washed and patted dry with paper towels
¼ cup white chocolate or white candy melts
¼ unsweetened coconut
8 mini marshmallows, sliced in half
Instructions
Line a baking sheet with parchment paper. Slice the hull off the strawberry to make a flat base. Heat the white chocolate in the microwave at half power for 20 seconds until melted in a small bowl. Place coconut in a small bowl and dip the flat end of the strawberry, first in the chocolate, then the coconut. Place on the baking sheet. Repeat.
Dip the half of marshmallow in the chocolate and place on the tip of the strawberry. Place in fridge for 10 minutes and enjoy. Can be made 1 day ahead.
Nutrition Facts
Each strawberry is 48 calories, 3.2 g fat, 2.5 g saturated fat, 5.0 g carbohydrates, 3.6 g sugar, 0.6 g protein, 1.2 g fiber, 4 mg sodium, 2 SmartPts
Points values are calculated by Snack Girl and are provided for information only. See all Snack Girl Recipes
Other posts you might like:
---

You know how you have a holiday favorite that you make EVERY year....
---

The search for "healthy" and "holiday" continues at Snack Girl headquarters (AKA my house). These Santa Hats are the latest find....
---
---
Get Free Email Updates! Yes please!
---