Make These Strawberry Santa Hats
You know how you have a holiday favorite that you make EVERY year.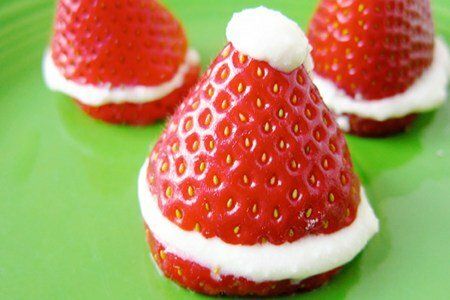 Well, this is mine. I love this Santa Hat and I can find fresh California strawberries that are tasty in my supermarket.
They have gone through an evolution of sorts. Three years ago, I made adorable Santa hats with whipped cream. There were complaints.
Actually, there was only one complaint from a friend of mine and regular reader, Shanna. She made my Santa hats and then complained that they had to be consumed IMMEDIATELY or the top would slide off.
She was right about that. Here is the photo which went a bit viral: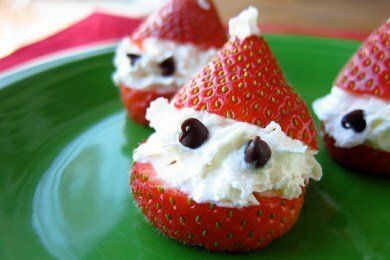 Notice how the hat is already sliding off the strawberry as I am rushing to take the photo.
This is simply strawberries and canned whipped cream with some mini chocolate chips. They were a huge hit, but I had to agree with Shanna about their stability.
Two years ago, I went back to the drawing board and came up with the "new and improved" Santa hat. Again, people loved them! I used part skim ricotta cheese to make them more stable and it works!
The key to keeping the hat on is to slice the strawberry very straight so that the hat rests flat. If there is an angle, you will have hat slippage.
These are also simple to make (not as easy as the whipped cream version) and they will store in your fridge for a party. Just mix up ricotta, sugar, and vanilla and spread it on the strawberry.
Do you have a holiday recipe that you make every year?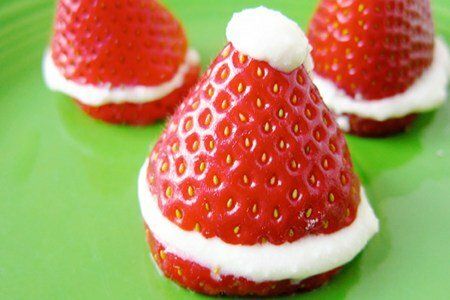 Santa Hat Recipe
makes 10 hats
Ingredients
10 fresh strawberries
½ cup part skim ricotta cheese
2 tablespoons confectioners sugar
¼ teaspoon vanilla
Instructions
Hull strawberries and slice a small portion off the bottom so that the strawberry will lay flat. Mix together ricotta, sugar, and vanilla. Using a spoon, put filing between the bottom slice and the top slice. Add a dab of filling to the tip of the strawberry.
These can be enjoyed immediately or put in the refrigerator to be served later. These will last one day in the fridge.
Nutrition Facts
One santa hat is 27 calories, 1.0 g fat, 0.6 g saturated fat, 3.1 g carbohydrates, 0.6 g sugar, 1.5 g protein, 0 g fiber, 16 mg sodium, 1 Points+
Points values are calculated by Snack Girl and are provided for information only. See all Snack Girl Recipes
Other posts you might like:
---

The search for "healthy" and "holiday" continues at Snack Girl headquarters (AKA my house). These Santa Hats are the latest find....
---

Looking for a way to make it through the holidays without adding to your muffin top? I know I am....
---
---
Get Free Email Updates! Yes please!
---