Stuff It! (I'm Talking About Mushrooms, Of Course)
Incorporating veggies into parties can be ridiculously easy if we set our minds to it. Of course, it takes prep time and shopping, but your guests will be so grateful when they show up and the Potato Chips are missing.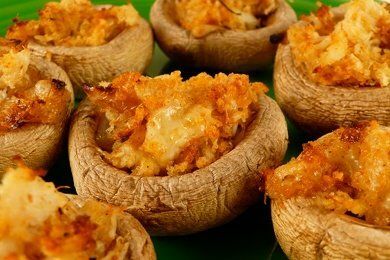 Stuffing mushrooms is really fun and the results are delicious. It is a multi-step process, but the actual cooking step isn't very long. You can make them ahead and just pop them in the oven when your guests arrive.
I made these that crab meat that I received from Phillips Foods. I used claw meat which only cost $6 for 8 ounces and it was really delicious. The crab makes a more sophisticated party snack, and it tastes really delicious without many calories.
The best part of making stuffed mushrooms is preparing the mushrooms. After you wipe the dirt of with a paper towel (do not put them under running water because they will absorb it), you can turn the stem and it will POP! right out of the top. It actually makes a little pop! noise.
You can use either bread crumbs or Panko. Panko is a Japanese bread crumb which is very light. You can find it in the "Asian" section of your supermarket.
My kids enjoyed making these with me - they can pop! the mushrooms and put the filling in the caps. Unfortunately, they didn't like eating them. You can lead a horse to water.....
---
Stuffed Mushrooms Recipe

(6 to 8 appetizer servings)
24 medium white mushrooms
3 tablespoons bread crumbs or panko
2 tablespoons butter
1 medium shallot, finely chopped
4 ounces fresh crabmeat (claw meat)
1/4 cup grated fontina cheese
1/2 lemon
salt and pepper to taste

Wipe mushrooms with wet paper towel to clean off dirt. Pop the stems out of the caps and discard. Melt butter in small frying pan. Add shallots and cook until softened, about 3 minutes. Add bread crumbs to pan and then pour mixture into larger bowl. Mix in crabmeat, fontina, and squeeze in lemon juice. Taste and then add salt and pepper. Turn your oven on broil. Fill mushroom caps with crabmeat mixture and place on a rimmed baking sheet. (Can be refrigerated at this point for a few hours). Place baking sheet under the broiler for 3 minutes or until the cheese is melted. Serve immediately.
This product was received for review consideration. No other compensation was provided.
What do you stuff in your mushrooms?
Want to read about snacks?
How To Pick Healthy Bread - A Toast to Toast
Better and Faster than A Bowl of Cold Cereal
3 Reasons to Avoid Ritz Crackers
Candy or Breakfast? Evaluate Your Cereal