SUBWAY Veggie Delight: FAST But Fresh and Healthy?
SUBWAY Veggie Delight is the poster sandwich for a healthy fast food choice. The ingredients include whole wheat bread and a ton of veggies.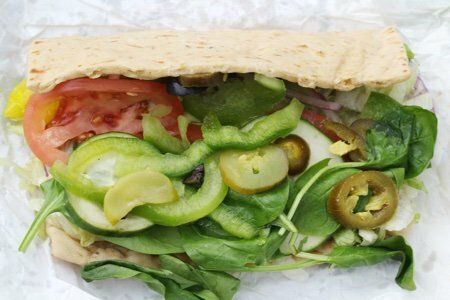 But, is it healthy?
I am constantly looking for food that I can order (rather than cook) because I am lazy. I recently determined the perfect order at Panera and answered the question - Is the Grilled Chicken Sandwich at McDonald's Healthy?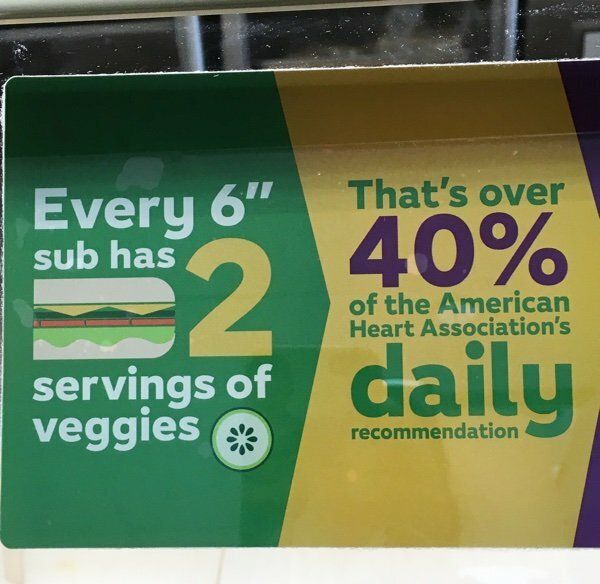 SUBWAY is always ready to tell you how healthy their sandwiches can be as you can see from this above sign. For this to be true – you would have to eat 1 cup of leaf vegetables and ½ cup cut up vegetables (or 1 cup of cut up vegetables). That may be true of some of their sandwiches but there is no way it is true for the meatball marinara or the steak & cheese.
I hate it when a sign says "EVERY". I am always ready to find an exception or two. In my opinion, this should say "MOST" - especially since people order sandwiches without any vegetables on them (like my 10 year old son).
I want the Veggie Delight to live up to its promise. The concept, a healthy bread paired with a bunch of veggies is excellent. I have made yummy sandwiches at home with similar ingredients and really love them.
As you can see there are a bunch of veggies on this sandwich.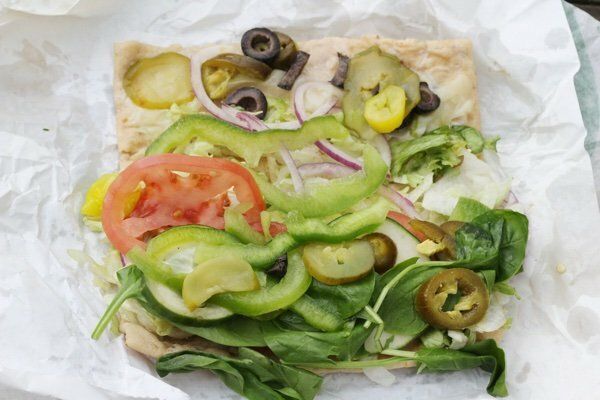 On my visit to my local branch, I ordered the sandwich photographed above. It is the SUBWAY Veggie Delight with their multi-grain flatbread, one slice of cheese (provolone) and all the veggies. I was unable to get an ingredient list at the store - but they provide it on their website and I have posted it below.
The nutrition facts for the SUBWAY veggie delight:
300 calories, 9 g fat, 3 g saturated fat, 42 g carbohydrates, 5 g sugar, 13 g protein, 10 g fiber, 680 mg sodium, 7 Freestyle SmartPts
It also includes 15% of your daily value of iron, 35% of your daily value of calcium, and 35% of your daily value of vitamin C.
And, the store features soda, cookies, and chips to go with your sandwich. I will tell you from personal experience it is REALLY hard to order the Veggie Delight without adding one of these treats.
I stood next to the soda fountain for a good minute before my resolve ended and I ordered a small Cherry Coke. The small size at SUBWAY was 21 ounces of soda - yikes! (And, yes, I finished it.)
How did it taste? Well, the bread was like play dough (soggy and tasteless). The veggies were good except for the ice berg lettuce which looked as if it had seen better days (like last week). Next time, I will only have the spinach as long as it looks fresh.
I think the sodium is out of control but overall you could do MUCH worse than this sandwich out and about. It was satisfying and I definitely got my two servings of vegetables.
Take a look at the ingredient list below. I bet you will be surprised to see artificial colors in the food - I was.
What do you order at SUBWAY?
---
Other posts you might like:
---

have looked at a bunch of food at McDonald's and today I will determine if the grilled chicken sandwich at McDonald's is healthy.....
---

I decided to look for the positive at Panera. Isn't it better to see the glass as half full?
---
---
SUBWAY Veggie Delight Ingredients from the SUBWAY Website:
FLATBREAD, MULTIGRAIN Whole wheat flour, water, yeast, soybean oil, sugar, contains less than 2% of the following: whole wheat flakes, oats, nonfat dry milk, wheat gluten, salt, calcium carbonate, distilled vinegar, chia seeds, amaranth seeds, cultured wheat flour, whole grain barley, corn, flaxseed, whole rye, whole grain triticale, wheat germ, leavening (sodium acid pyrophosphate, baking soda, monocalcium phosphate), enzyme, oat fiber, sea salt, yeast extract, vitamin D2, ascorbic acid, calcium sulfate
PROVOLONE CHEESE Cultured pasteurized milk, salt, enzymes.
BANANA PEPPERS: Banana Peppers, water, distilled vinegar, salt, calcium chloride, sodium benzoate (preservative), sodium metabisulfite (preservative), yellow #5, natural flavors, polysorbate 80.
CUCUMBERS: Fresh ripe cucumbers
GREEN PEPPERS: Fresh green bell peppers
JALAPEÑO PEPPER SLICES: Jalapeno peppers, water, distilled vinegar, salt, natural flavorings, calcium chloride, sodium benzoate (preservative) natural flavors, polysorbate 80, FD &C Yellow #5.
PICKLES: Cucumbers, water, distilled vinegar, salt, calcium chloride, sodium benzoate as a preservative, natural flavors, Polysorbate 80 and Yellow #5.
LETTUCE: Fresh iceberg variety
OLIVES: Ripe olives, water, salt, ferrous gluconate
ONIONS: Jumbo red onions
TOMATOES: Fresh red ripe tomatoes

---