SuperSeedz, A Delicious & Healthy Snack: Giveaway
It is the time of year that screams pumpkin seeds. Would I like to roast my own? Sure!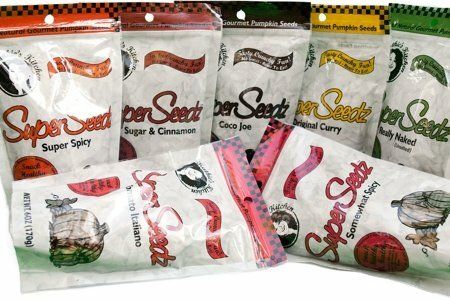 Of course, that would take time and I would have to squish my fingers through all that pumpkin goop. Kathie's Kitchen has come out with an alternative: SuperSeedz.
Kathie has shelled, roasted and flavored pumpkin seeds for us so we don't have to do the work. My favorite flavor (there are 8 – Coco Joe, Original Curry, Really Naked, Sea Salt, Somewhat Spicy, Sugar & Cinnamon, Super Spicy, Tomato Italiano) is Sugar & Cinnamon. Kathie adds just 2 grams of sugar per serving and they still taste sweet.
Nutritional facts for SuperSeedz Sugar and Cinnamon – 1/3 cup serving:
160 calories, 11 g fat, 2.0 g saturated fat, 5.0 g carbohydrates, 2.0 g sugar, 9 g protein, 1.0 g fiber, 5 mg sodium, 4 Points+
There is 25% of your daily value of iron in this serving. Don't tell me you don't need more iron. Also, eating pumpkin seeds is the easiest way to consume more magnesium.
The ingredients list for the Sugar & Cinnamon SuperSeedz is simply: shelled pumpkin seeds, sugar, cinnamon, and vanilla. These taste really good and have earned a home in a small container in my purse.
To win 8 packages of SuperSeeds ($48 retail value) one of each flavor, comment below on your favorite flavor of pumpkin seeds.
You can find SuperSeedz online at SuperSeedz shop or check out their list of retailers: Where To Buy SuperSeedz.
Check out SuperSeedz Facebook page and SuperSeedz on Twitter for other giveaway opportunities and product information.
This is a sponsored conversation written by me on behalf of SuperSeedz. The opinions and text are all mine. Points+ values are calculated by Snack Girl and are provided for information only. Snack Girl receives a small percentage of sales from links to Amazon.com.
---
currently unavailable Buy on Amazon.com
As an Amazon Associate, I earn from qualifying purchases.
---
What will I win? Eight 6-ounce packages of SuperSeedz, one of each flavor (retail value is $48.00).
How do I enter?
Comment below on your favorite flavor of pumpkin seed.
Additional Ways To Enter:
Like Snack-Girl on FaceBook. Comment on the FB page on your favorite flavor of pumpkin seed.
Follow Snack-Girl on Twitter and Tweet this post (use the Tweet Button in the Share Box at the top of this post).
Snack-Girl can follow and count all the additional entries using magical website tools.
Am I eligible to enter?
This giveaway is offered to US residents only.
When do I find out if I am the winner?
The randomly chosen winner will be announced on Wednesday, October 30th, 2013. You will have 2 weeks to e-mail us back with your home address so we can mail the prize.
Sponsored by