A Rare Find: A Packaged Food that is Healthy and Delicious!
Given the state of manufactured food in this country (think Twinkies), it can be difficult to trust that you can find something healthy and packaged. Snack-Girl is ALWAYS on the lookout for food that makes life easier and is good for you.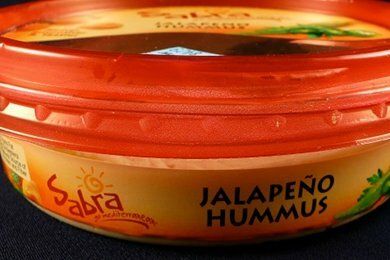 Hummus fits the description. Made with just chickpeas, tahini (sesame paste), lemon juice, garlic, and salt, it is delicious out of the package and it is really healthy. How can you go wrong? Beans, nut butter, and flavorings!
I know that some of you will not agree with me because you make your own hummus. But, I like lifting it into my cart in its cute tub. The latest flavors are amazing. I tried this jalapeno hummus and fell in love.
Jalapeno hummus seems kinda crazy. Hummus is from the Mediterranean and Jalapenos hail from Mexico - but it works! Same with the chipotle flavored hummus - it tastes pretty good.
What can you do with hummus? First of all it is a great makeover for mayonnaise. Hummus is 27 calories a tablespoon, while mayonnaise is 90. Try spreading hummus on your sandwich and you might even like it more than mayonnaise.
Hummus will also increase your protein intake when you eat something like carrot sticks (or dare I say it? Tostitos). Basically, you are just adding beans to your meal, and beans are really good for you.
Kids love it because they love dipping their food. My kids will dip crackers and chips in it and munch away.
I will feature a hummus recipe soon, because I know it is super easy to make. (I'm just really lazy).
Please share your favorite hummus recipe or flavor.
Want to read about snacks?
Sneak Healthy Dip into Your Super Bowl Party
How To Make A Healthy and Glamorous Snack
A Dangerous Combination, Like Teenagers and Alcohol