Ten Healthy Convenience Store Snacks
Check out that photo above. See anything you want to eat? Aaah, the convenience store.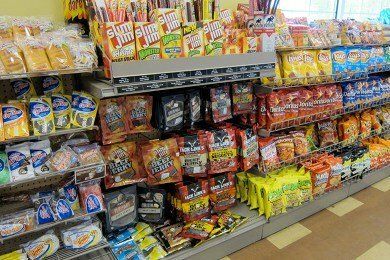 These stores are not so convenient for us healthy eaters who are trying to lose weight. We see the Twinkies, MSG filled Beef Jerky, and the ever present Doritos staring at us when we realize that we forgot to pack our snack.
Number one rule of convenience stores - don't forget to pack a snack and you can avoid the pain of having to choose something. Of course, even Snack Girl isn't perfect and was looking for a snack when she shot this photo.
Yeah, so what did I do? Run screaming from the store? Well, I thought about running and screaming, but then I took a deep breath and looked around. Here is what I found:
1. Bananas (yes, they were TWO for $1) - hurray!

2. Cheese sticks - I have written about these as a good snack here: The Benefits of Cheese Sticks.

3. Flavored Bubbly Water - grab this to avoid the Coke, Diet Coke, Monster Drink problem see: A Refreshingly Sweet Zero Calorie Beverage With No Artificial Sweetener.

4. Clif Kid ZBar - smaller than your regular bars these are a good 120 calorie alternative to most bars see: A Kid's Energy Bar for Lunch Boxes and Adults.

5. Small pack of Fig Newtons Hey, they are cookies but at least they have some fruit in them. A better choice than Oreos.

6. Ninety-nine cent packages of nuts If you can keep to 1/2 the bag you get 150 calories of nutritious snack. Give the other half to a friend.

7. Smart Food A one ounce bag is 160 calories which is better than potato chips, Doritos, etc. Popcorn gives lots of volume with fewer calories.

8. Coffee A cup of coffee with nothing added is TWO calories and it is roasted bean juice. If you drink it in moderation, go for this pick me up.

9. Baked Potato Chips and Pretzels about 160 calories per packaged vs. regular chips (280 calories).

10. Hard Boiled Eggs I found a package of 2 peeled hard boiled eggs next to the cheese sticks. These are nutritious and low calorie (140 calories for 2 eggs).

What did I get? I got coffee and a cheese stick. No, it wasn't GOURMET, but it held me until I could get to my next destination. Bonus - I didn't go through the McD's drive-thru and get fries.
What do you grab at the convenience store?
---
Other posts you might like:
---

Snack Girl thought as we headed into Turkey day that we should honor the vegans of the world with some snacks....
---

Are you financially stretched? Honestly, who isn't feeling the pain of our economic downturn?...
---