Pasta Can Be Your Friend
Snack Girl knows it isn't good to demonize a food.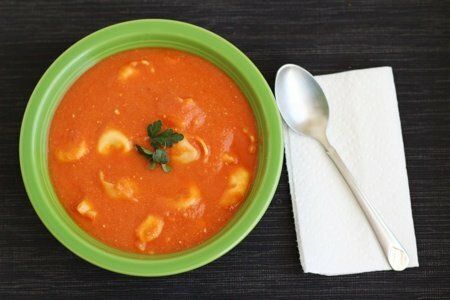 For example, when I eat a brownie, I try very hard not to think about it sticking to my thighs.
Pasta is one of those high carbohydrate foods that dieters want to avoid, even though it is inexpensive and tastes good. I believed that I lived on pasta in college and graduate school as a way to make it to my next paycheck.
This soup turns the regular pasta meal (spaghetti and sauce) into something lighter (sauce and spaghetti). The tortellini floats in the soup so you get to savor them. Of course, my children eat the tortellini right out of it leaving more soup for me.
I suggest using San Marzano tomatoes for this recipe. They cost about $4 per can, much more than regular tomatoes. They say that the volcanic soil near Vesuvius makes for great tomatoes. The flavor is much richer and satisfying if you can afford it. San Marzanos should be imported from Italy and you can find them at the bottom of the canned tomatoes.
If you are into soups, I think you should buy an immersion blender. After the lid blew off of my blender when I was making split pea soup, I decided to invest in one of these puppies. Scraping pea soup off the ceiling is no fun.
The immersion blender allows you to blend IN THE POT you are cooking in. I detach the blade and put it in my dishwasher. These are also great for making smoothies in a glass.
How do you enjoy pasta?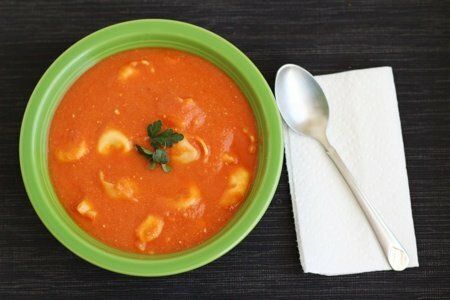 Tomato Tortellini Soup Recipe

Makes 8 servings, 1 ½ cups per serving

Ingredients
1 tablespoon extra-virgin olive oil
1 small onion, chopped
3 cloves garlic, minced
2 bay leaves, optional
2 – 28 ounce cans whole tomatoes (preferably San Marzano)
1 – 32 ounce container low sodium vegetable broth
½ cup plain Greek yogurt
2 – 9 ounce packages fresh or frozen cheese tortellini

Instructions
In a large pot, heat olive oil over medium high heat. Add onion and garlic and sauté until the garlic starts to brown.
Add the bay leaves (if using), tomatoes, and vegetable broth. Bring to a boil then reduce heat to a simmer. Simmer for 15 minutes.
Remove bay leaves from soup and, using either an immersion blender or regular blender, puree the soup. Stir in the Greek yogurt and add the tortellini. Simmer for about 8 minutes until tortellini is cooked through. Serve hot.
Nutrition Facts
276 calories, 5.6 g fat, 0.0 g saturated fat, 45.0 g carbohydrates, 6.6 g sugar, 11.2 g protein, 2.2 g fiber, 574 mg sodium, 7 Points+
Points values are calculated by Snack Girl and are provided for information only. See all Snack Girl Recipes
---
$129.99 Buy on Amazon.com
As an Amazon Associate I earn from qualifying purchases.
---
Other posts you might like:
---

Want your pasta to be zero calories and still taste like pasta? Maybe I have found a solution....
---

Dreamfields and Snack Girl have had a rocky relationship. We did not start on the right foot....
---
---
Get Free Email Updates! Yes please!
---