What Everybody Needs To Know About Pizza
Back to the black and white photo for a discussion about pizza. Why did I choose black and white?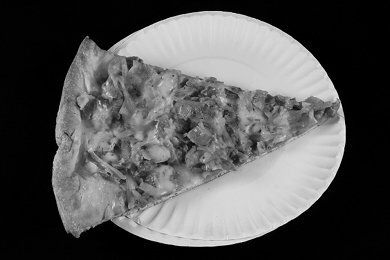 I don't want you to fall in love with how delicious it looks AND I want you to think about pizza differently. Pizza does look strange in black and white doesn't it?
Back in the prehistoric period, there was pizza that had cheese, sauce, and an assortment of toppings such as pepperoni, mushrooms, and anchovies. Now, you can find pizza with the craziest ingredients.
This slice was purchased at my town's famous pizzeria, Antonio's Pizza. I asked the poor slave working behind the counter which slice was the most popular. Guess what he said?
Chicken, Bacon, Ranch!
And this is a slice of chicken, bacon, ranch pizza and I am just blown away by how Antonio's and Domino's managed to make pizza into a seriously unhealthy choice. Ranch dressing on a pizza? ouch.
One slice of regular cheese pizza (1/8th of a 14 inch pie) with a thin crust is 230 calories - chicken, bacon, ranch? 330 calories! Eating TWO slices of chicken, bacon, ranch is like eating THREE regular slices.
Pizza doesn't have to be like this.
We don't need Philly Cheese Steak pizza or Bacon Cheeseburger Pizza, or the incredibly unfathomable "MeatZZa Feast" pizza with an extra layer of cheese on top of the pepperoni, ham, sausage, and beef.
No, you can buck the trend and add VEGGIES to pizza and have a perfectly reasonable lunch or dinner.
There is nothing wrong with pizza and vegetables. Yes, there is CHEESE and CRUST, but you can get spinach, mushrooms, onions, green peppers, pineapple, olives, and tomatoes added to your pizza. YUM!
What does everybody need to know about pizza?
Order the thin crust
Get some veggies on that puppy
It already tastes amazing without ranch dressing (or bacon)
Please share your thoughts on unhealthy pizza.
---
Other posts you might like:
---

Snack Girl leaves the black and white photography for the very worst food she finds. Did it make her sad to find "guacamole" in this category?...
---

The taco salad is a relatively new invention which is Mexican inspired, but, in my opinion, has nothing to do with the great cuisine of Mexico. How could we go so wrong?....
---