Vanilla Meringue Cookie Recipe
This vanilla meringue cookie recipe will win your heart. Not only is it gluten-free but it only has five ingredients and 9 calories per cookie!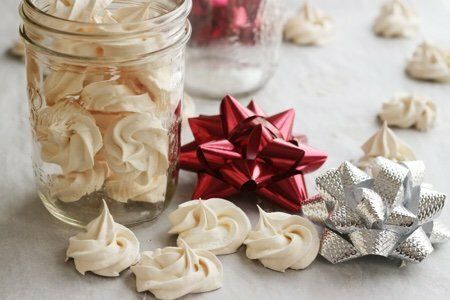 There are so many great things about these cookies except for the fact they take a bit of technique. But, if I can do it, you can! Unlike my Almond Clouds or my frozen chocolate cookie dough recipe, you have to pipe the batter (which is a step I would ordinarily avoid).
These are beautiful, they stay fresh in a tightly sealed container, and they are low in calories - only 9 calories per cookie!. That is what happens when you mix egg whites and sugar (and don't use any flour or butter).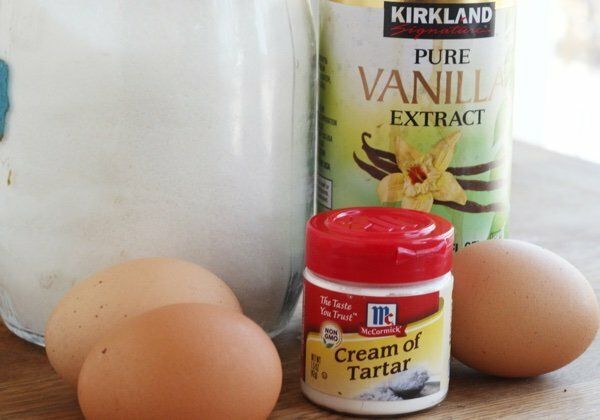 This is cooking alchemy at its best because beating the crap out of egg whites turns them into something else entirely – meringue.
The first step is to bring your egg whites to room temperature (I put the eggs in warm water for 15 minutes if I forget to take them out of the fridge). Then you beat them with the vanilla, cream of tartar, and a dash of salt except tuntil foamy.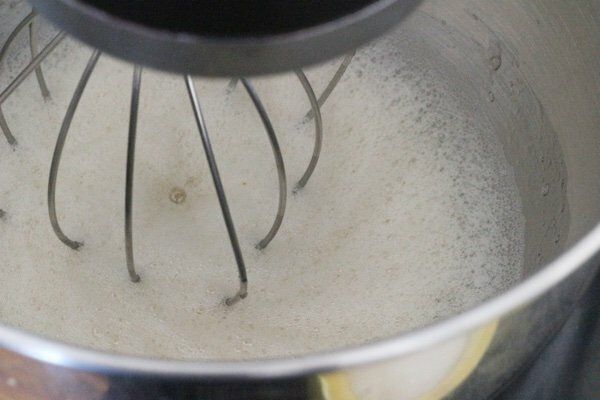 You add one tablespoon of sugar at a time while you beat on high and you get the most amazing thing – a thick, shiny batter that becomes a solid when you heat it! How cool is that?
I have a stand mixer because my husband bought it but you can do this with a hand mixer – it will take longer and your hand might get tired.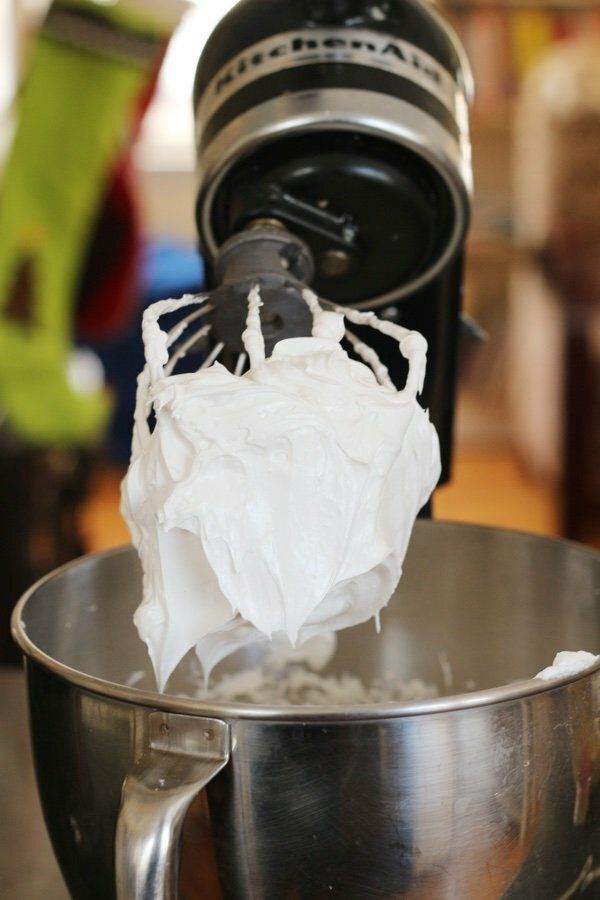 I used a star tip and a disposable piping bag – both of which you can get in the baking aisle of your grocery store next to the cupcake wrappers – and made cute little circles. It really isn't hard – I am terrible at this kind of thing and I managed to make the ones below.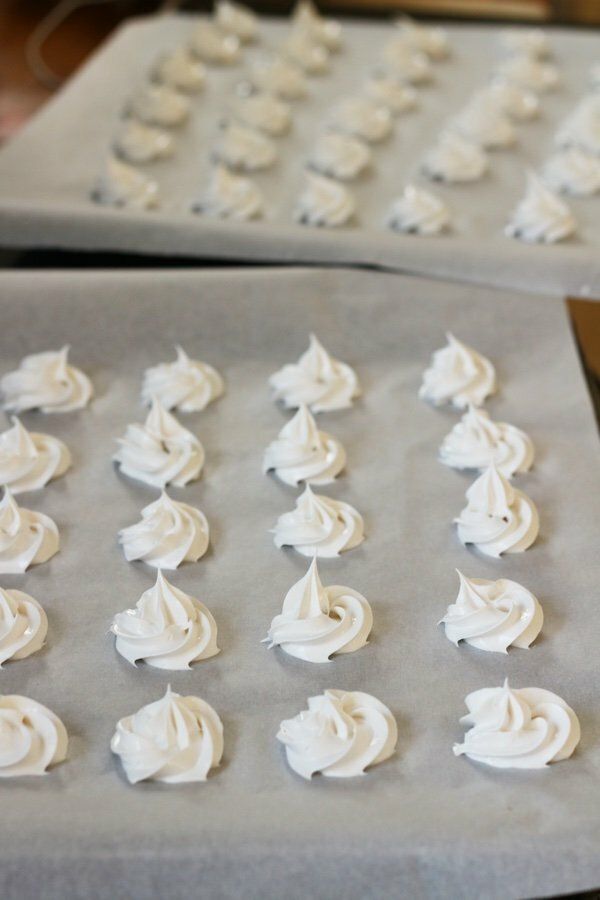 Then, you bake them at 250 F for 45 minutes and leave them in the oven with the oven turned off for an hour so they get dry. Store them in an airtight container (very important).
These do take time, but they don't take money and people love them. Especially those people who are trying to avoid the heavier stuff (I am looking at you Christmas fudge).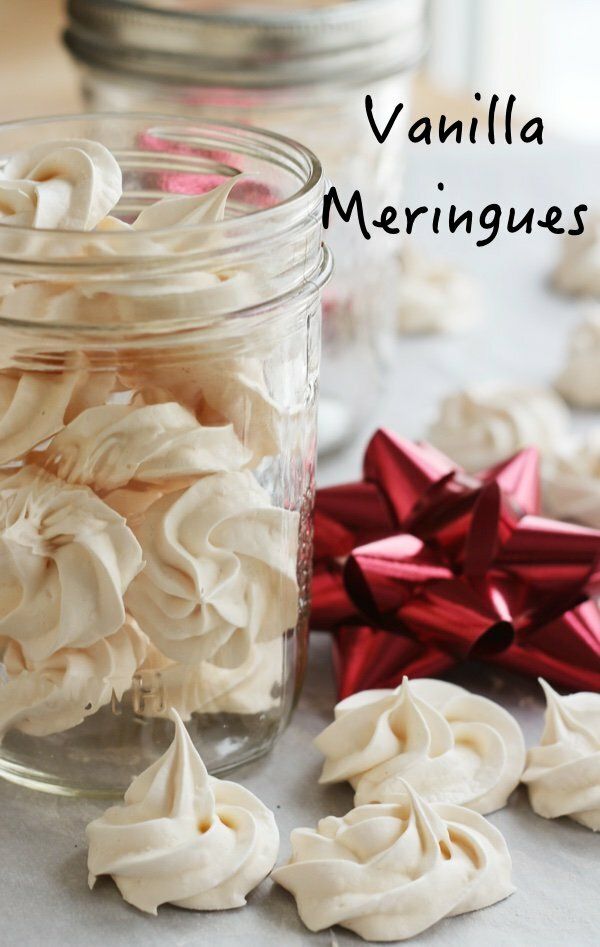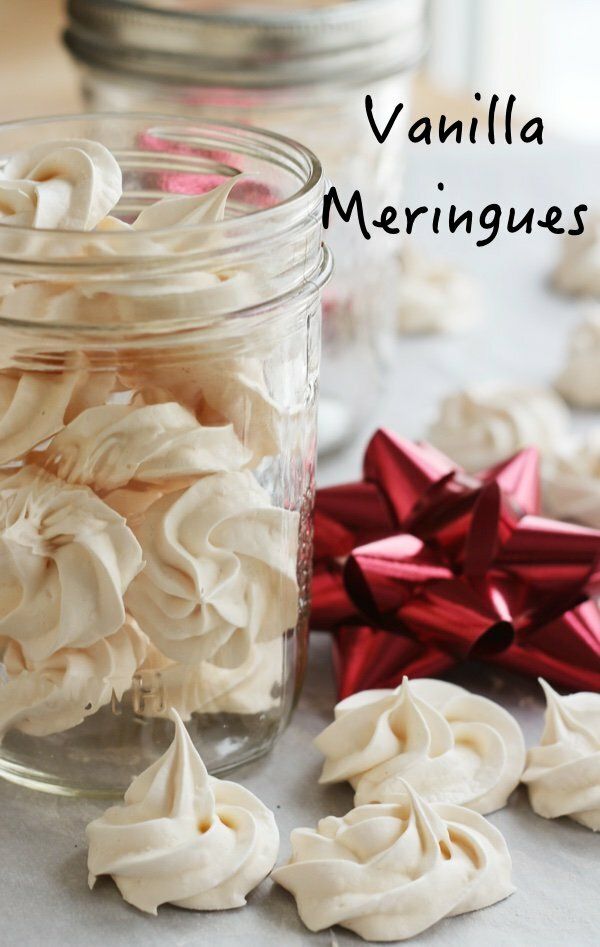 Vanilla Meringue Cookie Recipe
Makes approximately 60 cookies
Ingredients
3 large egg whites, room temperature
1 teaspoon vanilla extract
¼ teaspoon cream of tartar
dash salt
2/3 cup sugar
Instructions
Heat oven to 250 F. Line baking sheets with parchment paper. Put egg whites in a bowl and add vanilla, cream of tartar, and a dash of salt. Beat on medium speed until foamy.
Add sugar, 1 tablespoon at a time, as you beat on high. Beat until stiff, shiny peaks form (about 7 minutes).
Using a star tip and a piping bag, pipe 1 inch diameter cookies in small circles on the baking sheets. Bake 45 minutes until firm to the touch. Turn off oven and leave the door closed. Leave meringues in the oven for 1 hour.
Cool completely and store in an airtight container. They will remain fresh as long as they are not exposed to a humid environment for three weeks.
Nutrition Facts
For two cookies = 18 calories, 0 g fat, 0.0 g saturated fat, 4.4 g carbohydrates, 4.4 g sugar, 0.4 g protein, 0 g fiber, 12 mg sodium, 1 Freestyle SmartPt
Points values are calculated by Snack Girl and are provided for information only. See all Snack Girl Recipes
---
$11.27 $7.88 Buy on Amazon.com
As an Amazon Associate I earn from qualifying purchases.
---
Other posts you might like:
---

Do you have a party where everyone brings their favorite cookies and recipes?....
---

I think you need this frozen cookie dough recipe because it will stop you from eating crappy cookies....
---
---
Get Free Email Updates! Yes please!
---