Vegan Frozen Meals
Vegan frozen meals exist! I found these in the frozen section of Target. Can you believe it?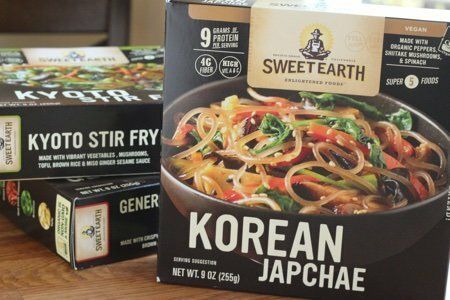 I certainly couldn't believe my eyes. I remember when frozen meals were only potpies and something called Hungry Man. These Sweet Earth meals are the exact opposite of Hungry Man. Call them "peckish dude".
These cost me $3.50 EACH (on sale) so they are much more expensive than other meals that I have looked at including Lean Cuisine and Smart Ones.
I was absolutely fascinated by the Korean Japchae because I had never heard of "japchae". Turns out Japchae is a sweet and savory dish of stir-fried glass noodles and vegetables. You don't see much innovation in the frozen section so I got excited.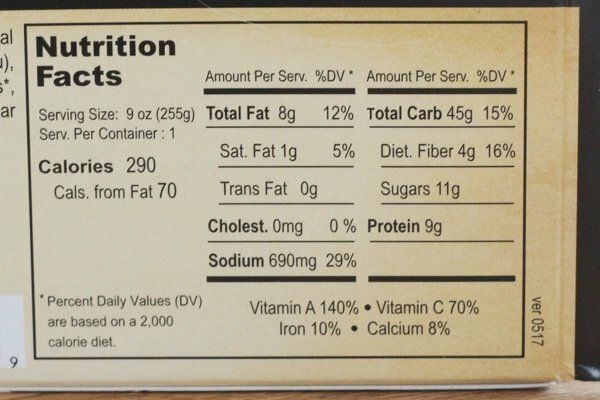 I was hoping that the vegan crew could come up with a frozen meal that I could deem healthy. As you can see, this meal has 690 mg of sodium! Argh!
There is also 11 grams of sugar but it is hard to know how much of that is added sugar. Some of the ingredients have natural sugar like bell peppers and carrots.
This is a photo of the Korean Japche meal: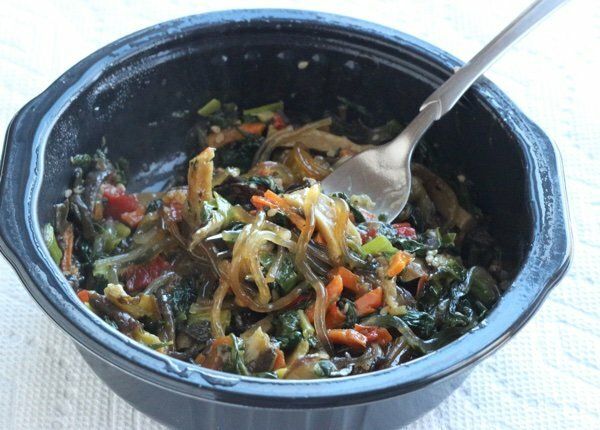 For this meal:
290 calories, 8 g fat, 1 g saturated fat, 45 g carbohydrates, 11 g sugar, 9 g protein, 4.0 g fiber, 690 mg sodium, 4 Freestyle SmartPts
I took a stab at the SmartPoints number since many (almost all) of the ingredients are zero points. It is hard to know how much of the points food is added but I think I have a pretty good shot at being right.
How did this taste? The noodles were a bit slimy but it tasted pretty good. It was too salty (surprise) but I didn't mind it. It did seem to have a lot of vegetables when compared to other frozen meals that I have tried.
The bowl is only half full so I think I would be hungry in an hour after eating it.
This is a photo of the Kyoto Stir Fry: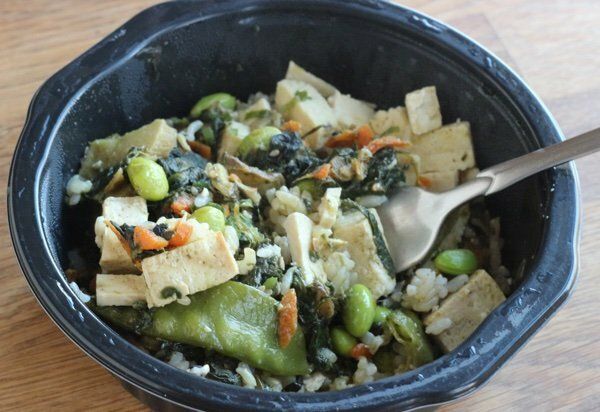 This meal featured tofu, carrots, edamame and BROWN rice (can you believe it?).
Here are the nutrition facts:
270 calories, 12 g fat, 1 g saturated fat, 28 g carbohydrates, 7 g sugar, 11 g protein, 6 g fiber, 590 mg sodium, 4 Freestyle SmartPts
I wouldn't eat this again if it was the last meal on earth. Sorry Sweet Earth! The tofu and Shitake mushrooms were like rubber. Have you ever chewed the rubber on the end of a pencil? Yeah, like that. I had such high hopes for this meal but again it was too salty and I don't know how much sugar was added. Argh!
Finally, I tried the General Tso's tofu which is a riff on a deep fried American Chinese chicken dish.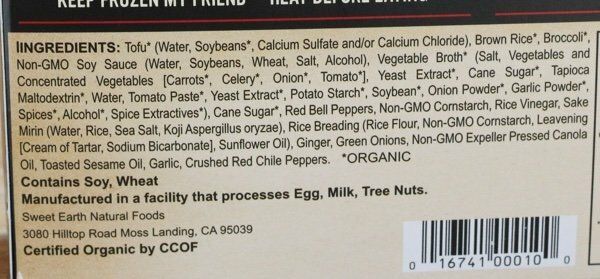 As you can see, this has many ingredients. Sweet Earth lists cane sugar twice as well as a lot of other stuff like tapioca maltodextrin. I am not afraid of weird compounds but I find that they taste like chemicals instead of food.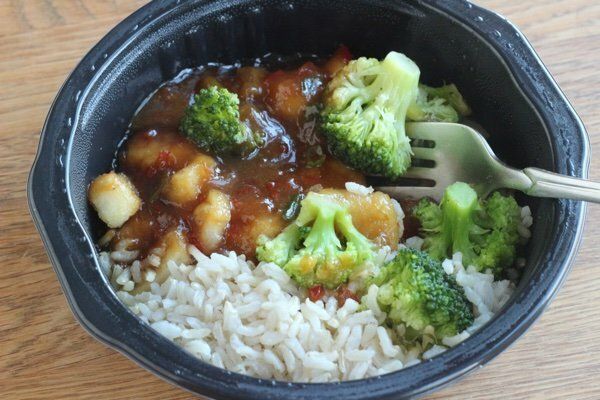 The nutrition facts are:
330 calories, 11 g fat, 1.5 g saturated fat, 45 g carbohydrates, 15 g sugar, 10 g protein, 4.0 g fiber, 690 mg sodium, 7 Freestyle Smart Pts
This was almost inedible – wahhh. There are three teaspoons of sugar and 690 mg of sodium. This proves that you can ruin vegan food with sugar and salt just like any other cuisine.
The tofu sauce was gelatinous and the broccoli was spongy. I give it a zero.
I did like the Korean Japchae but not for $3.50. For my money, (if I was going to eat a frozen meal), I would stick with the Lean Cuisine or Smart Ones. They are really not that different.
When is a company going to figure out frozen meals? Perhaps they should come and see my freezer!
---
Other posts you might like:
---

Lean Cuisine reviews are harder to come by than you think. Who wants to sit around tasting "diet" food?....
---

Smart Ones meals are the supposed smarter option in the frozen meals section. The smartness is because they are a lower calorie (and perhaps healthier) option....
---