Vegan, Luxurious, Hot......Chocolate
Snack Girl finds that most hot chocolate mixes are missing something important. They lack the most important flavor of all.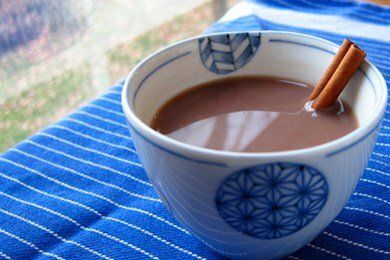 CHOCOLATE!
Have you noticed how they taste like sugar and not chocolate? This is probably because sugar is a lot cheaper than chocolate. The first TWO ingredients in Swiss Miss Hot Cocoa mix are sugar and corn syrup. Swiss Miss does have milk in it so it is not vegan - and the fourth ingredient is cocoa.
You have to take matters into your own hands and make your own hot chocolate with cocoa powder that you find in the baking section. I recently used this stuff in my secret ingredient chili.
But, you don't have to make it full of calories and fat to have it be really tasty. I tried using unsweetened almond milk for my recipe, and it was surprisingly luxurious.
Almond milk can be found in the dairy section of the supermarket and is made by mixing almond crumbs and water. I got hooked on the stuff after a reader told me about it.
By mixing almond milk and cocoa, you have created a "chocolate nut" drink! Almonds and chocolate go together, right? So, mixing processed forms of them and drinking it is pretty healthy and delicious.
This concoction does not taste like hot cocoa mix - and you may find you need more sugar to be satisfied with it. This hot chocolate is STRONG on chocolate.
Mix it with a cinnamon stick to add a kick or how about a candy cane?
Have you made vegan hot chocolate?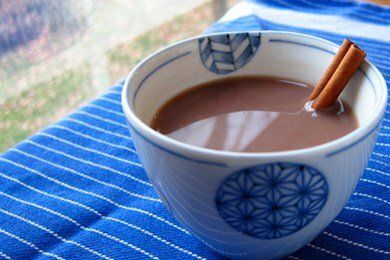 Vegan Hot Chocolate Recipe
(serves 1)
Ingredients
8 ounces unsweetened almond milk
1 1/2 tablespoons unsweetened cocoa powder
2 teaspoons sugar

Instructions
Heat almond milk in a microwave or on the stove until hot. Mix in cocoa powder and sugar - stir until dissolved -and enjoy!
Nutrition Facts
89 calories, 4.0 g fat, 14.7 g carbohydrates, 2.5 g protein, 3.6 g fiber, 172 mg sodium, 3 Points+
Points values are calculated by Snack Girl and are provided for information only. See all Snack Girl Recipes
Other posts you might like:
---

Dear Starbucks and McDonald's - Why do you insist on derailing our efforts to consume less during the holidays with these alluring drinks?...
---

Recently, a reader sent me a strange message about Almond Breeze. She wrote that it had CHANGED HER LIFE!...
---
---
Get Free Email Updates! Yes please!
---