Vegan White Chili
My vegan white chili is made in an instant pot. You can make it in a slow cooker if you don't have an instant pot.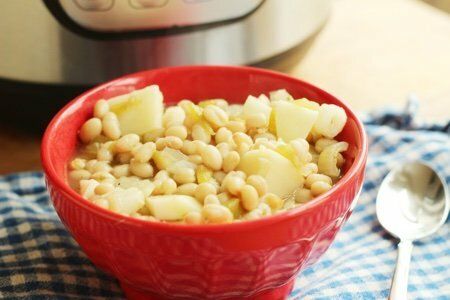 I love my instant pot because it allows me to saute before I slow cook. This way, I only have to use one pot! I will do almost anything to avoid washing more dishes.
Chili is one of my very favorite foods because it is healthy and you can cook a ton of it and eat it all week (as well as freeze it). Check out my Best Vegetarian Chili and my chili with coca powder to see two of my favorite recipes of all time.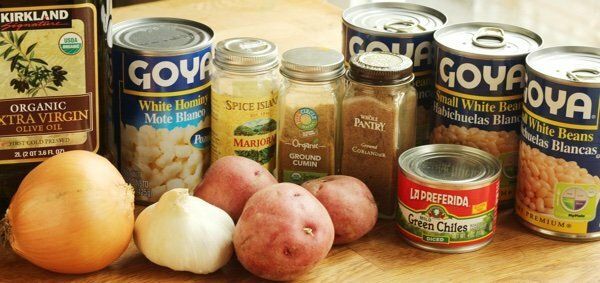 You can make this in a slow cooker if you don't have an instant pot. I find that my instant pot inspires me to make different foods so I enjoy it. I need to feature more of my recipes here.
Many of the top instant pot recipes feature meaty, fatty food. This is too bad because you can easily cook whole grains and dried beans on the pressure cooker setting.
I made a mushroom risotto in the instant pot that was an instant hit (though risotta is pasta and I included a bunch of grated Parmesan). You can't really go wrong with pasta and cheese.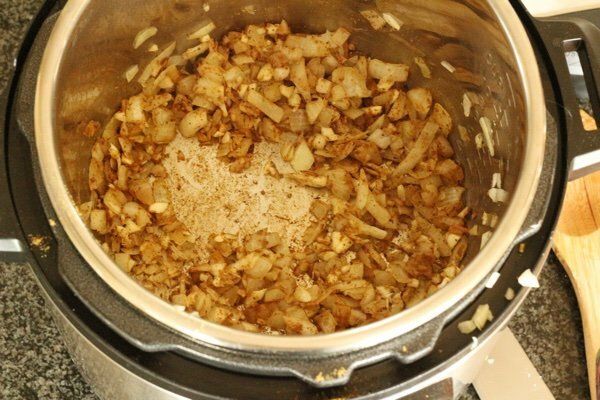 The chili uses the slow cooker setting and is ready to inhale at dinnertime. My vegetarian daughter takes this to school for lunch and my son pours cheese on it. They are two very different people.
The potato gives it an extra creaminess not found in other kinds of chili. I serve this over brown rice with a green salad. In addition, I will add some Greek yogurt and avocado slices to enhance its yumminess.
This vegan white chili is very filling and this recipe will feed a crowd. I would take it to a pot luck and not tell anyone it is vegan ☺
What are your favorite healthy instant pot recipes?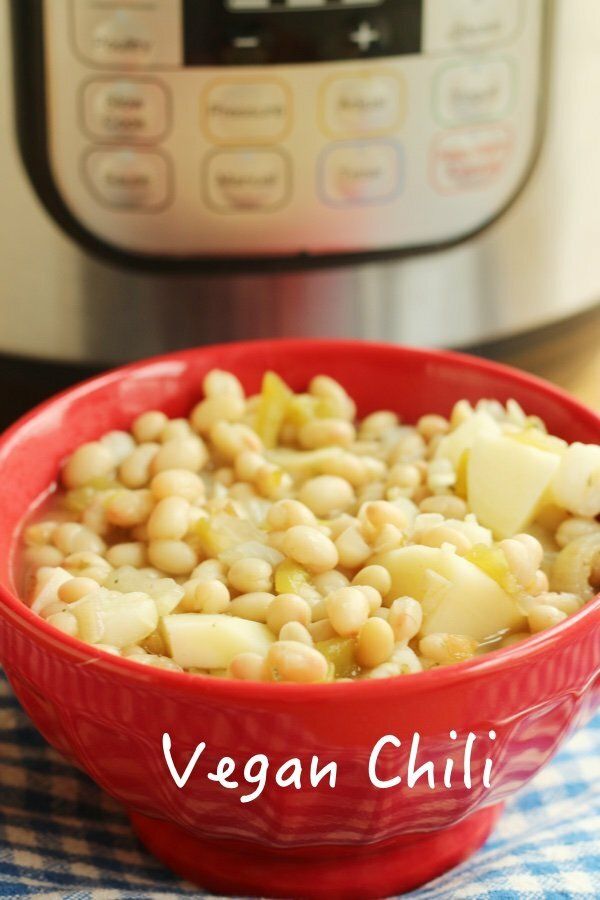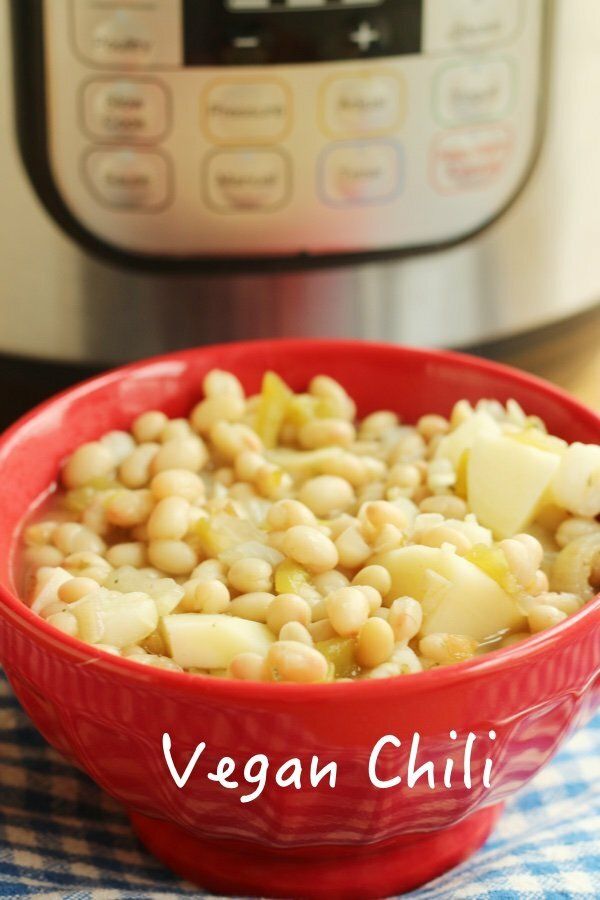 Vegan White Chili Recipe

Makes 8 servings

Ingredients
2 teaspoons olive oil
1 large onion, chopped
4 garlic cloves, minced
1 tablespoon ground cumin
1 tablespoon ground coriander
1 teaspoon dried marjoram
1 pound potatoes, peeled and chopped
3-15 ounce cans small white beans, drained and rinsed
1-16 ounce can hominy, drained and rinsed
1- 4 ounce can chopped green chilis, drained
2 cups vegetable broth
ground pepper and salt to taste

Instructions
Heat oil in an instant pot on the saute setting or set a frying pan on the stove on medium high heat. Add onion and saute until softened. Add garlic, cumin, coriander, and marjoram and toast the spices for one minute. If you are using a pan, put mixture into slow cooker. Add potatoes, beans, hominy, chilis, and vegetable broth into instant pot or slow cooker and set to low for 8 hours. When finished, taste and adjust the seasonings.
Serve with hot sauce.
Nutrition Facts
For one serving = 249 calories, 2.1 g fat, 0.3 g saturated fat, 46.4 g carbohydrates, 6.5 g sugar, 10.7 g protein, 10.6 g fiber, 700 mg sodium, 4 Freestyle Smart Pts
Points values are calculated by Snack Girl and are provided for information only. See all Snack Girl Recipes
---
Other posts you might like:
---

Are you looking for the best vegetarian chili? Of course you are! Who wants to settle for second best?...
---

What is the key to great tasting chili? (cocoa powder) Many would suggest that you put a lot of meat and sausage to make it delicious….
---
---
Get Free Email Updates! Yes please!
---