What You Need To Know About Veggie Chips
Snack Girl gets asked about food like "veggie chips" a lot. And, I never want to answer the e-mails.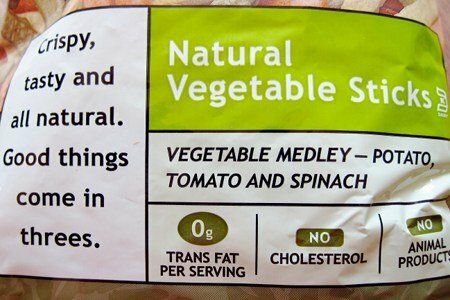 Why? Well, I don't want to make anyone feel bad about falling for the marketing on the front of the bag of these things. "Hey, look ma, Vegetable Medley - Potato, Tomato, and Spinach."
Yeah, I know they look good on the outside of the package and the concept is great. Who wouldn't want a veggie stick or chip that would be good for you and taste like potato chips?
Here is what they look like outside of the bag: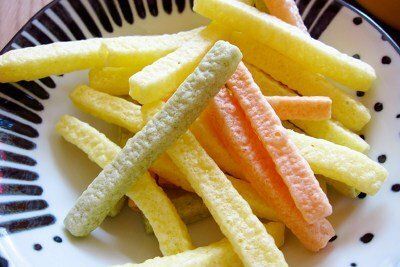 This is your first hint that maybe these aren't truly vegetables. You know those deep colors of spinach and tomatoes? Ahem....not present. No, these aren't really made of true tomato and spinach.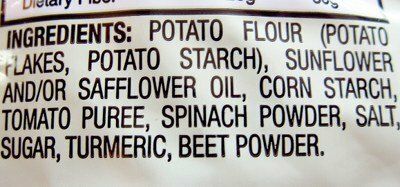 The deal is that these are just glorified potato chips, and not better for you than baked potato chips. The tomato puree and spinach powder isn't giving you any flavor or nutrients. The potato flour does make them taste like what they really are:
Lower fat potato chips!
I find it sad that food manufacturers would try to trick us into thinking we are eating tomatoes and spinach when we are just eating the cheaper potatoes. I don't advocate eating these unless you really like them. Just eat them as a treat and forget about any healthfulness they don't possess.
There are brands of vegetable chips that are the vegetable just made into a chip with salt and oil added. I consider these treats as well because they are processed and bagged instead of fresh.
Have you fallen for veggie chips? Do you know of any truly healthy chip?
---
Other posts you might like:
---

Am I qualified to give out awards for the BEST and WORST snack of 2011? Probably not, but I'm going to do it anyway.....
---

What evil mind came up with this pizza combination? Was it the corporate folks at Domino's? Or some neighborhood pizzeria trying to change the world?...
---