Worst and Best Snack of 2011
Am I qualified to give out awards for the BEST and WORST snack of 2011? Probably not, but I'm going to do it anyway.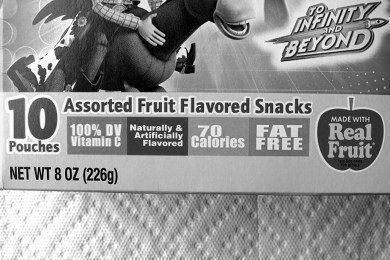 After 2.5 years of writing about snacks and small meals - I think I know a lousy snack when I see one. My criteria for a healthy snack are simple.
It has to be:
1. Nutrient dense (lots of vitamins, protein, fiber, etc.)
2. Tasty
3. Affordable
4. Green

The above photographed "Fruit Snacks" fail at all four of these criteria. Take a look at the label on the side of the box: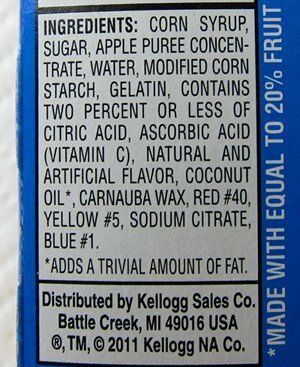 Doesn't that look delicious? Can't wait to eat some wax and food coloring. These snacks are the worst because the front of the box advertises "REAL FRUIT" and parents WANT to believe that this snack is better than candy.
But, these are just gummi-bears dressed up with some fruit juice. And the packaging just screams to kids so when you pass them in the store, you find yourself literally having to rip them from your child's hands.
not fun.
At $3.50 a BOX what are you paying for? The marketing? It is certainly not the product itself because they just mixed sugar with a little juice.
Enough negativity! How about the BEST snack?
Now this is difficult because there are so many great ones to choose from. My favorite snack is the simplest - it is an apple sliced with some peanut butter spread on it.
I know it is dull choice but a fresh apple is so tasty and then just a wee bit of peanut butter adds some more protein and fat and keeps my tummy from grumbling.
An apple has fiber, micronutrients, Vitamin C, etc. and you can find them everywhere! If you don't have a groovy apple slicer (see below) - buy two and put one in your office and one in your kitchen.
My kids love slicing their own apples with one of these and we haven't lost a finger yet.
The "Best Snack of 2011 Award" goes to an apple with peanut butter!
What would you have chosen for best and worst snacks?
---
$14.98 Buy on Amazon.com
As an Amazon Associate, I earn from qualifying purchases.
---
Other posts you might like:
---

It was a difficult decision. Snack Girl has made her choice.
---

Are you bored with the same old dull snacks? Do you need a way to "dress-up" your healthy snack?...
---