When Weight Watchers Doesn't Work
I know many of you are Weight Watchers members and find the program helpful.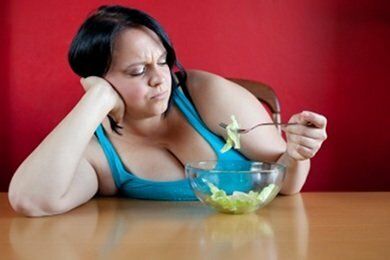 But, I also know that some of you get to a place where you no longer lose weight counting your points and going to meetings – and you feel like a failure.
An acquaintance of mine lost 50 pounds and was thrilled to tell me about her success on Weight Watchers. She is now 50 pounds plus overweight. I don't know how to approach the subject with her so I thought I would do it here.
First question you must ask yourself:
Are you a failure or can you blame Weight Watchers?
When I attempted Weight Watchers, I lost weight but then I plateaued and even gained weight. I asked a leader for guidance and was told, "You must not be following the program correctly."
Really? Is it possible the program is flawed? Or maybe the program doesn't work for my body type? Weight Watchers is a corporation and (I believe) if an employee admits to you that the service you are paying for doesn't work for you – they might have to give you your money back. There isn't any possibility of this answer:
"You know, Weight Watchers is simply one weight loss solution and it may not work for you."
Second question:
What are you going to do now?
Obviously, cancel your membership ASAP so you aren't spending money on a program that isn't working for you (making you feel even worse). Pat yourself on the back for making a commitment to your health and then take a good hard look at what you learned.
Many of the rules, ideas, recipes, and methodology of Weight Watchers are based in science. I LOVE the "free" fruits and vegetables and feeling of kinship in the meetings.
Can you take the good stuff that you learned and apply it to your life without the program? For example, find a friend who wants to get healthy with you and never feel guilty for eating an apple?
Now is the time to use the things that did work for you.
Third question:
Is a "diet" really the right thing for you?
I would love to proclaim that the "diet" is dead. What the heck!
THE DIET IS DEAD!
I love owning my own website sometimes. In my terrific book, I talk about habit and lifestyle changes as well as healthier food that can lead you to lose weight without TRYING to lose weight.
The emphasis is on health. Your health is much more important than a number on a scale (though they may be related).
Putting yourself on a diet so you can lose weight and fit into your high school jeans is not nearly as compelling a reason to change as getting healthy to be filled with energy and life and meet your grandchildren.
Maybe all that scale stuff at Weight Watchers doesn't motivate you - instead of inspiring you it could be holding you back.
Whatever you do - don't blame yourself for not losing weight. Own that you tried and move on feeling good about the attempt.
Please share your thoughts on diets – your failures and successes.
---
Other posts you might like:
---

Snack Girl is aware that this website has become a resource for Weight Watchers members....
---

After posting about a higher fat, lower carb diet leading to weight loss, I was asked many questions about which carbs to avoid....
---