Juice With 2 Teaspoons More Sugar Per Serving Than a Coke
Last week, when I was visiting a bodega in Queens, I had the pleasure of meeting a foreigner visiting our country.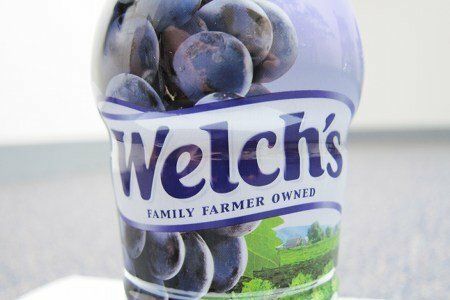 He was standing in front of the myriad of juices on display and shaking his head. As I walked up to the same cooler, he said, "No sugar? No sugar?". Really, folks? He was asking me, the self-ordained expert on "added sugar in juice" about sugar? Had he recognized me?
I stood there and looked with him. His English was non-existent so I handed him a carton of 100% grapefruit juice and he stood there and drank it (and then he paid for it). I guess he liked it, he didn't say.
You don't have to be from another country to be seriously confused about juice and its relative healthiness. Alton Brown of the Food Network, recently confused me with his commercial on grape juice -Welch's Commercial.
Guess what? There are 2 servings of fruit in every glass and no sugar added in Welch's 100% grape juice (oh, and did I mention that it is 100% American grown?).
This is what he didn't mention: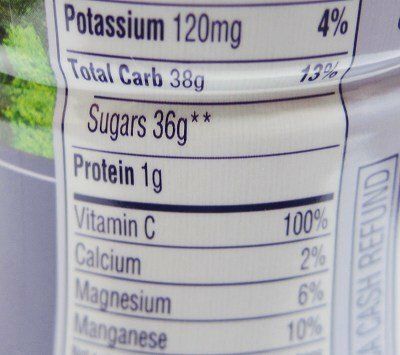 Yes, 36 grams of sugar in 8 ounces of juice. That is over 7 teaspoons of sugar and is 12 grams MORE than an 8 ounce glass of Coca-Cola.
Right now, you are going to tell me the comparison isn't fair because Coke doesn't have potassium or manganese, or other anti-oxidants and you would be right to criticize me. The sugar in grape juice is natural sugar but it is still processed. This grape juice is made from concentrate – not just juice squeezed from the grapes.
What about the 2 servings of fruit in every glass? I guess he is saying it takes 1 cup of juice is equivalent to 2 servings of fruit. Which would be great, except that we all know that isn't true. Fruit has fiber and other wonderful stuff that juice doesn't have.
From Karen Collins, RD (Does drinking your fruit and veggies count?:
Studies show that most fruits and vegetables contain antioxidants in the skins and peels, which do not make it into juice. For example, one study reports that a whole orange contains up to five times more of one major antioxidant than a glass of orange juice. The antioxidant is found in the white pulp and membranes that separate the orange segments from each other.
My advice is to buy the 100% juice when you want a treat, and dilute it with some water. I love bubbly water with a little bit of grape juice mixed in for a soda substitute.
How do you deal with juice?
---
Other posts you might like:
---

The inspiration for Snack-Girl was a bottle of juice. That juice was one that my 3 year old daughter chose from a cooler in a convenience store...
---

Every juice manufacturer has been coming out with a version of their juice with less sugar. Personally, I get excited at the thought of any tasty nutritious beverage with fewer calories....
---