This "Juice" Has HFCS and More Sugar Per Serving Than Soda
The inspiration for Snack-Girl was a bottle of juice. That juice was one that my 3 year old daughter chose from a cooler in a convenience store.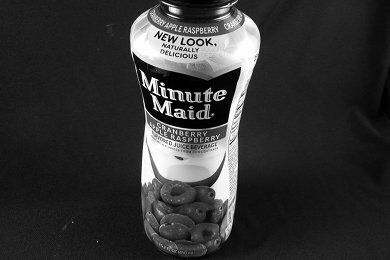 The pictures on the side were like the ones above. Lovely photos of apples and raspberries stylishly placed on the side of the sveltely shaped bottle.
I purchased the juice for her because she was thirsty and I thought I would give her a treat of fruit juice. Yes, I consider juice a treat.
After we sat down, I was bored so I read the ingredient list. It looked much like this one: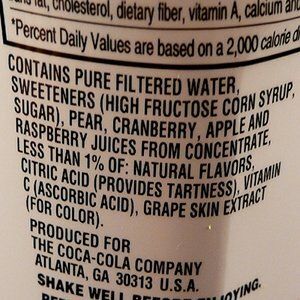 The big difference was that the juice Ruby had chosen also included artificial colors. The packaging said "All Natural". Then it hit me that I had bought my daughter soda in a juice container. I had been fooled!!
And then I decided that I needed to help other people with this crazy food marketing thing that make things look healthy when they aren't. That is why I write Snack-Girl.
Here it is again with this container from Minute Maid (owned by Coca Cola). Why are they allowed to feature apples and raspberries on the bottle when the first juice is pear? and then cranberry?
Is the "hour glass" shape supposed to make us think we will be slimmer if we drink it?
The packaging says "naturally delicious" and I guess if you like high fructose corn syrup, then it is. I bought this looking for juice (for myself this time) because I had a cold and I was thirsty. Juice always makes me feel better when I have a cold.
But, this is a "Flavored Juice Beverage"! I missed that part of the label because I was transfixed by the photo of the Raspberries. I LOVE Raspberries.
It is a Soda with juice in it and without bubbles. And this really upset me because I was looking for juice. So, if you want juice - be sure to buy packages that say 100% juice.
BUT, this doesn't solve the sweetener issue. A few facts:
Coke has 39 grams of sugar per 12 ounce can.
This Minute Maid juice has 30 grams of sugar per 8 ounce serving. Which is 45 grams of sugar for a 12 ounce serving.
Apple juice has approximately 45 grams of sugar per 12 ounce serving (will vary depending on the brand).
Given these set of facts, it would seem that the Coke is the best choice. But Coke doesn't have any nutrients in it and juice does. That is why I wanted JUICE and not colored, sugared, juice FLAVORED water.
And, then, there is the debate about whether HFCS (high fructose corn syrup) is worse than sugar (or the sugar naturally present in fruit juice). I don't want to get into that debate here - though I have had a number of people ask me about it.
My conclusion is simple. Whether or not HFCS is terrible, juice is a treat. It is a once in a while indulgence - not an every day drink.
If you love it, then start watering it down. You will be amazed that when you add 30% water it still tastes like juice!
Just a side note, in the last 3 weeks Snack-Girl has written about Frito-Lay, McDonald's, and Coca Cola. Yes, I will be moving and changing my name :) Actually, Frito-Lay has invited me on a tour of their facilities and I am really interested in it. Doesn't it seem appropriate that Snack-Girl visit Frito-Lay?
Do you drink juice? Please share.
Want to read about snacks?
How To Find Great Fruit and Veggies
3 Reasons to Avoid Ritz Crackers
This Food is An Instant Party in Your Mouth